Jump to recipe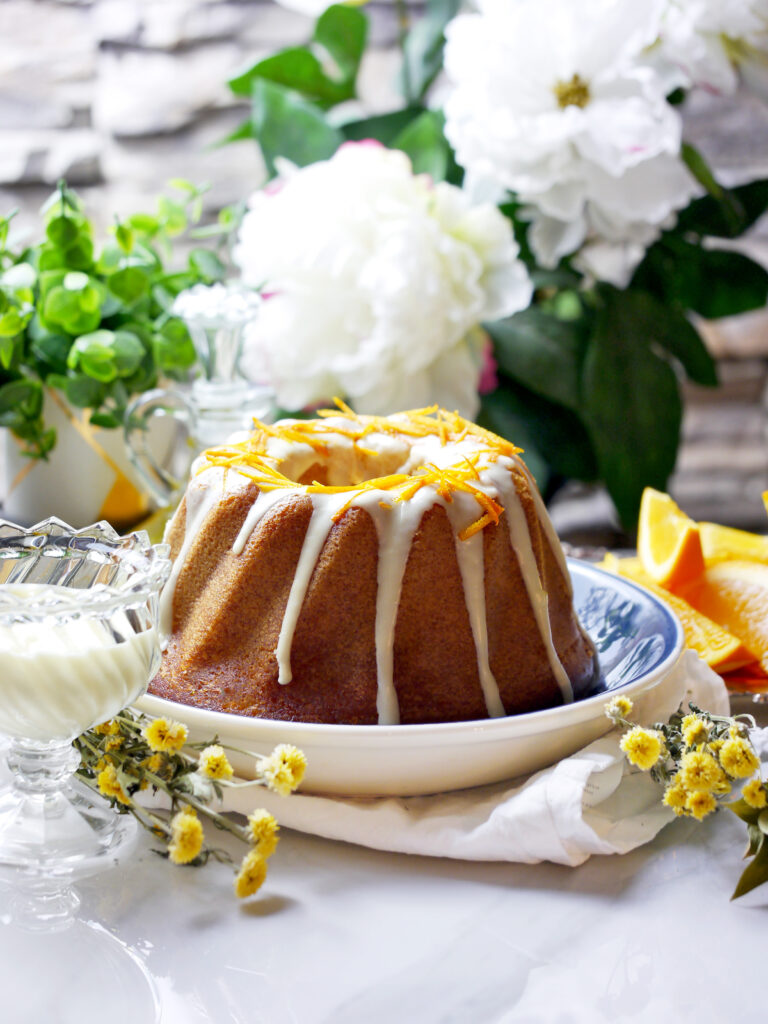 Hi guys, I am so excited to share this recipe with you today, I've prepared something very flavourful, something insanely moist and very very delicious. Let's bake a moist Orange Bundt cake together. If you are a fan of flavourful, delicious Bundt cakes, if you love citrus flavours, than you'll definitely fall in love with this cake. Some Bundt cakes can be quite dry, but with my orange Bundt cake dryness is not an issue, just look at the photo of this tasty slice!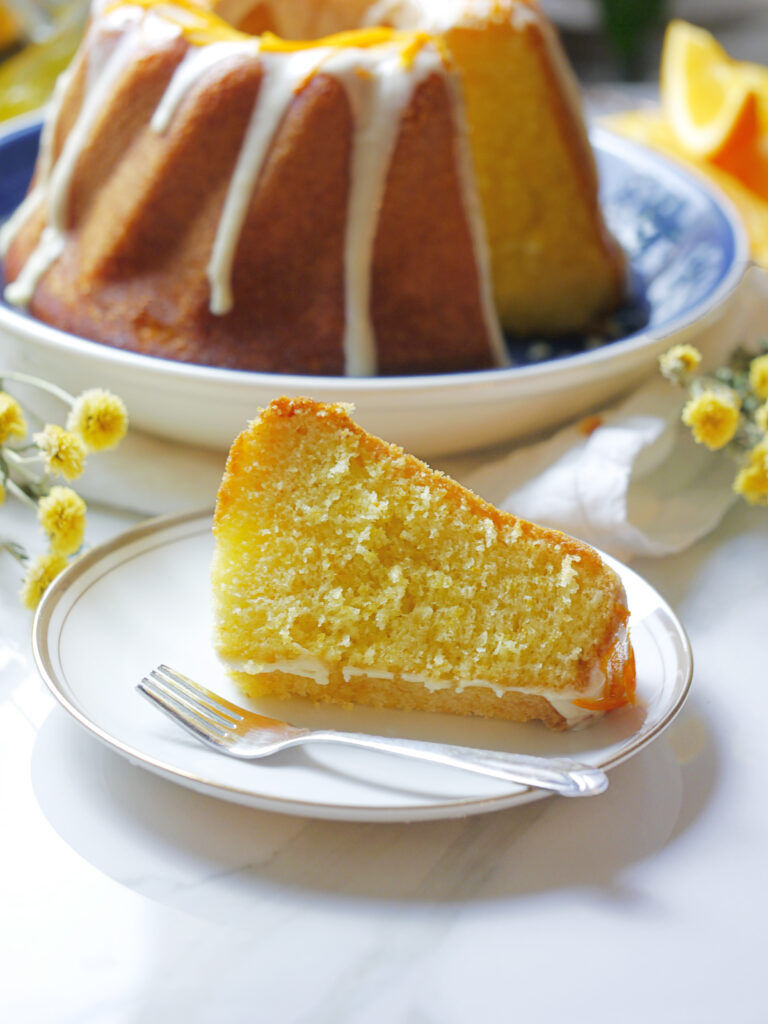 The cake turns out very moist because it gets soaked with orange syrup, and this results in incredibly delicious, super aromatic, tender Bundt cake that. bursts with orange flavour. Each bite of my cake is packed with lots of orange flavour , this Bundt cake makes a perfect after dinner dessert, it is an amazing tea/coffee dessert pairing.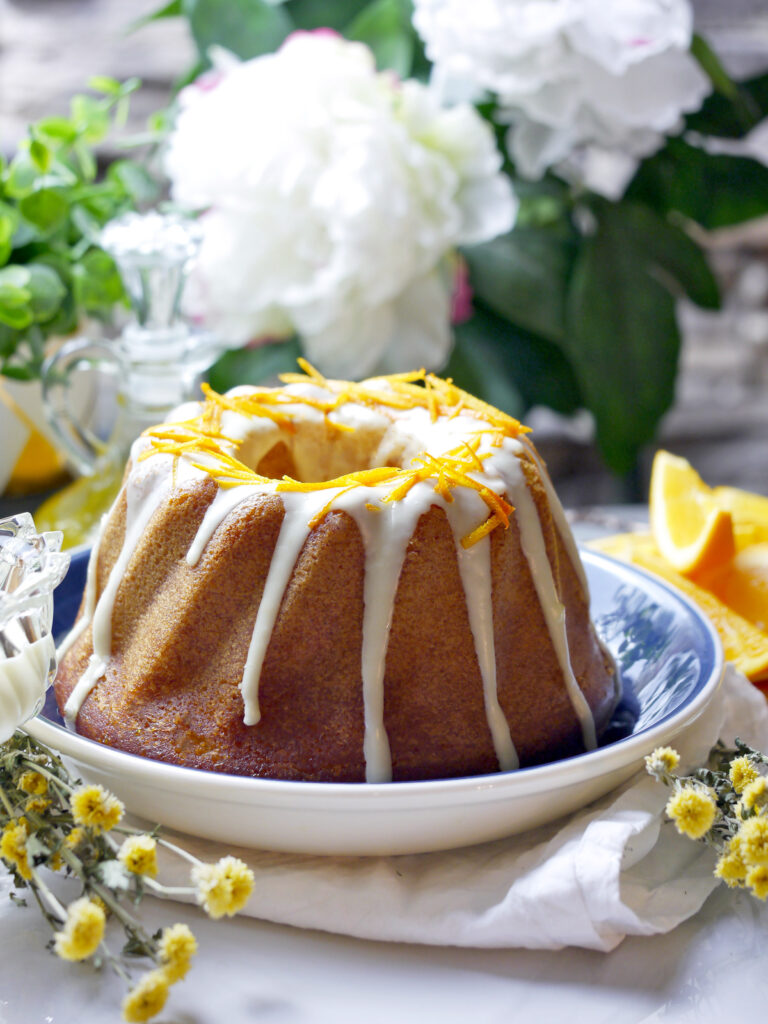 A few things to know before baking:
*Always read a recipe first before starting to baking.
*Ideally all the ingredients for this recipe have to be at a room temperature.
*Do NOT over mix the batter, otherwise the cake will collapse in the middle after baking.
*Unmolding your Bundt cake can be nerve wrecking, to avoid disappointment it is SUPER IMPORTANT to grease the cake pan generosuly!
*Make sure to cover the leftovers of the cake in the plastic wrap. Cake tastes best within 2 days.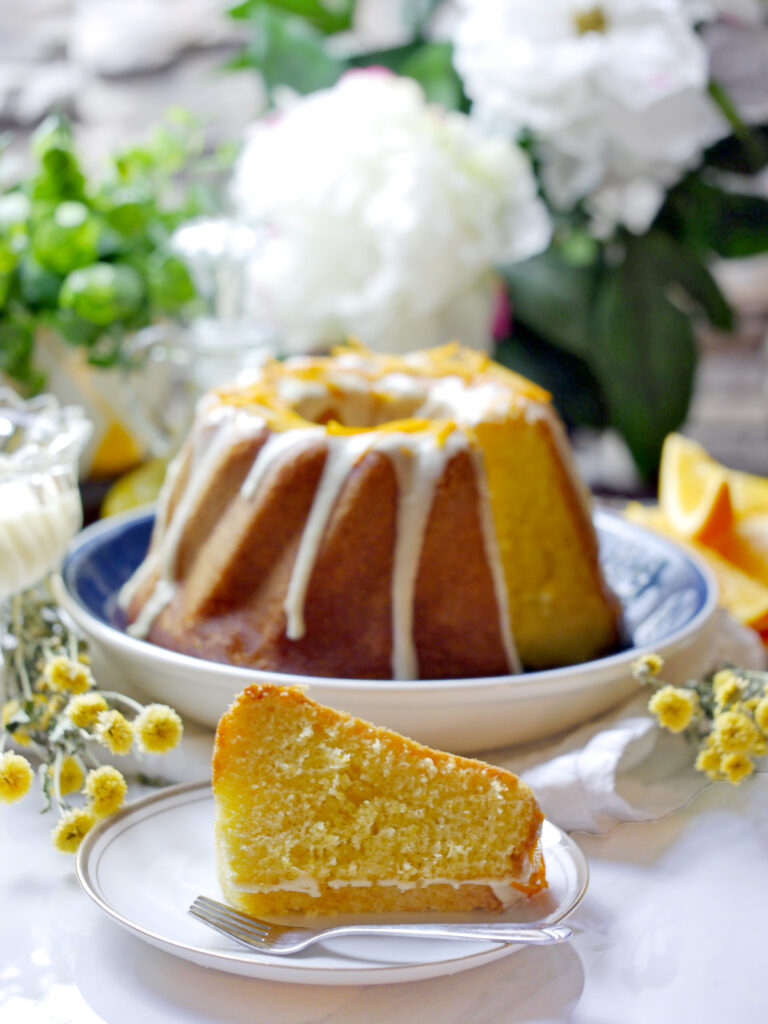 Moist Orange Bundt Cake

Serving Size
1 small bundt cake
Total Time
1 hour, 15 minutes
Notes
1. You can opt out soaking the cake, it would  still be soft and fluffy. But to get a very moist, an incredibly flavorful cake  I strongly recommend soaking it in the orange syrup!
2. Make sure you cover the leftover cake in plastic wrap. It will keep fresh for 2 days.

Ingredients
For the Bundt cake
3 eggs at room temperature
1 cup granulated sugar
1/2 cup oil
1 tsp vanilla extract
Orange zest from 3 oranges
1/3 cup milk
1 1/2 cup all purpose flour
2 tsp baking powder
1/2 tsp salt
For the syrup:
Juice from 3 oranges
1 cup granulated sugar
For the glaze:
1 and 1/4 cups (150g) sifted confectioners' sugar
3 Tablespoons of orange syrup
Instructions
Preheat the oven to 350 degrees F.
Grease a small (5 cup) Bundt pan and set aside.
In a bowl of a stand mixer whip eggs and sugar together for about 3 minutes until light and fluffy.
Add milk, oil, vanilla extract , and orange zest to another bowl and mix well.
In a different bowl whisk together flour, baking powder, and salt.
Add about half of the dry ingredients to the whipped egg and sugar mixture and mix on low until just incorporated.
Add all wet ingredients, mix until just incorporated and then add remaining dry ingredients, mix on low until just combined, scraping the bowl if needed.
Pour the batter into a prepared greased bundt pan.
Bake at 350F for about 40-45 minutes, when the toothpick comes out clean and dry, cake is ready.
While the Bundt cake is baking, make the orange syrup. For this combine sugar and fresh orange juice in a small saucepan, bring to boil, and boil on low heat for about 5 minutes until sugar dissolves.
With the cake still in the pan, poke it with a long skewer and make many holes( the more holes, the more moist your cake will become). Carefully pour 3/4 of the syrup (leaving some for the glaze) all over the cake. Let the Bundt cake cool completely in the pan before carefully removing it.
Make the glaze: Whisk together the confectioners' sugar,and remaining orange syrup (about 3 tablespoons) . Depending on how thick you'd like the glaze to be, add more or less confectioners sugar. Make sure to whisk well to avoid any lumps.
Drizzle over cake then slice and serve.
© 2023 Copyright Olga\'s Confections