Jump to recipe
Happy Friday friends, and it really is happy since I'm enjoying a slice of a decadent, super fudgey brownie while typing my blog post.
Raise your hand if you love brownies, I know for a fact that many of you do. In fact since I've posted my updated recipe for Family's Favorite Decadent Brownies back in December, it became most viewed, most popular recipe on my blog. I have received so much feedback and I couldn't be happier that one of my favorite desserts became one of the favorites among my readers.
Now try not to laugh, but I have managed to make these brownies even more insane, in the best possible way 😜🤣.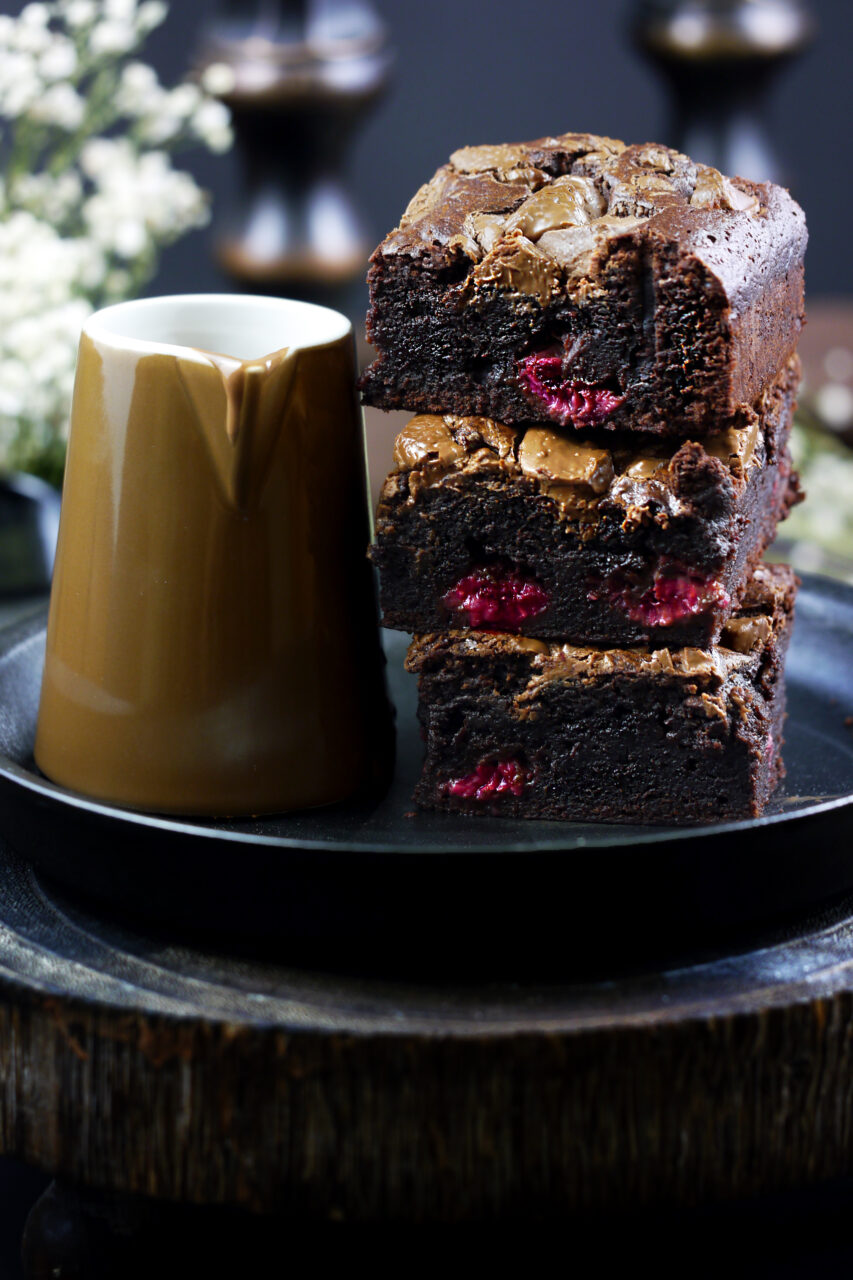 How did that happen? Simple. I have had some raspberries that's been sitting in the fridge, begging to be eaten or used up a long time . Since they weren't super fresh, I needed to incorporate them into baking, and since we all craved a good and decadent chocolate dessert I have decided to add these raspberries into our favorite brownies . And what happened, was the BEST DECISION ever and I'm so excited to tell you that you guys MUST try it to see for yourself. Already insanely delicious dessert got promoted to freaking insane, and I'm not exaggerating, it's a 🍫BOMB 😉💣 Dark chocolate brownie and tart raspberries is a perfect marriage, what I've also did, is I have chopped up some good milk chocolate and sprinkled the top of the batter before baking, 'cause we all know : there's NO such thing as too much chocolate.
To turn the Decadent Brownies into Raspberry Brownies simply add fresh or frozen raspberries , and carefully incorporate them into the batter by folding them in. As an option, sprinkle some milk or dark chocolate chunks on the batter before baking.
If you are ready ( and I hope you are! ) for some heavenly delicious chocolate treats that will make all your taste buds sing, scroll down and check my recipe below.
Enjoy, share with friends and family and have fun baking,
Olga
Decadent Rapsberry Brownies

Notes
Store in an airtight container for up to 2 days.
If using frozen raspberries, do not thaw them before adding to the brownie  batter.

Ingredients
2 cups (350gr) dark chocolate chopped
3/4 cup (235gr) butter
1 3/4 cups (350gr) brown sugar
4 large eggs
2 large egg yolks
1 1/4 cups(160gr) all-purpose flour, sifted
6 tbsp cocoa powder, sifted
1 1/2 cup (250 gr) fresh ( frozen) raspberries
1/2 cup (100 gr) chopped milk chocolate or good quality chocolate chips
Instructions
Line a 7×7 inch square cake pan with parchment paper, set aside.
Preheat the oven to 180 degrees C or 360 degrees F.
Add chocolate and butter to a medium size pot and melt on the stove over medium heat. Stir with rubber spatula occasionally until the chocolate is melted, looks smooth and glossy. Don't let it cook heat up too much, take the pot off the heat once chocolate is fully melted.
Once chocolate is melted, add brown sugar. Stir in sugar into the chocolate and butter mix. Let mixture rest and slightly cool off for about 10 minutes, sugar will be slowly dissolving in a meanwhile.
Add eggs one at a time whisking after every addition. Add egg yolks, mix everything well until everything is fully incorporated.
Add sifted flour and cocoa powder. Use rubber spatula to carefully incorporate dry ingredients.
Add fresh or frozen raspberries and carefully incorporate them into the batter by folding them in.
Pour the batter into a prepared cake pan and sprinkle chopped milk chocolate (optional step)
Bake at 360degrees F (180 degrees C) for no longer than 30 minutes.
Once the brownies are baked, let them cool off completely before removing the cake pan.
Cut into equal sized squares and enjoy!
© 2023 Copyright Olga\'s Confections