Jump to recipe
Do you like making homemade candy? While it might sound quite hard, time consuming and even intimidating, many homemade candy are actually easy to make, they taste better and are a way healthier alternative to any store bought candy.
I love making homemade truffles, while I do make them often throughout the year, my busiest truffle making time is around Christmas time when I roll out dozens of various truffles for presents. But when I make truffles for my family I usually make double or even a triple batch and keep extras in an airtight container in the freezer, so when we have a quick sweet crave , these extras come in handy.
Today I am excited to share one of my personal favorite recipe for the Matcha White Chocolate Truffles.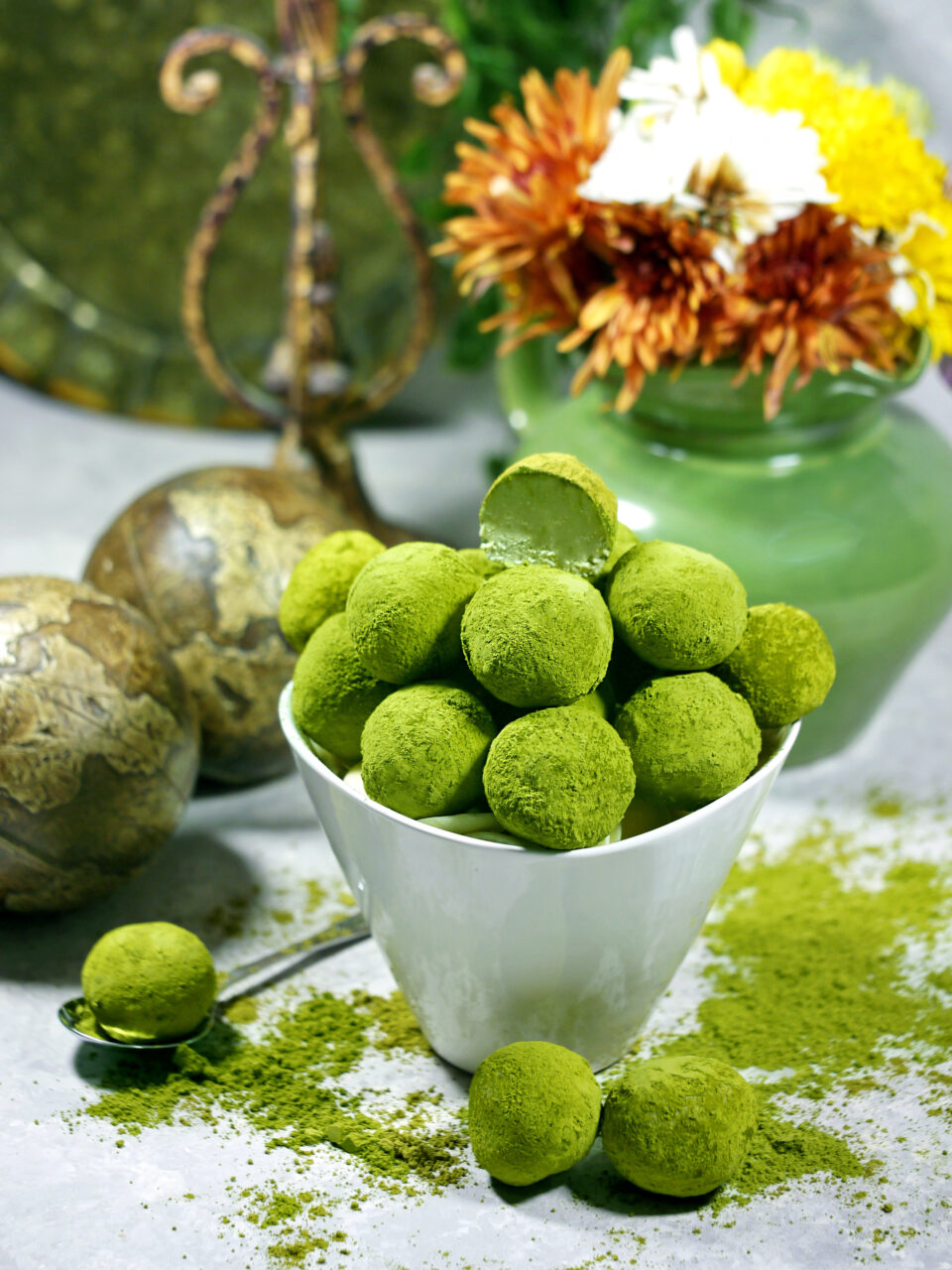 Matcha green tea is high in antioxidants, which some suggests to help lower the risk of strokes, heart disease and anxiety. So together with a lot of health benefits matcha is ideal for baking and is super flavorful. I absolutely adore using matcha powder in baking and already shared a few of my "Go to" matcha recipes before. Take a look at these incredible Matcha Amaretti cookies. or these gooey Matcha green tea squares with white chocolate chunks.
Matcha White Chocolate Truffles are easy to make, you can even prepare matcha chocolate in advance and shape truffles days later! Bitter matcha powder and sweet white chocolate pair amazingly well here, these truffles are smooth and fudgy and taste so good just as is or with a cup of black coffee in the morning. And should I even mention how beautiful they look?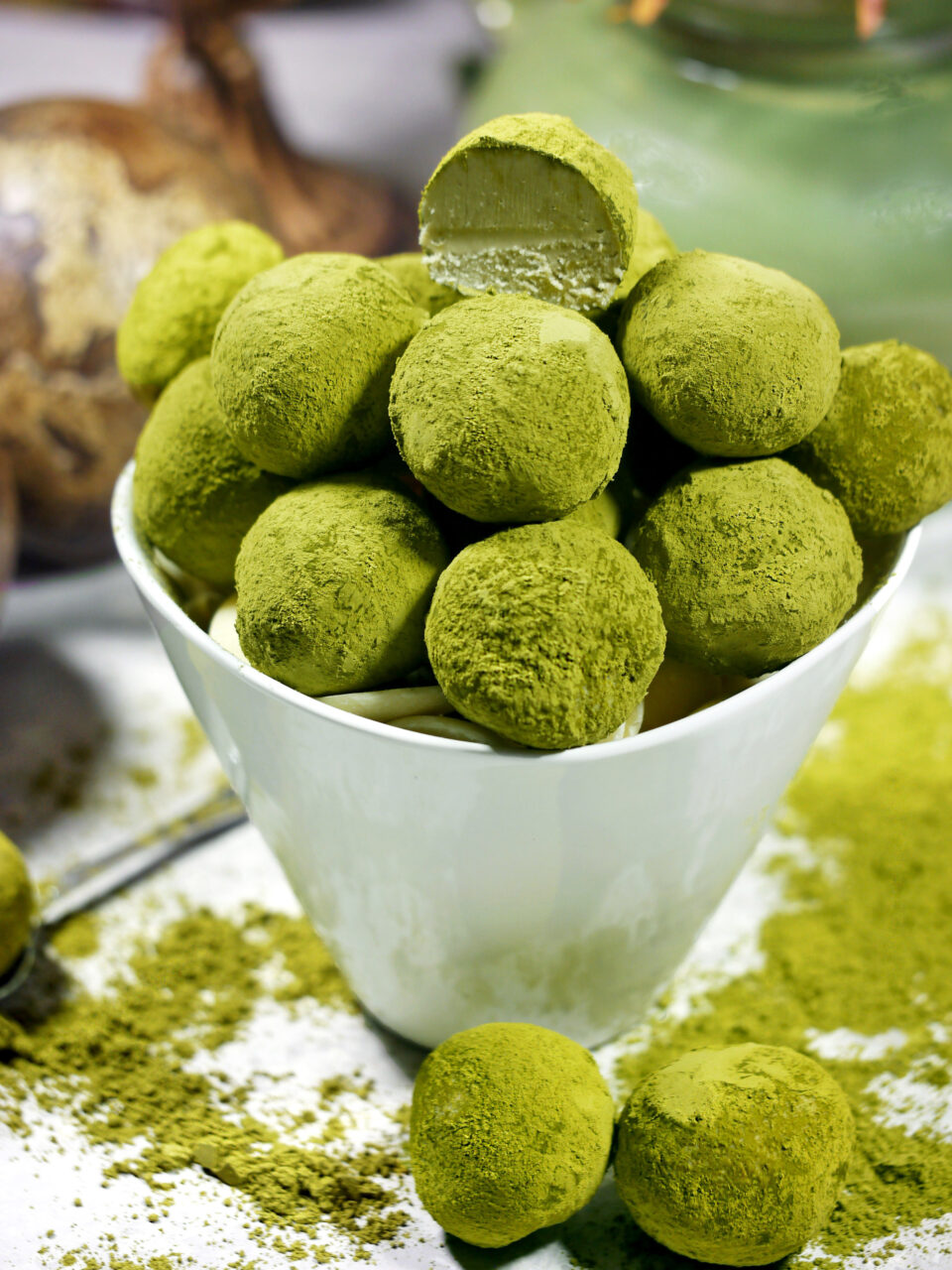 Matcha White Chocolate Truffles are pretty easy to make. Just follow the simple steps listed below and you will get perfectly irresistible, delicious homemade truffles that will make your taste buds sing.
Matcha White Chocolate Truffles

Matcha chocolate needs at least 6 hrs of refrigeration. Make it in advance and keep refrigerated for up to 4 days before forming the truffles.
Instead of rolling truffles in extra matcha powder, try rolling them in crushed pistachios or tiny chocolate bits.
Truffles taste better cold, do not leave them on the countertop.
When rolling truffles I suggest  wearing food grade  gloves, otherwise the chocolate would be melting fast.
After rolling truffles in  matcha powder, brush off or shake off extra powder. Truffles will taste bitter when coated with too much matcha powder.
Ingredients
2.5 cups ( 400gr) chopped white chocolate ( or white chocolate chips)
1/2 cup (125gr) whipping cream (or heavy cream)
1/8 cup (25gr) softened butter
1Tbsp(5gr)matcha powder +more for coating
Instructions
Place chopped white chocolate in a heatproof bowl and set aside.
Heat whipping cream in a small saucepan over medium-high heat. Do not bring it to boil, but make sure it is simmering along the edges.
Pour heated whipping cream over the chocolate and stir mixture with a spatula. Set aside for couple minutes to let chocolate melt.
After a few minutes stir the chocolate again and add matcha powder.
Using an immersion blender, blend chocolate until its smooth and shiny.
Add softened butter and blend the chocolate and matcha mixture again until butter is fully incorporated. It should look glossy and perfectly smooth.
Pour the matcha chocolate mixture into any deep glass container( like a loaf pan for example.)
Cover the matcha chocolate with a plastic wrap intact and refrigerate for at least 6 hrs or overnight. * See notes
when chilled, scoop 1 tablespoon portions of the matcha chocolate mixture and roll into balls. Roll the balls in extra matcha powder
Serve cold.
© 2023 Copyright Olga\'s Confections