Jump to recipe
Who likes ridiculously easy recipes? And who likes recipes that don't require using mixers and are so easy that they take only 5 minutes to make? I sure do love recipes like that, they are such a time saver.
So my dear friends, I am happy to share a ridiculously easy recipe for Apple an Oatmeal cookies. Made in just 5 minutes, using a very minimum of ingredients that are most definitely are already available at your house. This year is busy for me, way busier than it was ever before, my boys have extra after school activities, and there are days when I have to pack food for my kids to eat on the go, as we don't have enough time to sit down to a nice dinner. I am sure many of you can relate to a schedule like this, so you know that finding great and healthy snack ideas are super important.
I have been making these magic cookies on repeat lately, and we all can hardly get enough. Not only they are super tasty, they are healthy, warm, aromatic, the only disadvantage is that they disappear so fast. I highly recommend making a double batch, they can be stored easily in an airtight container for up to several days.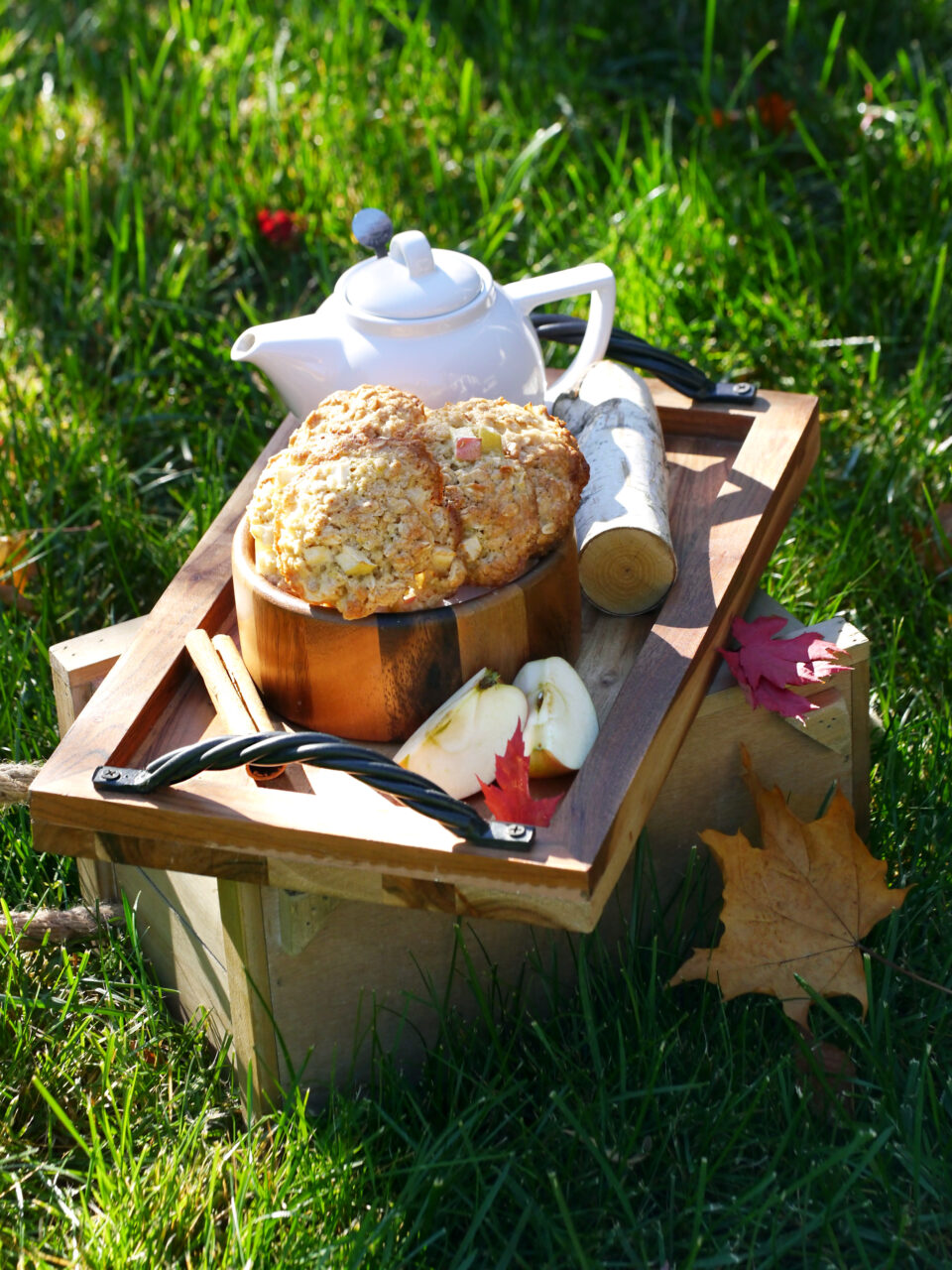 Use any type of apple you have in the fridge, add less sugar if using a sweeter apple variety.
I have used different varieties of oats: steel cut oats, rolled / old-fashioned oats and quick oats and had wonderful results!
Use cinnamon instead of lemon zest, also try adding dry berries, such as cranberries, cherries, try adding nuts. Don't be afraid to experiment and enjoy baking.I hope you will like my Apple and Oatmeal Cookies recipe. Let me know what you think,
Best wishes,
Olga
Apple and Oatmeal Cookies.

Apple and Oatmeal Cookies are crispy on the outside and soft and tender inside.
Don't remove cookies from the tray immediately after baking, as they are very tender. Cookies will harden when cool.
Store in the airtight container for several days, cookies will become softer.
Substitute lemon zest with cinnamon if you want a different flavor.( 1-1.5 teaspoons )
This recipe can be doubled easily( highly recommend as they disappear fast!)
Ingredients
To make 9 cookies you need:

Butter 1/4 cup(60 gr)
Sugar 1/2 cup (60 gr)
1 Egg
Oats 1 1/3 cup (120 gr)
Salt 1/4 tsp
Flour 1/2 cup ( 60 gr)
Baking powder 1/2 tsp
Apple 1 medium (core and seeds removed)
Zest of 1 lemon
Instructions
Preheat oven to 360degrees F (180degress C). Line baking sheet with parchment paper or silicone mat.
Using a medium glass bowl combine softened at room temperature butter, salt and sugar. Mix well with a fork, and incorporate all ingredients together.
Add one egg, and mix again.
Add oats, flour, baking powder and lemon zest. Mix well to combine all ingredients together.
Cut apple into tiny cubes and mix the apples into the batter as good as possible, the cookie batter will be sticky.
Scoop cookie batter with a tablespoon or smaller scoop and form a ball, press gently to flatten it and transfer on a baking tray. (It is easier to to have wet hands when forming the cookies, as the cookie batter is quite sticky!)
Repeat the previous step until there is no more cookie batter left.
Bake cookies on a middle rack for 15- 20 minutes, adjust the baking time depending on the size of the cookies.
Cookies will be golden brown and very very aromatic!
Let cookies cool off on a baking tray for 10 minutes and only then transfer them on a cooling rack to cool completely.
Enjoy with a glass of milk or a cup of tea!
© 2023 Copyright Olga\'s Confections