Jump to recipe
I have realized that I don't post very many cookie recipes, and I have quite a big selection of family favorites. So I set myself a goal to post a good variety of cookie recipes that I am sure you all will love, so stayed tuned!
I think Autumn is a perfect time to start baking some yummy cookies, kids are back to school, and packing a cookie ( or two) in a lunch kit is a great option. Autumn is also all about warm, cozy and comforting food, and I believe that cookies are just the right fit for this description. Especially so when there's these wonderful, aromatic Honey cookies.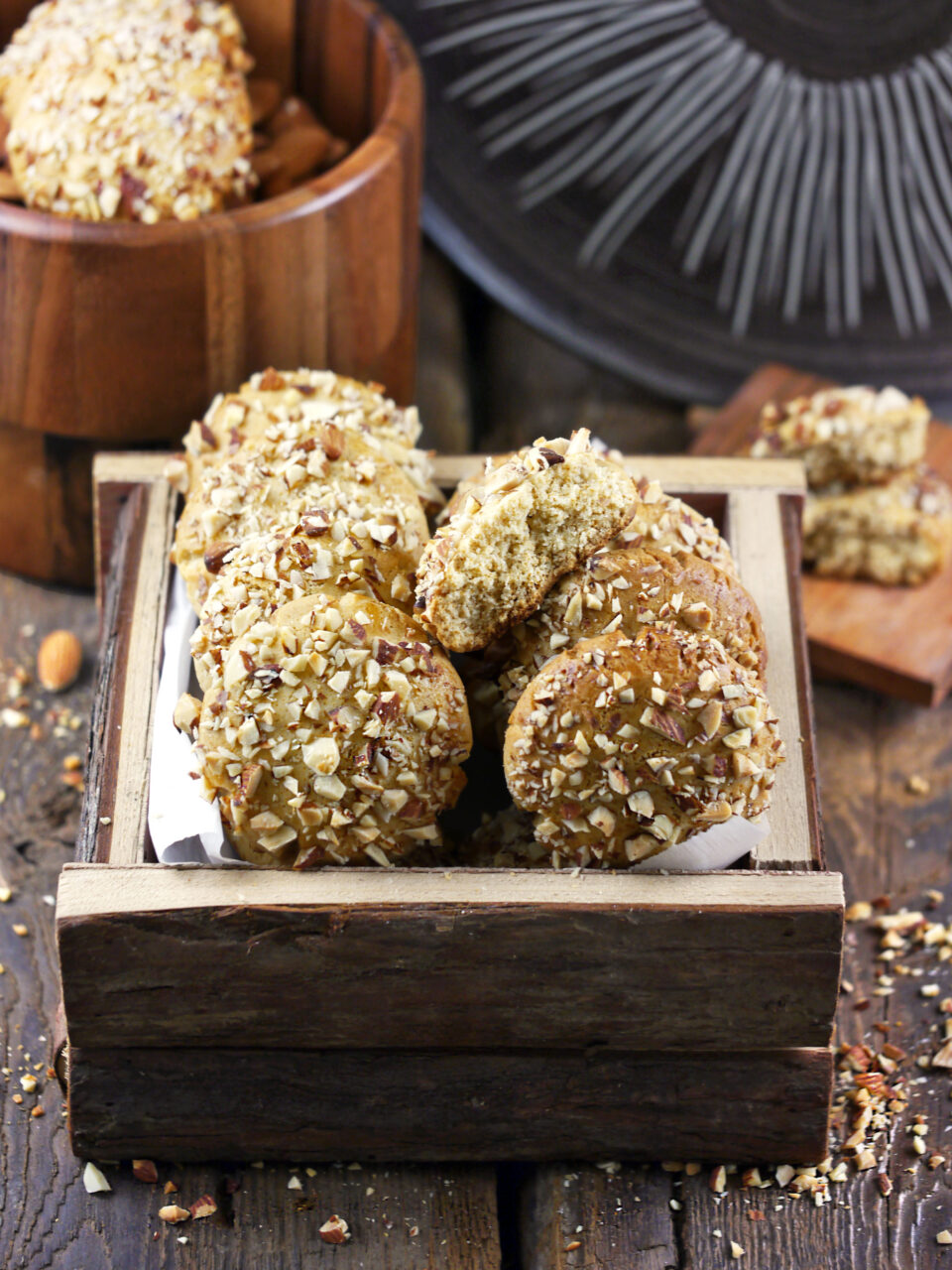 These Honey cookies are truly delicious, they are aromatic and have a fantastic soft texture. crushed nuts on top add the wonderful crunch and even better, deeper flavor. These cookies taste wonderful with just about everything, pour a glass of milk for kids, and a cup of coffee/tea for yourself and enjoy!
I have made these cookies with different nuts: walnuts, almonds, hazelnuts, even pistachio. All these choices will bring a slightly different flavor, and all are equally fabulous when paired with the soft honey dough. And I really love that with just a little tweak like changing the nuts, you will have a "different" cookie each time you bake!
Any type of honey would work in this recipe, I strongly recommend using natural honey in this recipe. If the honey you are using is no longer liquid, simply microwave it for 10-15 seconds or warm it up with hot water.
Keep cookies in an airtight container at warm temperature for up to 3 days.
I sure hope you will try to bake these cookies. Do let me know what you think of these Honey cookies, and which type of nuts is your favorite
Happy baking!
Cheers, Olga Xx
Honey cookies with almonds

Notes
As an alternative use walnuts,hazelnuts and even pistachios. All these nuts are going to taste incredible with these soft honey cookies.
Baking times varies depending on the softness of cookies you want to achieve. The longer the baking time the crunchier cookies will be.
A cup is assumed to be 240 ml.
If possible use the scales when baking.  It is more accurate and more precise than using cups and spoons.
Ingredients
1/4 cup (100g )Butter melted
1/3 cup(80g)Sugar
2 Eggs at room temperature
3/4 cup (140g)Honey
1.5 tsp Baking powder
1.4 tsp Salt
2 1/2 cup + 3 tbsp(430g)All purpose flour sifted
1 egg white for brushing
3/4 cup (90g) Chopped Almonds
Instructions
Preheat the oven to 360F (180C). Line baking sheet with parchment paper, set aside.
Using a hand held mixer, whisk together melted butter and sugar.
Add eggs and honey and whisk on medium high for 2 minutes.
Add sifted all purpose flour, baking powder and salt and make a stiff dough ( see photo) either by hand or using a dough hook.
Cover the dough with a plastic wrap and refrigerate it for at least 15 minutes.
While dough is chilling chop almonds finely and set aside.
Once dough is chilled, divide it into 20 even pieces (use scales if needed). Roll each piece into ball, flatten the top, brush each cookie top generously with an egg yolk and dip it into the crushed nuts so each cookie is covered generously ( see photo).
Transfer the cookies on a baking sheet lined with baking paper and bake for 16-18 minutes on a middle rack.
Once cookies are baked transfer them onto the cooling rack and let them cook for 15 minutes.
© 2023 Copyright Olga\'s Confections