Jump to recipe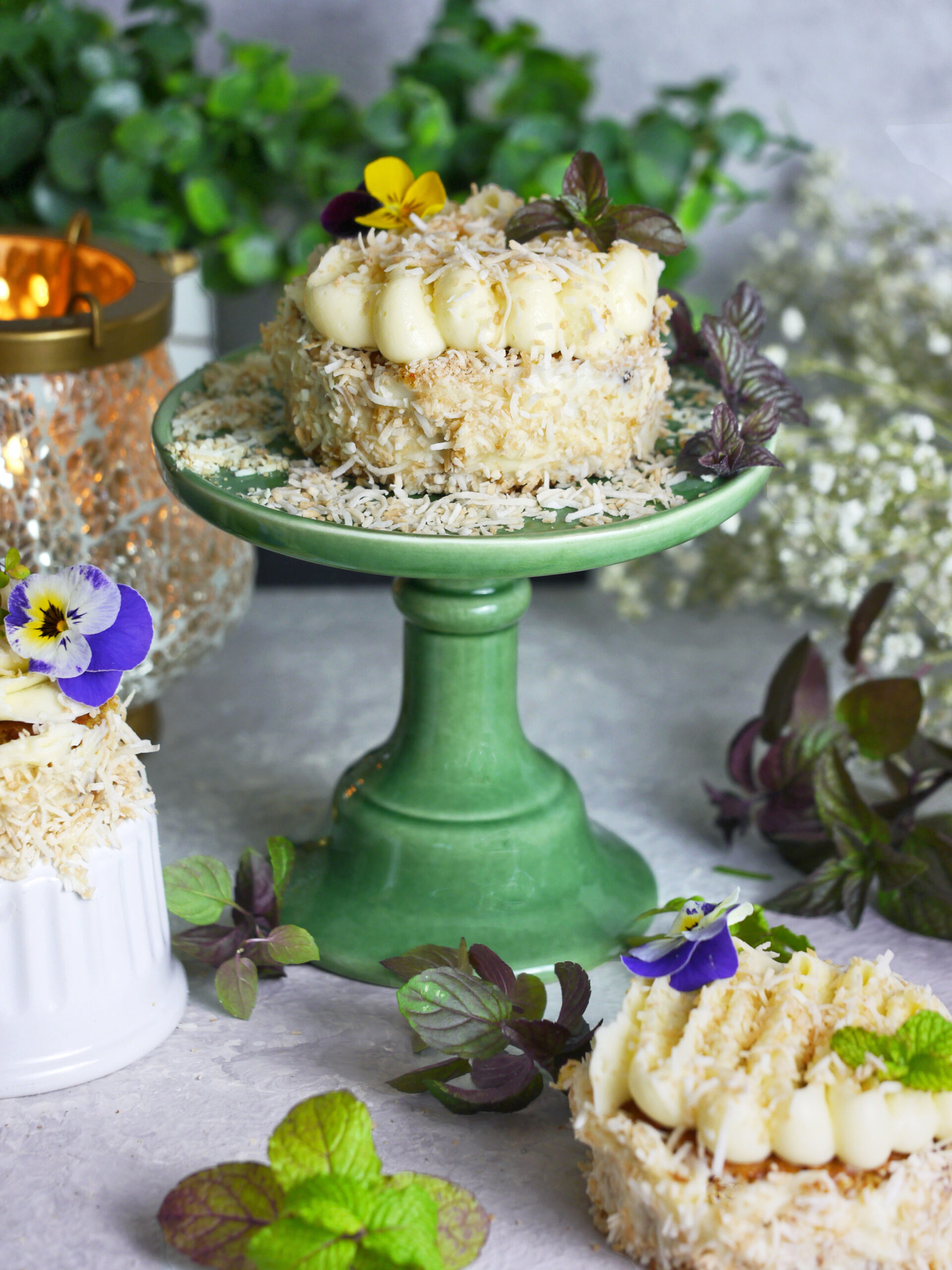 Carrot cake is probably one the most famous cake out there. Who doesn't like a soft,sweet and simply delicious carrot cake?! I certainly enjoy it! Before I moved to Canada many years ago,I haven't even heard of this classics. But after trying it for the first time, this dessert captured my heart.
Over the years I have tried probably a dozen of different recipes, and different flavor variations, some I should say were way better than the others, some recipes are now in my recipe book, and I use them frequently, whenever we crave this delicious treat. But this fluffy Pineapple and Coconut carrot cake is by far on the top of our list.
This cake is moist and easy to prepare, it is so delicious and has a wonderful texture and beautiful aroma, it bakes beautifully and pairs so well with a lush cream cheese frosting. I bake it often as a sheet cake, quickly whip my favorite cream cheese frosting that is not sickly sweet and voila, this deliciousness is ready to be enjoyed within a few hrs! Just as simple as that!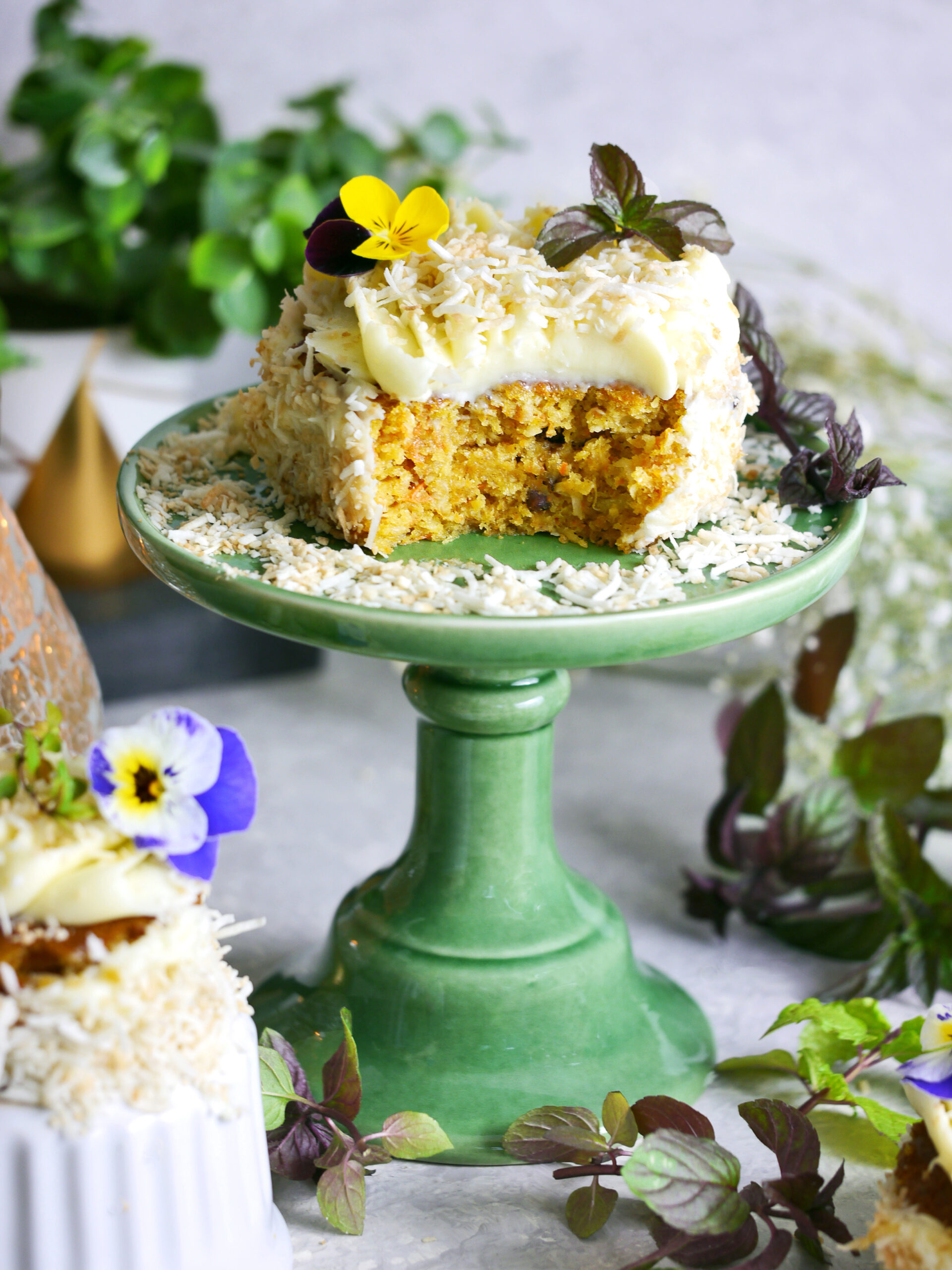 A few things I want to add about this recipe:
I use a grape seed oil in this recipe, it has a subtle smell and clean taste. I highly recommend using this type of oil in the recipe, or alternatively use a vegetable oil without a strong smell.
I prefer to puree (mash) canned pineapple, as it creates even more moisture in this cake, and you can still taste the pineapple flavour . Alternatively you can use crushed pineapple, or even leave the bigger chinks if you like the texture, just make sure to add all the pineapple juices into the cake batter!
I love finely shredded carrots in this recipe, again the texture just benefits from the finer grates!
If you don't have buttermilk in the refrigerator, no worries, you can simply make a perfect substitute within a few minutes. Just Add 1 tbsp of vinegar to 1 cup of milk (at room temperature), stir to combine and leave for 5 minutes. This makes a perfect substitute for buttermilk!
Before adding pecans to the cake better, try toasting them on a frying pan! Spread pecans in a single layer on a heavy bottom pan and toast them on a medium heat stirring occasionally until browned ( 3 to 5 minutes). Toasting pecans will boost the flavor of the cake even more!
My Cream cheese recipe contains less sugar than usual, I love it that way, because extra sweet and sticky frosting doesn't "steal" the flavor of this flavorful cake . If you prefer an intense cinnamon flavor, I suggest trying my Cinnamon Cream Cheese frosting, you will be impressed!
I love toasting shredded coconut to coat the cake, it adds a bit of a crunchy texture and more flavor and aroma, so I highly recommend trying it at least once!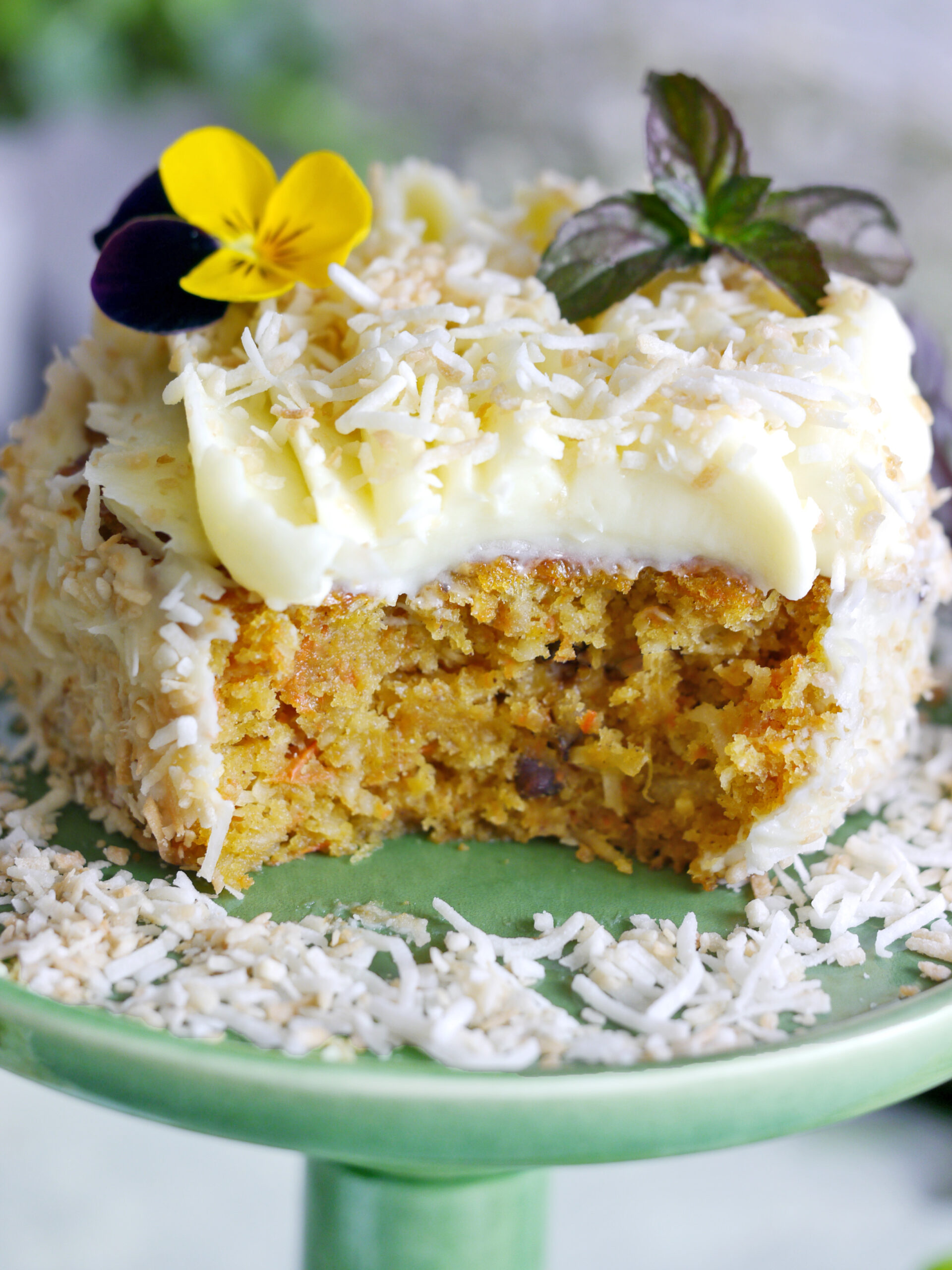 If you baked and liked my recipe, please let me know! I would love to hear about your experience!
Pineapple and Coconut Carrot Cake

Notes
Make sure that all ingredients are at a room temperature prior to baking
This recipe makes 3 layer 6 inch cake, or 2 layer 8 inch cake, or 9×13 sheet cake
If you don't have buttermilk, no worries,you can simply make a substitute within  a few minutes : Add 1 tbsp of vinegar to 1 cup of milk at room temperature, stir to combine and leave for 5 minutes. This makes a perfect substitute for buttermilk.
1 cup equals  240ml
Ingredients
For the cake : 


3 Eggs

¾ Cup of grape seed oil( or any other vegetable oil)

¾ Cup of Buttermilk

1 ½ Cups of Granulated sugar

2 tsp Of Vanilla extract

1 ½ tsp Cinnamon

¼ tsp ground ginger

2 cups of All purpose flour

1/4 tsp of Salt

2 tsp of Baking Soda

2 cups Of finely Shredded Carrots

1 cup of Unsweetened shredded Coconut

1 8oz can (237ml) of Pineapple with all juice

1 Cup of finely Chopped Pecans

For the cream Cheese Frosting:

2 bricks (500 g) of Cream cheese at room temperature
1cup (240 g) Unsalted butter, at room temperature 
1 cup(240 g) Powdered sugar, sifted
1/4 tsp Salt
1 tsp Vanilla extract
1 tsp Cinnamon ( optional)
1-4 tbsp of Whipping cream ( to make fluffier frosting)

For Cake Assembly

1 cup of unsweetened toasted coconut flakes
Instructions
To make dough:

Preheat oven to 350 degrees F . Lightly grease and dust cake pans of your choosing with all purpose flour and set aside.

Add eggs, buttermilk, oil, sugar and vanilla to the bowl of a stand mixer and beat on medium speed for a minute.
Add flour, baking soda, salt, cinnamon, ginger and beat again until ingredients are fully incorporated.
Now add finely shredded carrots, shredded coconut , puréed pineapple with all juice from the can and finely chopped pecans. Mix well to combine.

Pour the batter into prepared cake pans and bake for 35 minutes, or until the toothpick comes out clean .
Let the cake cool in cake pans for at least 15 minutes, then remove from the cake pans and let cool completely on a cake rack. 
Make sure the cake is completely cool before assembly.

To make cream cheese frosting

Make sure that the butter and cream cheese is the same temperature ( room temperature)
Place softened butter and softened cream cheese in the bowl of a stand mixer fitted with a paddle attachment. Beat on low speed until mixed together, scrape down the sides of the bowl, and keep beating on medium for another minute or so.
Add sifted powdered sugar, vanilla, salt and cinnamon (optional) and beat again on medium speed until light and fluffy, for about 2 minutes, scraping down the sides of the bowl if needed.
If you want to make a less stiff frosting, add whipping cream, starting with 1 tbsp until desired consistency is reached.

To assemble the cake:

Place one layer of cake on a serving plate. Add cream cheese frosting and spread evenly with spatula . Repeat with next layer.
Place last cake layer on top and cover the outside of the cake. Coat the sides of the cake and top with toasted coconut flakes if desired.
© 2023 Copyright Olga\'s Confections