Jump to recipe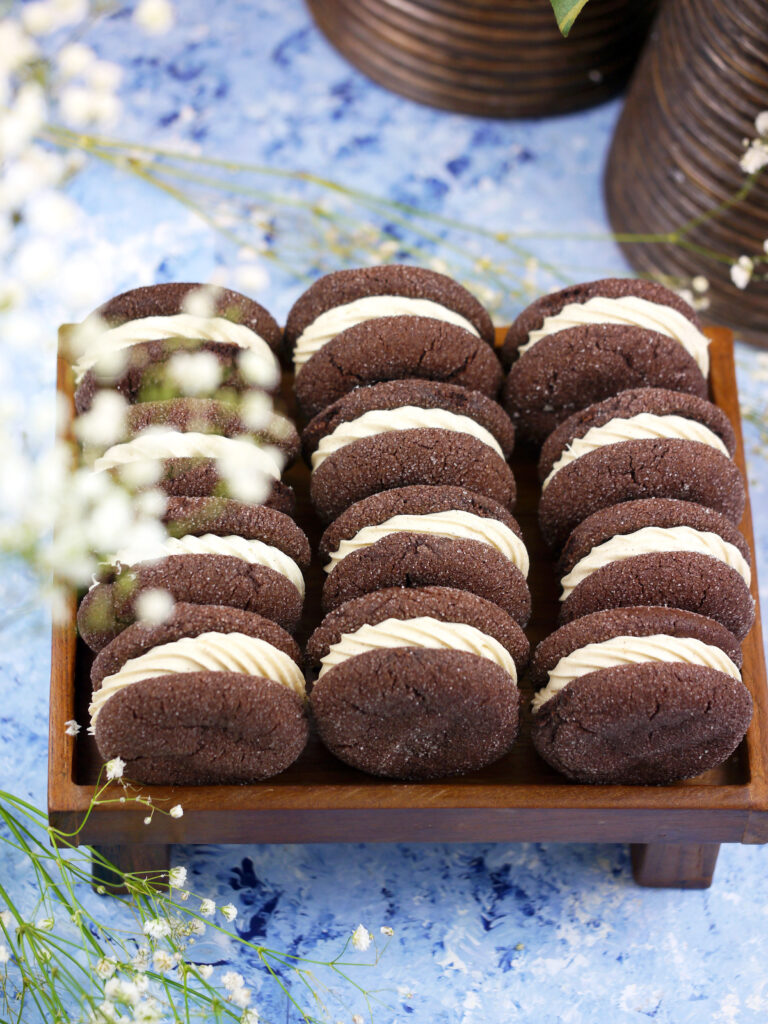 These Chili Pepper Chocolate Cookie Sandwiches are a chocolate lovers dream come true. Soft and delicious, they have an unusual little twist, I've decided to elevate and enhance the flavor by adding hot chili powder to the cookie batter. Some might consider it to be a weird choice, but chocolate and chili pepper is one the best combinations ever. By combining these two ingredients together, they create more deep and rich flavor.
This recipe might seem a bit long with multiple steps, and of course baking just hot chili pepper chocolate cookies itself are a great option, they would taste great on its own, they are soft, full of flavor, unusual and rich. But why not create something more extraordinary than just a cookie? The recipe seems long, but don't let this long recipe intimidate you, it's not too complex, especially if you plan and prepare the ingredients in advance.
Try making these cookie sandwiches with caramel and without! Caramel in the center of this cookie sandwich adds extra sweetness and chewiness. Caramel needs to be prepared in advance, so for example, why not to make a whole batch of caramel and enjoy it with crepes, on ice cream, or eat it with a spoon, but don't forget to leave some for the hot chili pepper sandwiches!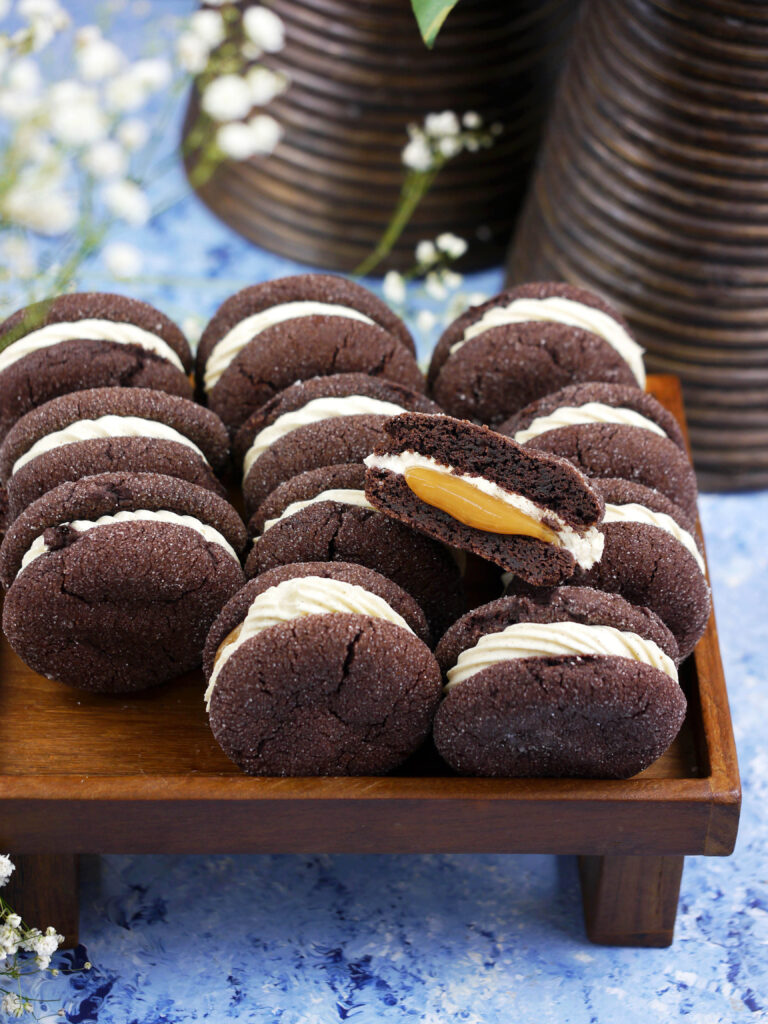 I usually make these cookie sandwiches with whipped cinnamon cream cheese frosting. I am a huge fan of cinnamon, and this spice here adds such a nice touch to these already delicious cookie sandwiches.
The recipe I am providing below, makes a nice, generous batch of cinnamon frosting, so don't be shy and pipe your cookies generously!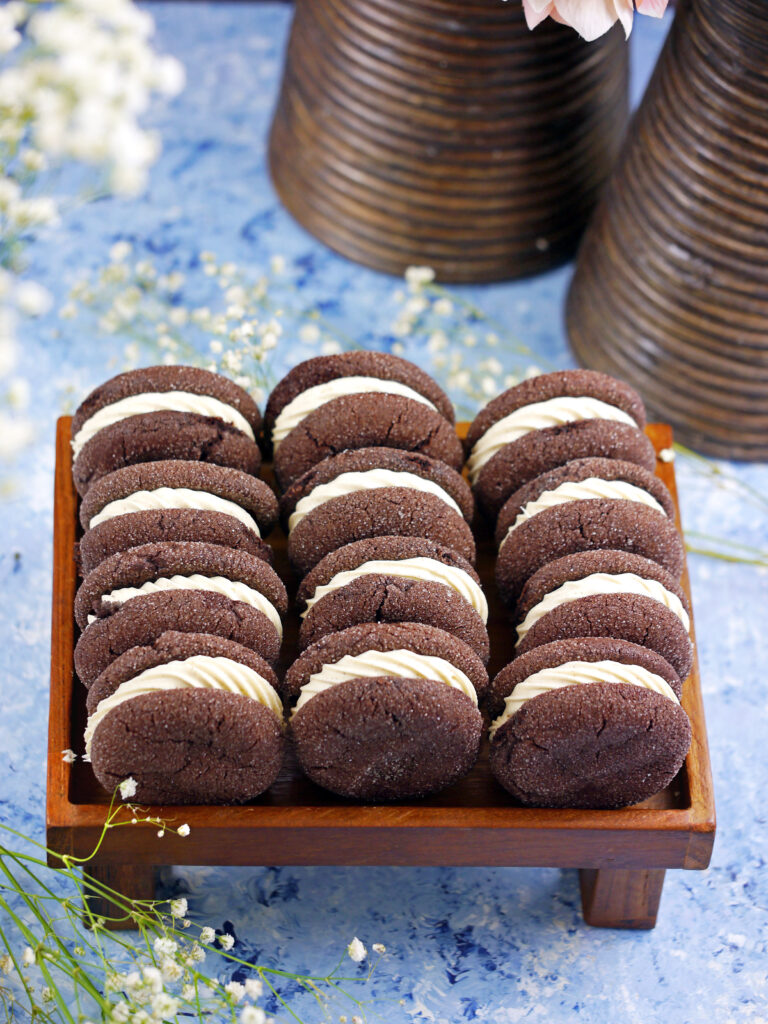 Also, if time is an issue, and you can't spend couple hours baking, it happens to us all, feel free to prepare this cinnamon frosting in advance! it can be stored in the refrigerator for 2 -3 days.
Just take the frosting out of the fridge an hour prior to assembly and let it sit at room temperature until its soft enough to pipe.
Ready to bake with me? Please follow the recipe closely, if having questions, I am here to help.
Happy baking!
Chili pepper Chocolate cookie sandwich with Cinnamon cream cheese frosting 

Ingredients
For the Chili pepper Chocolate cookies

:
1 and1/4 cup (170g) of all-purpose flour
1/2 cup (50g) cocoa powder
1/2 tsp baking soda
1/4 tsp salt
1/4 tsp hot chili powder
1 tsp ground cinnamon
5 oz (142g) softened unsalted butter
1/2 cup (100g) granulated sugar +more for coating
1/2 cup (100g ) light brown sugar
1 egg
1 tsp vanilla extract

For the Cinnamon Cream Cheese Frosting

:
1 brick (250 g) of softened cream cheese
1/2 cup (120g) of softened unsalted butter
1 cup(120g) powdered sugar, sifted
1/4 tsp salt
1 tsp ground cinnamon

Caramel ( optional)
Instructions
To make Chili pepper Chocolate cookies

:
Sift all dry ingredients into a medium bowl: all purpose flour, cocoa, baking soda, hot chili pepper powder, salt , cinnamon. Whisk together and set aside.
Using a stand mixer with paddle attachment (or a hand mixer), beat butter, granulated sugar and light brown sugar together. Beat these ingredients on a medium, for about 2 minutes until fluffy and light.
Add egg and vanilla extract, beat until egg is fully incorporated. With mixer turned on low, add all the dry ingredients and mix well, until all the ingredients are mixed in together and fully incorporated . Cookie batter will be thick.
Preheat oven to 350 degrees F ( 180 degrees C)
Cover the dough with plastic wrap and freeze for 10 minutes. Dough should be firm enough so you can scoop it, but not frozen.
Line a large baking sheet with parchment paper. Using a measuring spoon, take a small scoop of dough and roll it into ball, then roll the dough ball in some granulated sugar.
Place the dough ball on the baking sheet, and using fingers, carefully press each cookie ball and flatten them slightly.
Bake cookies on the middle rack for 9 minutes. Once cooked, cookies are very soft in the center. Don't over bake them, as they will harden up once cooled.
Let cookies cool completely before assembling.

To make Cinnamon Cream Cheese Frosting:

Make sure that the butter and cream cheese is the same temperature ( room temperature).
Place softened butter and softened cream cheese in the bowl of a stand mixer fitted with a paddle attachment. Start mixing on low, letting ingredients mix together,scraping down the sides of the bowl.
Once ingredients are incorporated, add sifted powdered sugar, salt and cinnamon. Beat cinnamon cream cheese frosting on medium speed until light and fluffy for about 2 minutes, scraping down the sides of the bowl if needed.
Using spatula, swirl the frosting in a bowl a few times,to get rid of the bubbles.
If frosting is not piped immediately, refrigerate it, until ready to be used.

Assembling the Cookie Sandwiches :

Transfer the Cinnamon Cream Cheese Frosting to a piping bag fitted with your favorite piping tip. I use Wilton 6B.
Pair the cookies if needed, so they are same size.
Place one cookie, bottom-up, pipe frosting onto the back of half the cookie. Cover with another cookie to form a sandwich and press gently. Repeat with the remaining cookies.

(If using caramel: Place one cookie bottom-up, pipe caramel in the middle, then pipe frosting around the caramel. Cover with another cookie to form a sandwich and press gently. Repeat with the remaining cookies.)

Refrigerate Chili pepper Chocolate cookie sandwiches for 20-30 minutes until cinnamon cream cheese frosting firms up.
© 2023 Copyright Olga\'s Confections