Jump to recipe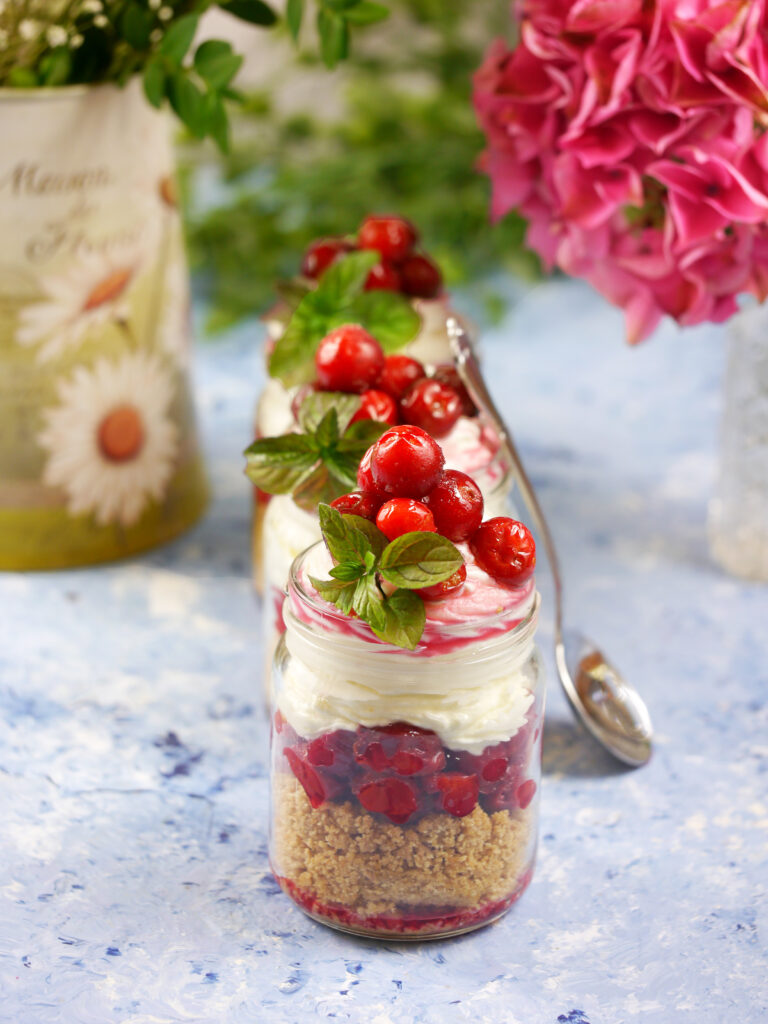 After taking a much needed little brake to celebrate my birthday, I am back with an easy No bake Cheesecake recipe.
Summer is here , or at least I hope that's the case with majority of other countries, it's not that hot here in BC yet, but we are looking forward to beautiful sunny days. And hot weather calls for chilled drinks, lighter food and chilled desserts too. I frankly never look forward to be spending hours in a hot kitchen in summertime, but what I always look forward to is a dessert, and a very good one. So what I am saying is: Hot weather is not an excuse to not make a yummy dessert!
That is when No bake dessert is a great find. No bake desserts are not only refreshing and indulgent but also they are easier and usually faster to make. Whipped in about 30 minutes, no bake cheesecake is a great last minute dessert idea.
The recipe I am sharing with you today is made with delicious sour cherry filling, which can be made a week in a advance and stored refrigerated in an airtight container. It potentially can be kept refrigerated for longer, but believe my experience, it never lasts that long, we all happily gobble it up with crepes or pancakes each time I prepare a new batch.
So…. going back to my no bake cheesecake. Prepare the filling in advance if possible ( also make a much bigger batch)! If you don't have the cherry filling premade, as an option, use fresh sliced fruit, though the cheesecakes wont be so flavorful in my opinion. Another option is to prepare the filling the same day and cool it off fast using an ice bath!
Serve the no bake cheesecakes in cute little jars, glass, or even bowls! I prefer serving this dessert glass containers, for that it reveals those beautiful multicolored, happy looking layers, but its completely up to you!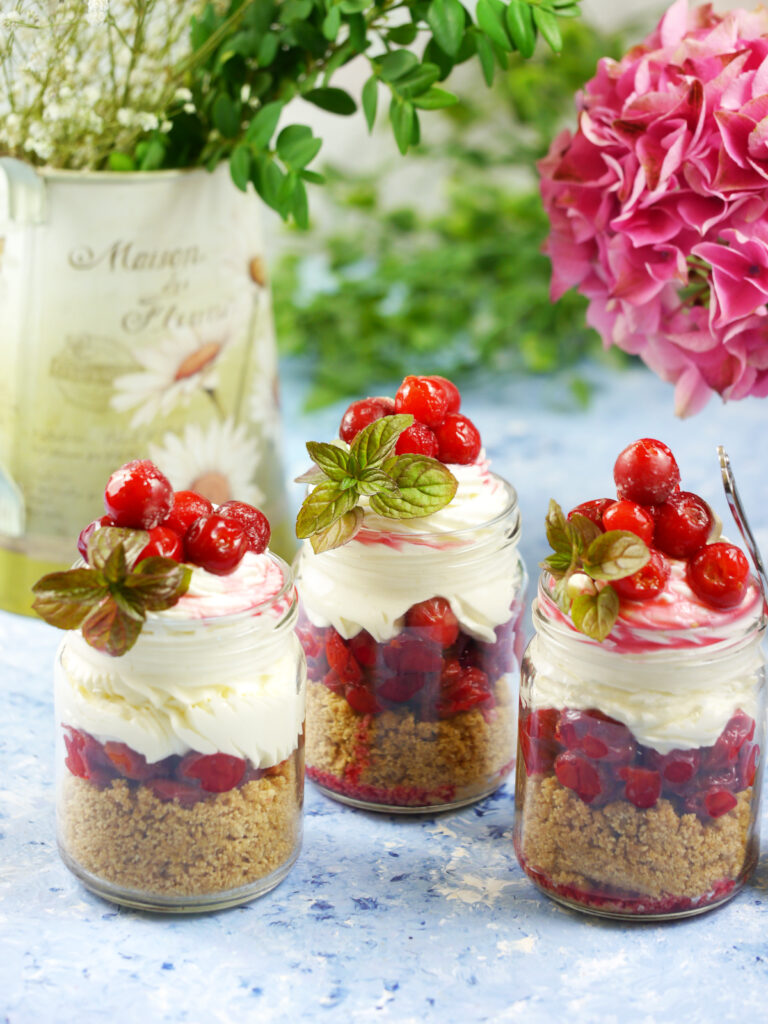 My version of cheesecake crust requires 2 types of cracker. I find that a mix of sweet Graham cracker with salty crackers, like Ritz pairs beautifully together and bring the sweetness down significantly. Again, its totally optional, and if its not something that you think you would like, no worries, easily substitute the amount of salty crackers listed in the recipe for the same amount of Graham cracker.
Let me know in the comment below if you made my No bake cheesecake in a jar and what you liked about it. Have fun!
No bake Cherry Cheescake

Notes
Keep the no bake  cheesecake  refrigerated for no more than 3 days
Substitute the filling and create your own favorite flavour ( Strawberry, Lemon, Blueberry, etc)
I love mixing sweet Graham crackers with salty crackers (like Ritz and similar) but feel free to use Graham crackers only
Ingredients
For Cheesecake

3 Tbsp (50g) melted unsalted butter
3/4 cup graham cracker crumbs
3/4 cup salted cracker crumbs
1 cup (240ml) chilled whipping cream
1 brick (224g) softened cream cheese
2 Tbsp (30g) sour cream, at room temperature
1/3 cup (65g) granulated sugar
2 tsp lemon juice
1/2 tsp vanilla extract
* For Cherry topping*
2 cups fresh or frozen pitted cherries
1 tbsp water
0.5 Tbsp cornstarch
1 Tbsp lemon juice
1 Tbsp sugar
Instructions
To make Cherry topping

Mix water,cornstarch, lemon juice, and sugar in a small bowl.
Pour the mixture into a medium sized pot and heat over medium until mixture thickens up. Stir occasionally.
Add cherries to the pot,stir and and cook until cherry topping is thick and cherries are soft . It should take about 10-12 minutes.
Cool the Cherry topping before adding it to the cheesecake.

To make Cheesecake

Melt the butter and pour it over graham cracker and salted cracker crumbs.
Add a generous amount of crumbs into each jar. Set jars aside.
Using a hand mixer with a whisk attachment, whip the chilled heavy cream until stiff peaks form and set it aside.
Using a hand mixer with a paddle attachment, beat the softened cream cheese, sour cream, lemon juice,sugar and vanilla extract together until mixture is creamy and smooth and no lumps remain.
Using a rubber spatula, fold whipped cream into the cream cheese mixture. Don't whisk vigorously, otherwise whipping cream will deflate. make sure all ingredients are fully incorporated.
Add 2-3 tablespoons of cooled Cherry filling into each jar.
Pipe or spoon a generous amount of whipped cheesecake filling on top of cherries.
Garnish with more Cherry filling ,fresh mint leaves, and graham cracker crumbs if desired.
© 2023 Copyright Olga\'s Confections