Jump to recipe
I love finishing a busy week on a sweet note, well… in all honesty I love beginning a week on a sweet note, and also have that same sweet note somewhere in the middle of the week too. So let's rephrase: I love finishing a busy week on a special sweet note.
And oh boy- how special these matcha squares are! Not overly sweet, gooey, refreshing, beautiful, indulgent and absolutely delicious!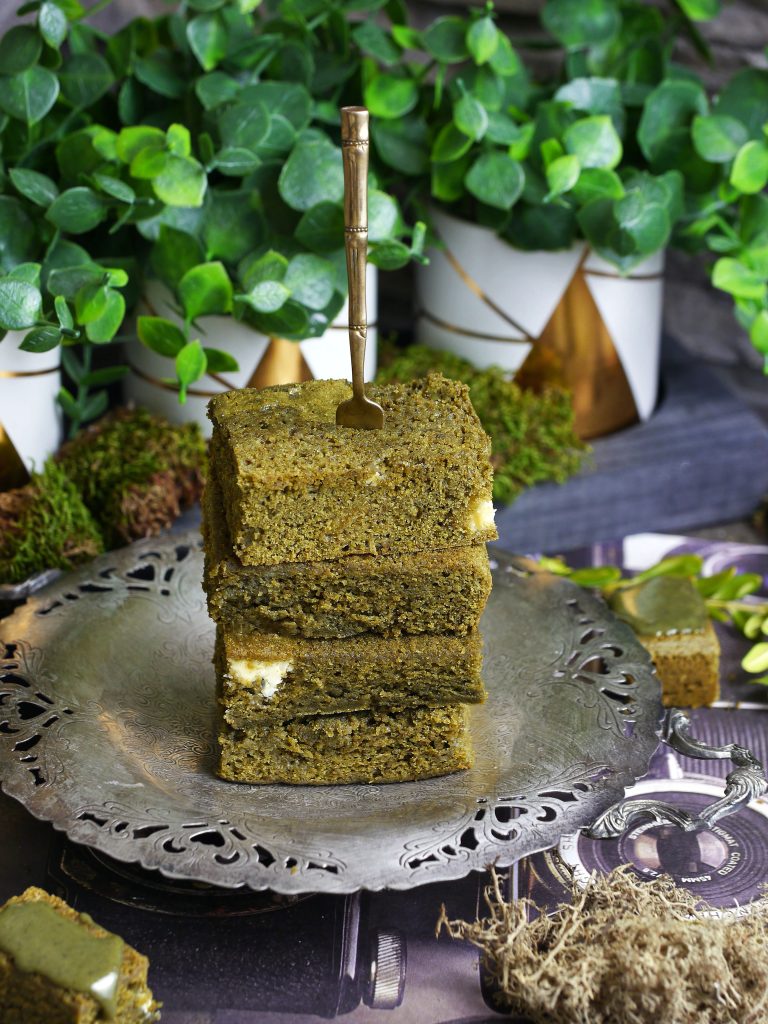 Funny but I don't remember how exactly my love for matcha started but I instantly felt in love with its smooth, pleasant flavour, and sweet grassy taste. I am always looking forward to bake matcha treats, I search for new recipes all over the internet. I am lucky I haven't haven't had a recipe that failed me yet.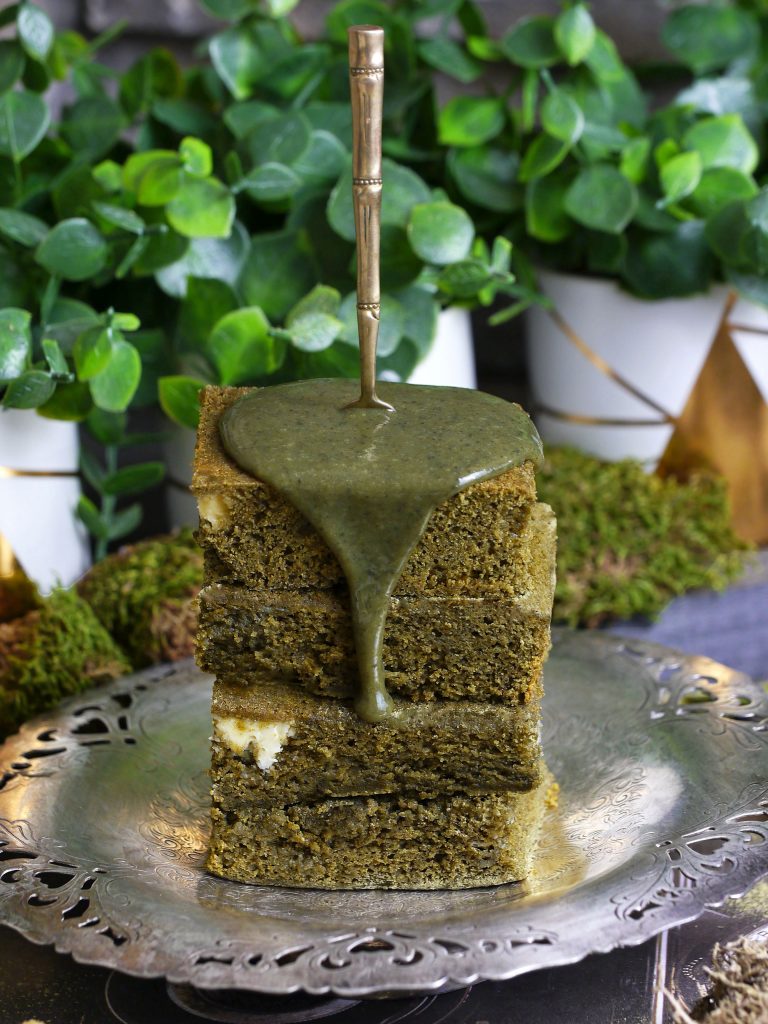 The recipe I'm sharing with you today I've baked many times before. Each time matcha squares turn out beautifully and I guarantee a great result. If you love matcha flavour, I highly recommend making these tasty squares,you'll see how easy it is to make them, besides you don't even need to get your mixer out, all the whisking you do is by hand!
So bake it, and enjoy! Please let me know if you try it, I always look forward to your feedback.
Happy Friday and have a fantastic sunny weekend.
Matcha suqares with white chococlate chunks

Notes
Double the batch easily but use a a bigger baking tray. I suggest 7×7 or 8×8, though it would make thinner squares.
You can serve it chilled or warm. Dust squares with matcha powder, or white chocolate matcha ganache,  or serve with a scoop of vanilla ice cream
Ingredients
40 g Unsalted butter
90 g White chocolate chunks
50 g Brown sugar
2 Eggs at room temperature
50 g all purpose flour
2 Tbsp Matcha green tea powder
1/2 tsp Baking powder
40 g White Chocolate chunks or chips
Instructions
Preheat oven to 340F. Line a 6×6 inch baking pan with parchment paper. Set aside.
In a medium size bowl sift all purpose flour, Matcha green tea powder, and baking powder. Set aside.

In another microwave proof bowl, microwave butter and shredded white chocolate about 20 seconds at a time, mix it well each time. All chocolate should melt and mixture should become smooth. Add brown sugar and mix it in, sugar will start melting from the heat of the chocolate.
Add eggs into the butter and chocolate mixture, one at a time. Mix well until the egg fully incorporates before adding the other one.
Combine all the dry ingredients with wet ingredients and mix with rubber spatula. We don't want to have big bubbles here. Mix in white chocolate chunks or chips.
Pour the mixture into the prepared pan . 

Bake for 15 to 20 minutes, don't over bake , it would result in dry rather then moist and gooey brownie.
Once it is baked, let is cool in the pan for about 20 minute, then carefully remove it from the pan and let cool completely on the rack.
Once cooled completely cut into squares and either dust with matcha or powdered sugar.
© 2023 Copyright Olga\'s Confections