Jump to recipe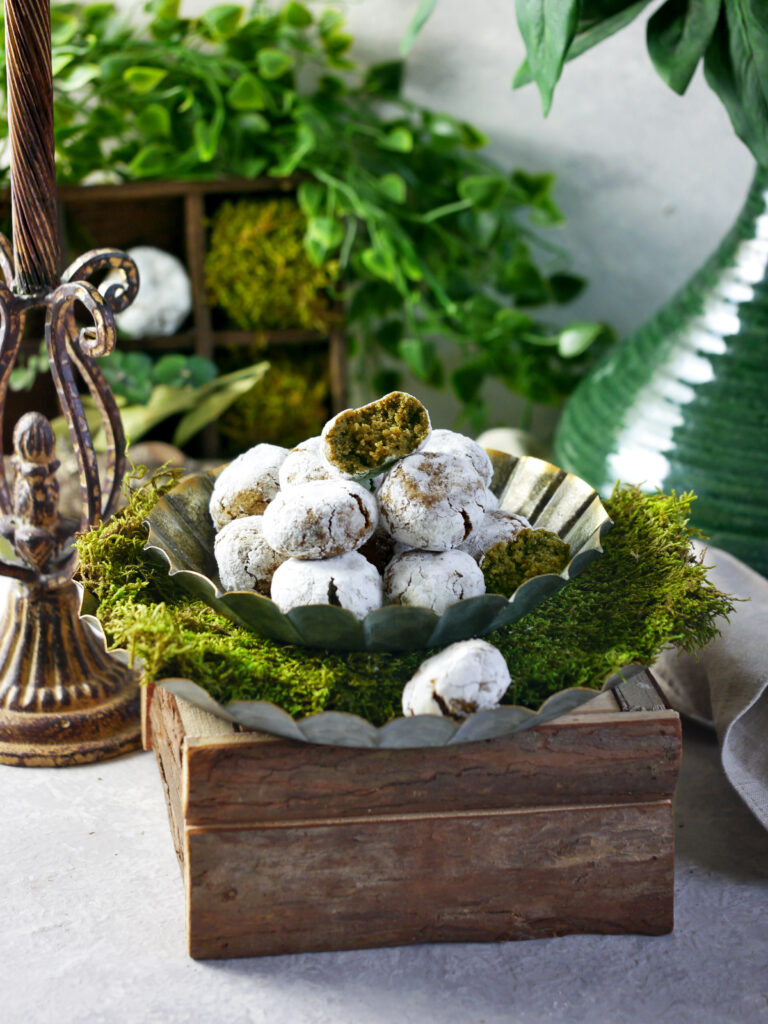 Cookies are one of the most baked and most favorite goods in the world. I am sure majority of you have quite a good selection of favorite cookies recipes in your recipe book, I do too but I still am always in search of new, tasty recipes that I haven't tried yet. My latest " new" favourite turned out to be such a great discovery! The recipe was passed to me by a good friend of mine, I tweaked it a little to my liking and now I am happy to share the recipe with you.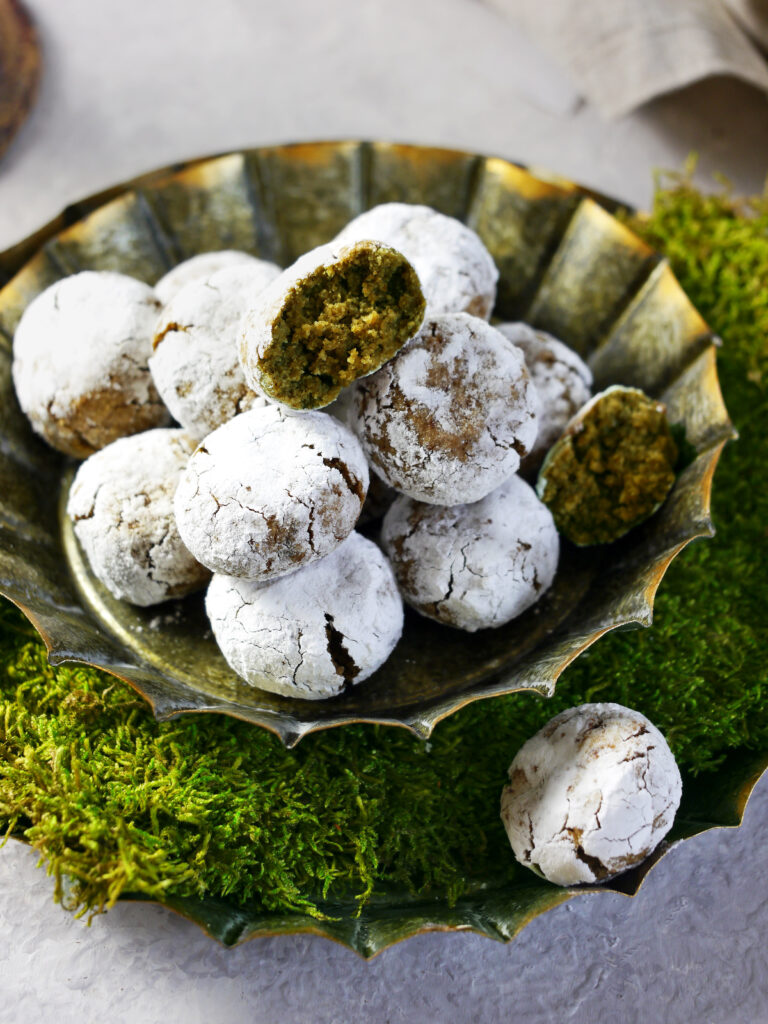 Soft and chewy matcha amaretti cookies are made with almond flour, matcha, sugar and egg whites. These little beauties are packed with so much flavour! Grassy matcha flavour mixed with incredible almond flour is truly a perfect combination, so refreshing! I to be honest can never get enough of these cookies, and that's ok because I consider them to be healthy cookies…. ok ok healthy-ish. These cookies do not contain all purpose flour, so they are a perfect treat for those who have a celiac disease and can not tolerate gluten.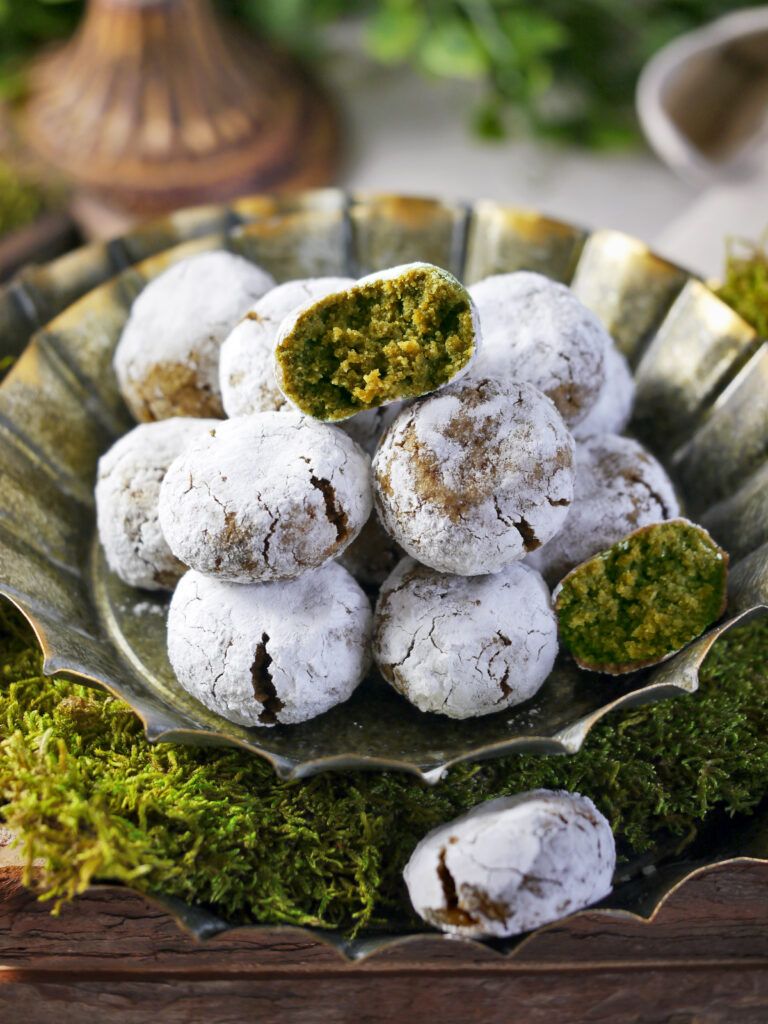 Before you bake these cookies, please read the notes I wrote above the recipe. Happy baking friends! Enjoy!
I'd love to see your creations! if you are making these, tag me @cake_oli_cious and #olgasconfections
Matcha Amaretti Cookies

Notes
Substitute coconut sugar with the same amount  of granulated sugar. The cookies would still taste beautifully, but will be lighter in color.
Try to avoid over baking. These cookies are very soft, when just taken out of the oven, and might seem under baked,  they will harden slightly once cooled.
Want to experiment? Try rolling cookie balls in matcha powder instead of powdered  sugar prior to baking. It will result in more intense matcha flavor, and less sweeter  cookie.

Ingredients
240g Almond flour
2.5 tsp Matcha powder
100g Coconut sugar
1.5 tsp Vanilla extract
2 Egg whites at room temperature
Pinch of salt
3 tbsp Powdered sugar for rolling
Instructions
Preheat oven to 300 degrees F.
Line a a baking tray with silicone mat or parchment paper, set aside.
In a large bowl combine almond flour, coconut sugar and matcha powder.
In a medium sized glass bowl, using a hand mixer, whisk egg whites (at a room temperature) with a pinch of salt until stiff peaks form.
Using a spatula fold the whipped egg whites into a dry mixture, add vanilla extract, combine everything but don't over mix.
Place the dough into freezer for about 15 minutes, it would make it easier to from the cookies.
Add powdered sugar into a small bowl.
Using a small scoop or a measuring spoon, scoop out a dough and roll into a ball, coat in powdered sugar evenly and place on a baking tray, repeat this process until there is no more dough.
Make sure to leave some space between cookies as they will expand slightly.
Bake for 15 minutes. Let them cool for 5-10 minutes before serving and enjoy!
© 2023 Copyright Olga\'s Confections