Jump to recipe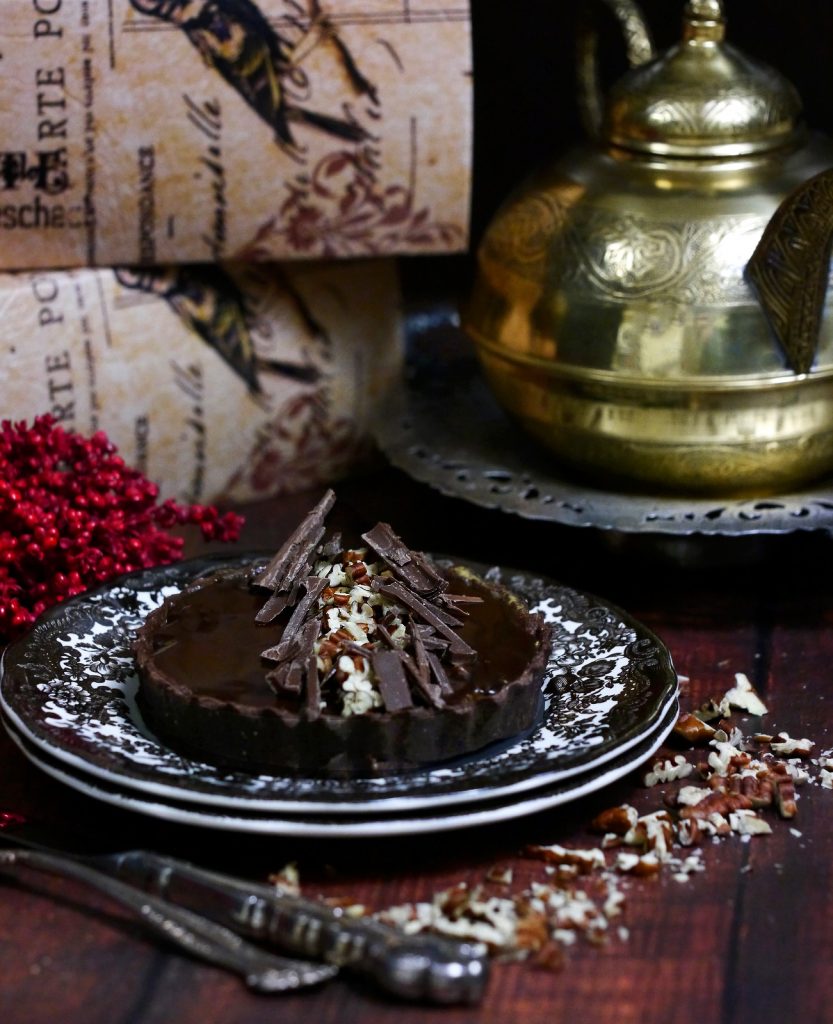 Happy Friday. Today I am showing you the decadent, smooth, rich and absolutely mouth watering chocolate tarts with a nice big layer of salted caramel pecan filling, topped with dark chocolate ganache.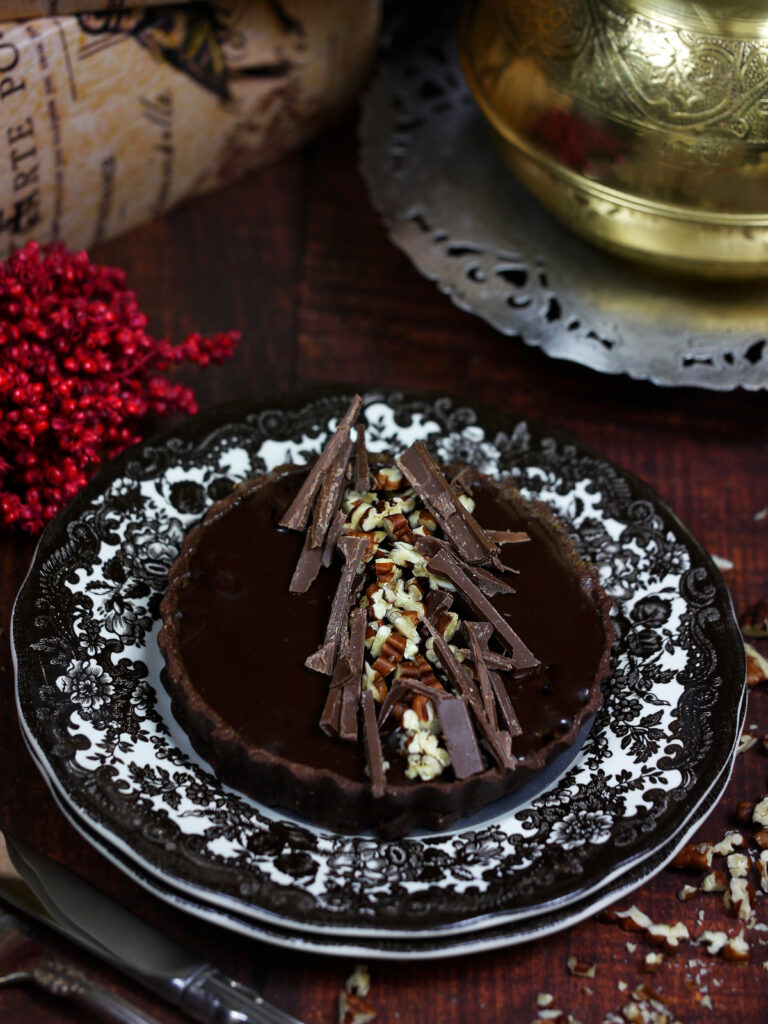 If you know a little bit about me, you probably already know that I am a fan of caramel. No I am a huge fan of it to be honest. I always say: if there is one thing I could eat always and forever that would be caramel.
In search of a great caramel recipe I tried way too many variations , I admit- I am very picky about it. Some recipes were a total failure, but often it was either too runny, or way too buttery with a thick greasy layer once cooled off. I was having ups and downs until I found the best recipe (in my humble opinion) that works all the time for me. This caramel has the right consistency, it has a beautiful amber colour, small amount of sea salt added to it enhances its flavour, and it is just so tasty, so smooth that chances are -you'll be eating it straight from a jar with a big spoon.
Scroll to the bottom of the page for a recipe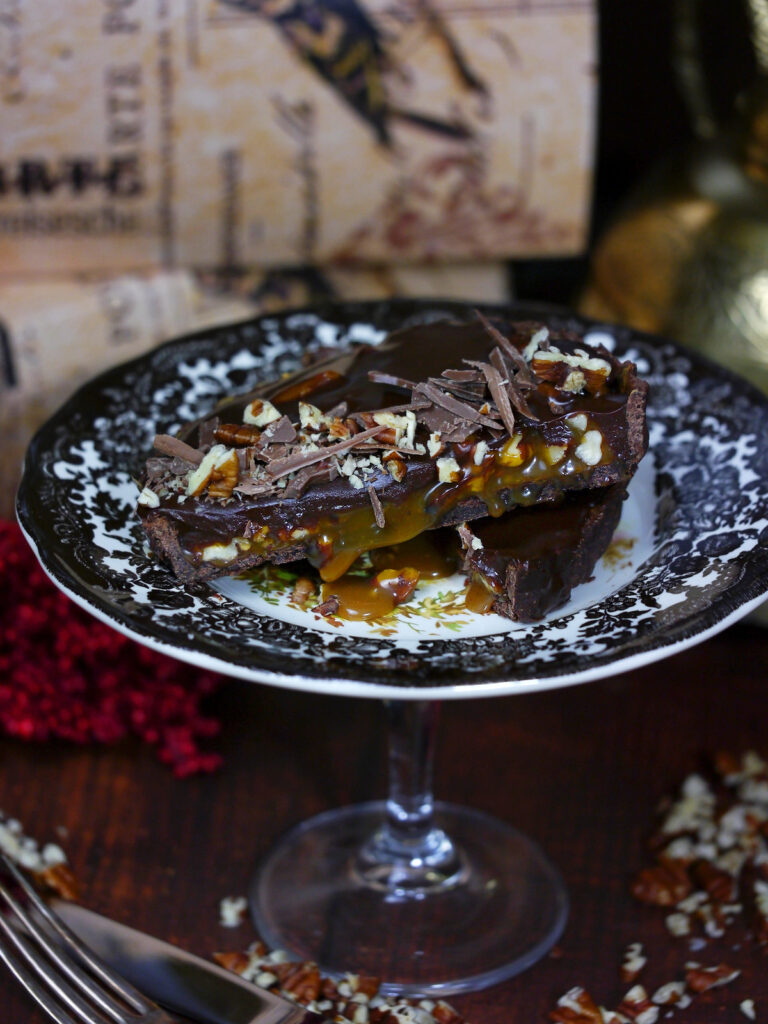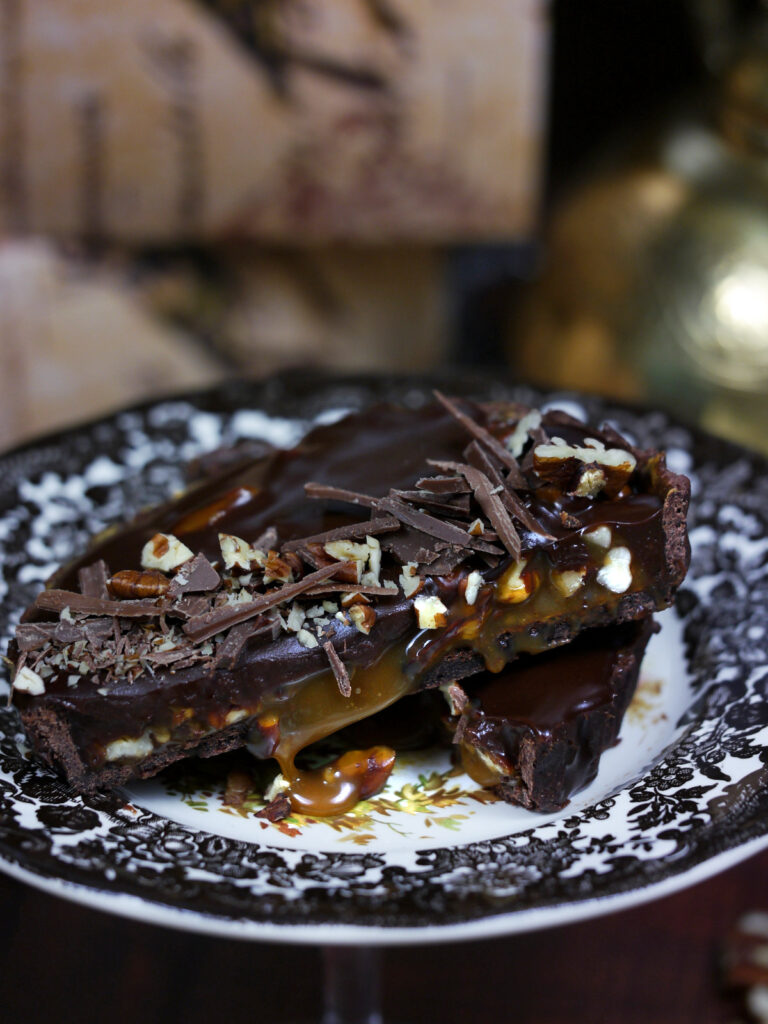 Ingredients
Sugar 250g
Whipping cream (hot)33% 220g
Unsalted butter at room temperature 45g
Sea salt 1/3tsp
Instructions
Turn stove on high and put a heavy bottom pot on. Start adding small portions of sugar at a time, mixing very carefully with the spatula. We need to melt all the sugar and and catch that moment when the colour of the caramel turns amber ( golden)
As soon as all the sugar dissolves, turn the heat on low and add all butter to the pot. Stir sugar and butter mixture to combine.
In a meanwhile heat the whipping cream until it is very hot, and steaming, but do not boil.
Once whipping cream is very hot start by pouring small portions of it slowly to the pot with butter and sugar.
Attention!!!! Be very careful here, add small amounts of hot whipping cream at a time and mix thoroughly each time. If you add all the cream right away, the caramel would start bubbling a lot and you might get serious burns. So please, be careful!!!
As soon as you added all the whipping cream and the caramel is thoroughly mixed, take it off the stove and add sea salt. Mix well once again and let it cool off before transferring it to the jar.
You can use it right away or store in the fridge for up to 3 weeks.
© 2022 Copyright Olga\'s Confections