Jump to recipe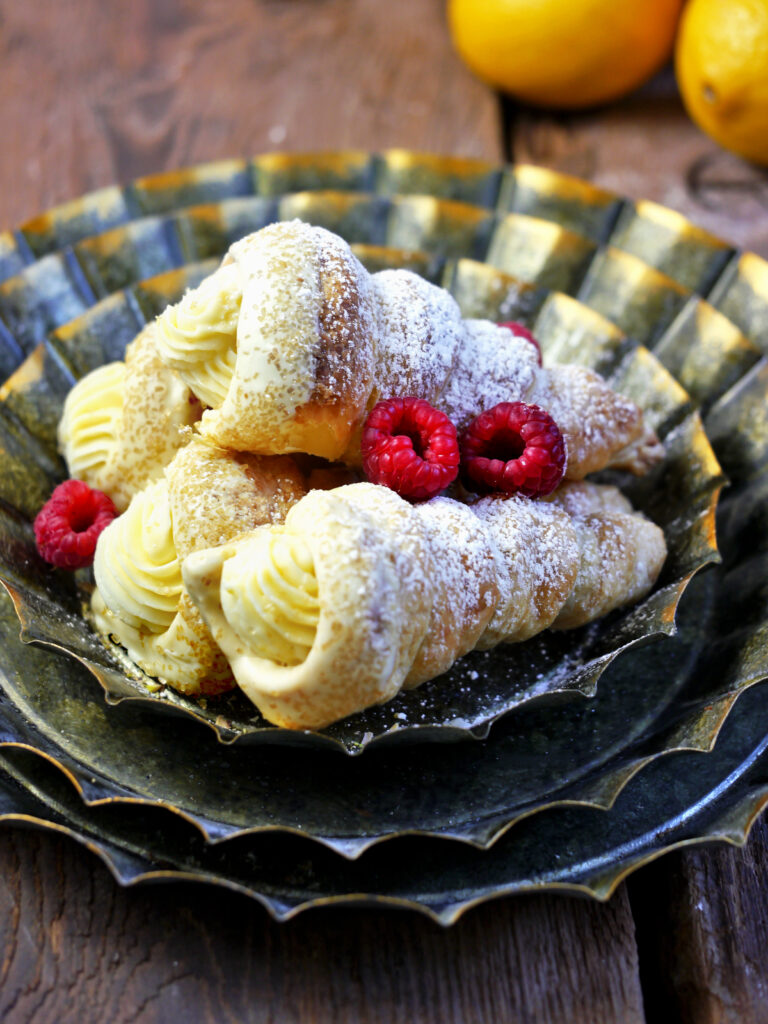 Hello friends, I am here today with undoubtedly one of the easiest desserts I can think of. Well… it does require quick baking and it even requires one special tool that you probably don't have in your kitchen. I am talking about a cream horn mold. I recently bought mine from a local chef's store, and couldn't be happier,they are easy to use.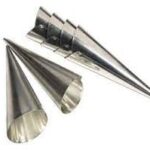 Cream horn molds are available online and are pretty inexpensive. But of course, if you don't plan on using such molds regularly, the cost is not worth it, no matter what it is. Cool thing is that making DIY mold at home is possible too.
I have seen a few different tutorials across the web, one of them is; use a heavy duty tin foil and shape it as a horn (cone). I personally haven't tried it myself, but its one of the most popular option to use, so if you do try making it yourself, let me know !
Now let's talk about these puff pastry horns. Puff pastry!!! Who loves this crispy, flaky, insanely delicious pastry? I really do. I also love using store bought puff pastry at home, and always have a few packages in the freezer. You can make bazillion things with it, one of them is the quick and easy Puff pastry Horns filled with your favorite cream.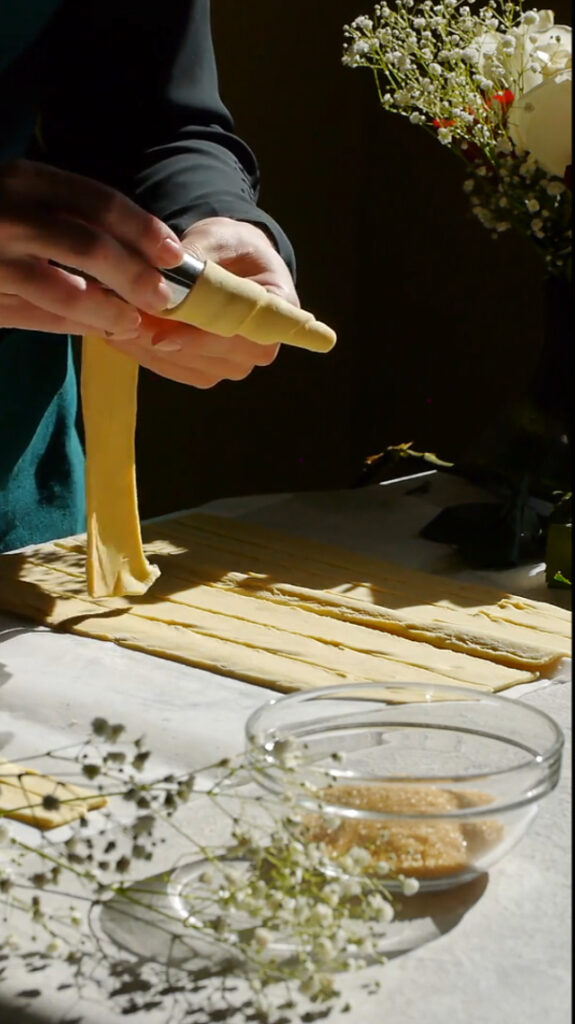 These pastries remind me of a childhood, as I used to buy them regularly at the bakery in the small town I grew up in. They traditionally were filled with whipped cream filling or buttercream filling, dusted with some icing sugar, and how super crispy and delicious they were. No one could ever be happy with eating just one! And no wonder, just that first bite makes me happy,it feels like an explosion of happy emotions when you bite into it, I hope you know what I am talking about, and if you don't, then let's make them together!
I am giving you a few different options for filling,one is more traditional than the other. I can definitely think of so many more varieties , but it would be right to add only 2 for now, so I don't overwhelm anyone. I for instance find it hard when I am given to many options (decisions are hard when it comes to yummy treats, don't you think ?)
Both options for fillings are a perfect addition to a crispy puff pastry shell. I am partially covering horns with white chocolate, but opting it out, is totally fine. Use your imagination and create your own personal favorites or two! My personal favorite was a lemon cream cheese filling, smooth with intense lemon flavor, it is truly phenomenal. But in all honesty, no matter what option you choose,you will get a wonderful, satisfying treat, which will bring a WOW factor once you make it, try it and see for yourself what I am talking about. Did I mention this dessert is easy to make ? Watch me make it.
Puff pastry Cream Horns

Ingredients
1 sheet of puff pastry
White chocolate (optional)
Turbinado sugar (optional)
Filling of your choice ( see options below)

Easy Lemon cream cheese filling

1 brick (250 g) of softened cream cheese
1 cup(120g) of powdered sugar, sifted
zest of 1 lemon
2-3 Tbspof freshly squeezed lemon juice

Whipped cream filling

2cups (473g)of well chilled whipping cream
1 cup(120g) of powdered sugar, sifted
1tsp of vanilla extract
Instructions
To make puff pastry horns

Thaw puff pastry according to the instructions on the box.
Preheat oven to 400 degrees F (200 degrees C)
Lightly roll out the puff pastry. Using a large knife, cut the puff pastry sheet into at least 12 strips.
Starting at the bottom of the mold, wrap a strip of dough around it, making sure you slightly overlap the layers.
When all the molds are wrapped and there is no pastry left, place them on a baking sheet,lined with parchment paper and bake on the middle rack of the preheated oven for 12-15 minutes or until they are golden brown.
Once baked, without taking horns off the molds, cool them off for at least 20 minutes, then carefully remove the molds, and let cool completely ( 30 minutes) before filling the puff pastry horns with the filling of your choice.

Optional:

melt white chocolate, dip tip of each horn into melted white chocolate and sprinkle with turbinado sugar. Fill with your favorite filling.

To make easy Lemon cream cheese filling

Add softened brick of cream cheese into a medium sized bowl.
Using a hand mixer, whip cream cheese until softened. Add sifted powdered sugar, and whip again until well combined and sugar is fully incorporated.
Add lemon zest and fresh lemon juice and whip again until light and fluffy. Use immediately.

To make Whipped cream filling

Pour well chilled whipping cream into a chilled bowl, beat the cream on medium until frothy and slightly thick.
Without turning the mixer off,gradually add the sifted powdered sugar and vanilla extract and keep beating.
Beat until cream is light and a thick enough to use as filling.
Use immediately after whipping.
© 2023 Copyright Olga\'s Confections