Jump to recipe
Would you for a moment think of a zucchini as/in a dessert? Sounds weird, right? That's what I thought seeing baking recipes that were calling for using grated zucchini. If you are skeptical about it too, I would suggest you try baking at least once and see for yourself that's it's not weird at all, in fact it is moist, delicious and very appetizing.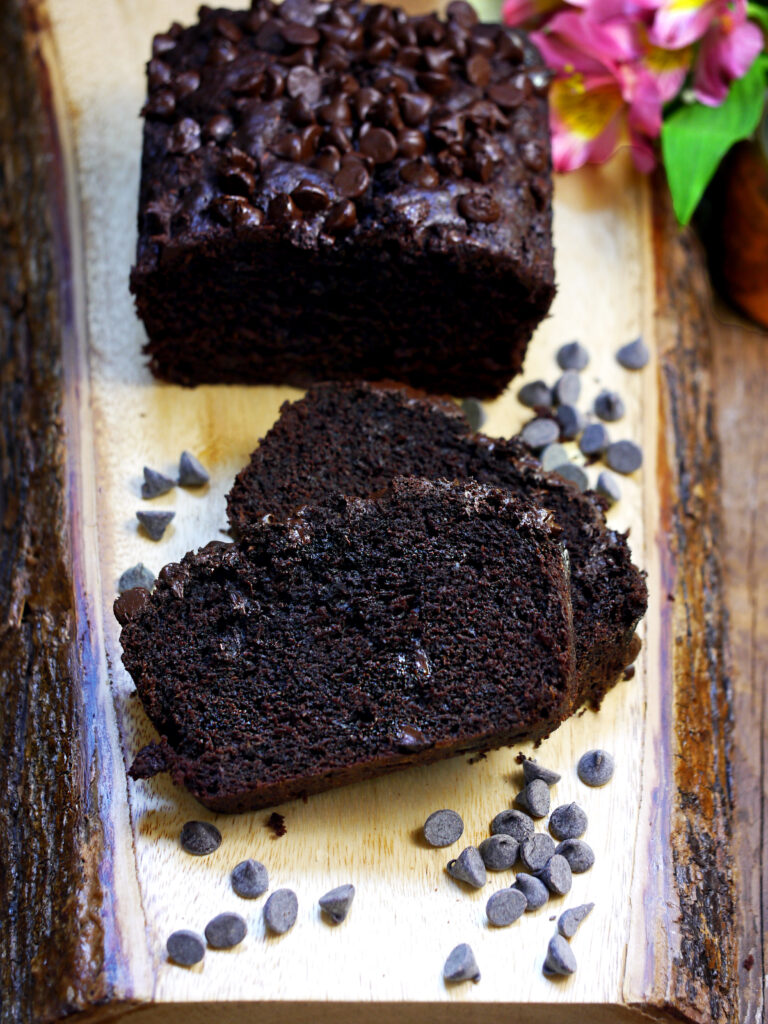 Here are a few interesting things about how and why Zucchini works in baked goods:
Zucchini creates volume and gives a nice moistness to your baking goods.
Zucchini is mild in flavour, I promise, you won't even notice that there's a vegetable in your chocolate bread. Plus it brings more nutrients to your baking goods, so if you ask me, it is a double win.
When using zucchini in baking it is considered to be very similar in its properties to such favourites as an apple sauce or mashed banana.
When choosing zucchini, go for a smaller and more firm vegetable.
I use the smallest shredding side of a box grater, you won't see any bits of zucchini when bread is baked.
I prefer peeling zucchini before grating it, however it is totally up to you, you won't notice much of difference, especially in this chocolate zucchini bread.
Zucchini has high water content, I do not recommend getting rid of any water from grated zucchini, this is what will give your bread a wonderful crumb and moisture.
I prefer to measure zucchini after I grate it, and I use digital scale to measure all my ingredients, as it is more accurate.
Use good quality semi sweet chocolate chips, not candy melts!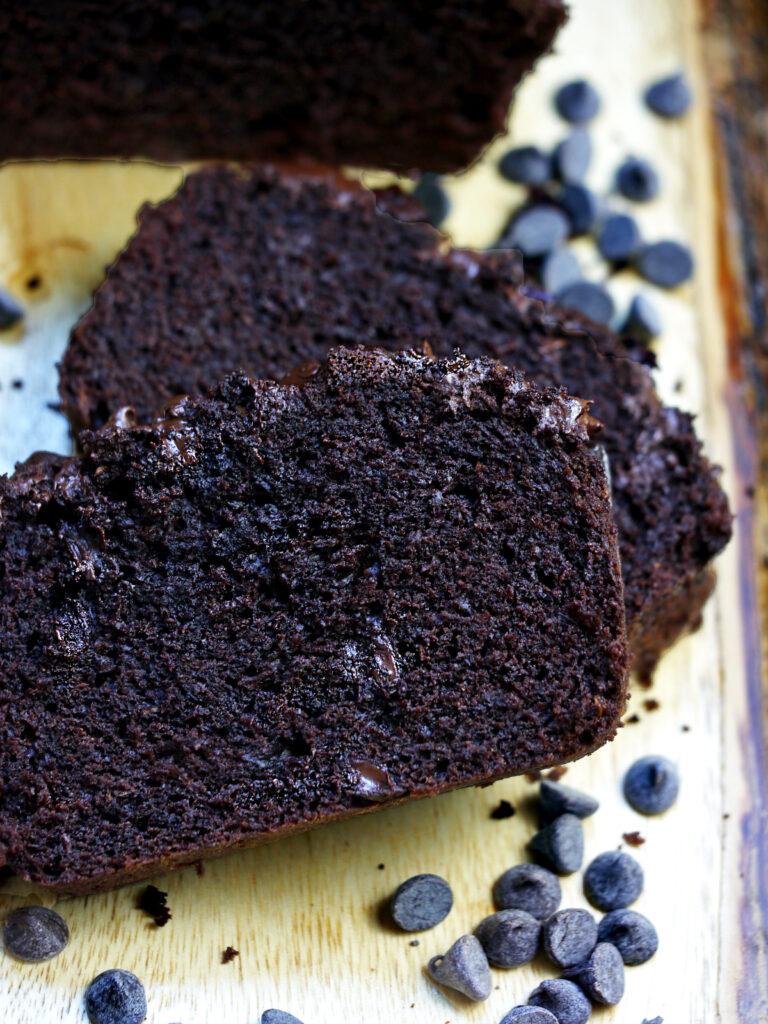 I hope you will really like and approve this rich and moist chocolate zucchini bread, don't hesitate to drop me a line if you have any questions. Have fun baking ,
Cheers,
Olga
Ingredients
1 cup (240 g ) All purpose flour
1/4 cup (40g) Dutch processed cocoa powder
2/3 cup (135g )Light brown sugar
1 tsp Baking powder
1 tsp Baking soda
1 tsp Cinnamon
2/3 cup (100 g )Semi sweet chocolate chips
1/4 tsp Salt
1 1/2 cup (200 g)Finely grated zucchini
2 Eggs at room temperature
1/2 cup (125g ) Grape seed oil ( or oil of your choice)
1 tsp Vanilla extract
Instructions
Preheat the oven to 350 degrees F (175 degrees C)
Lightly grease a loaf pan with butter, add a spoon full of flour and spread it around the pan so all the sides are covered, tap out any excess flour into the kitchen sink.
Add all the dry ingredients into a medium sized bowl : All purpose flour, light brown sugar, cocoa powder, baking powder, baking soda, cinnamon and salt salt., Whisk all the ingredients together to incorporate and add half of the amount of chocolate chips. Set bowl aside.
Add all other ingredients : Oil, egg, finely grated zucchini,vanilla extract into another bowl and mix them together.
Now using a rubber spatula combine the dry ingredients and wet ingredients together and fold everything together trying to not over mix it.
Transfer this mixture into a prepared loaf pan and sprinkle evenly with remaining chocolate chips.
Bake for 45- 50 minutes. Test the middle of the bread with toothpick, it should come out clean.
Let zucchini bread cool in the pan for about 30 minutes and then transfer on a rack and let cool completely.
For a better taste I recommend eating this Chocolate Zucchini bread the same day.
© 2023 Copyright Olga\'s Confections