Jump to recipe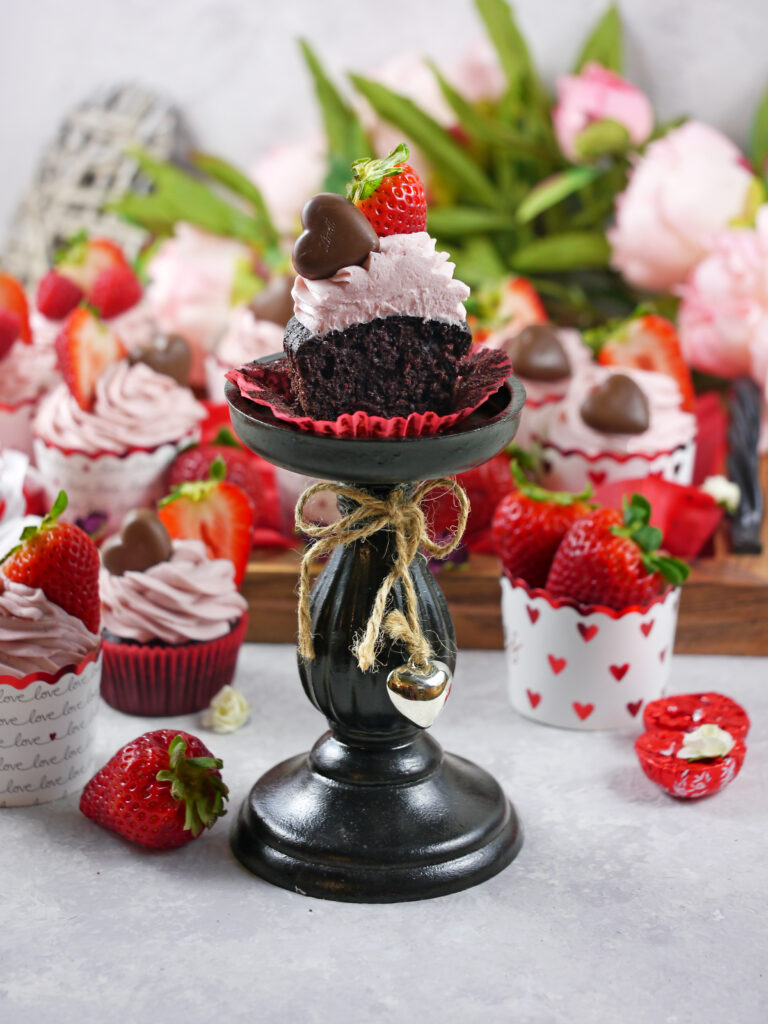 Love is in the air! And so is the wonderful aroma of freshly baked chocolate cupcakes with lush and flavourful strawberry frosting!
Valentine's Day is fast approaching, and no matter how you decide to celebrate this day, big or small, a special day deserves a very special dessert.
For my special post, made with love for you, I am happy to say that I teamed up again with incredible Grainworks. Everyone in this family-run business is committed to bringing their customers only the best quality, certified organic and non-GMO whole grains. I am using two popular products: Grainworks organic unbleached flour and Grainworks organic cane sugar.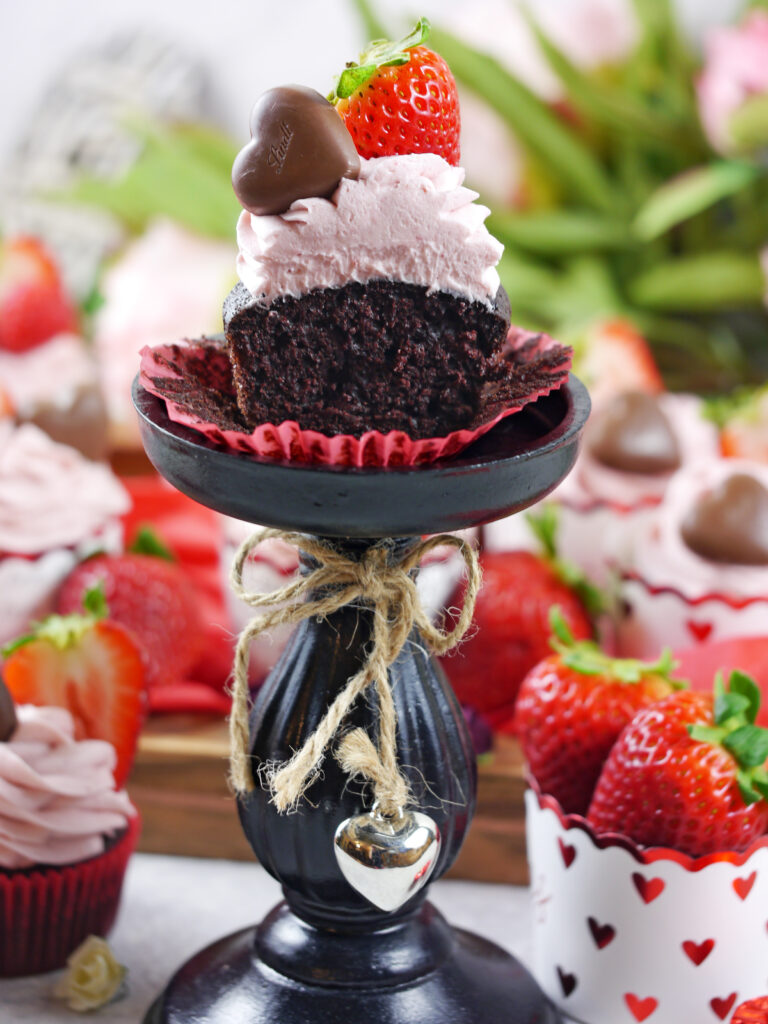 Treat yourself and your loved ones this Valentine's Day with a sweet treat! These beautiful cupcakes are so flavourful; they will leave your taste buds singing!
Chocolate Cupcakes with Strawberry Frosting

Notes
Pipe frosting using your favourite piping tip.
Decorate with fresh strawberries, chocolate hearts, or raspberries.

Ingredients
To make 12 chocolate cupcakes:
1 1/2 cups (190g) Grainworks organic unbleached flour
1 cup (200g) Grainworks organic cane sugar
1/3 (25g) cup unsweetened good quality cocoa
1 tsp baking soda
Pinch of salt
1 cup (240g) fresh warm coffee (I use espresso, but instant is ok too)
1 tbsp of white vinegar
1/3 cup (80g) of vegetable oil (I use Grapeseed oil)
1 large egg at room temperature
1.5 tsp vanilla extract
To make Strawberry white chocolate and cream cheese frosting:
2 cups of frozen strawberries to make purée
1 package (8oz or 250 g) Philadelphia Cream Cheese at a room temperature
3/4 cups (75 g) Icing sugar/powdered sugar (or to taste)
3/4 cups (100 g) white chocolate chips, melted
Instructions
Make cupcakes:
Preheat oven to 350˚F. In a 12-cup muffin pan, add cupcake liners set aside.
In a large mixing bowl whisk together dry all ingredients. Make sure there are no lumps of cocoa left.
In another bowl mix and whisk together all wet ingredients. When adding warm coffee, do it slowly and whisk vigorously to avoid the egg being cooked.
Now combine dry ingredients with wet ingredients. Using a hand mixer or whisk, mix everything together. Make sure you do not over whisk.
Using a batter scoop or an ice cream scoop, fill each liner at about 2/3 full.
Bake for 18-20 minutes. Poke your cupcakes with a toothpick. If batter comes out on the toothpick, bake a little longer. If it is clean, then your cupcakes are ready.
Carefully transfer cupcakes to a wire rack to cool completely before frosting.
Make Strawberry Purée:
Add frozen strawberries to a food processor and crush them.
Transfer the strawberries to a small pot and boil over medium heat, stirring occasionally. Then, bring them to a slow boil. Reduce heat to low for 15-20 minutes stirring consistently to keep them from burning. The strawberries should thicken up nicely by this time.
When the strawberry purée has thickened and reduced, strain the puree to remove the seeds (I had about 5 tablespoons or 70 g of strained purée).
Cover the strained purée with a plastic wrap and let it cool completely.
Make white chocolate and strawberry frosting:
Using a mixer beat cream cheese frosting with sifted powdered sugar for a few minutes until smooth.
Gently melt white chocolate chips and let the chocolate cool for about 5 minutes.
Add chilled strawberry purée to the cream cheese and powdered sugar, beat on low for a minute to incorporate.
Add melted white chocolate to the cream cheese and strawberry mixture. Then beat on a medium-low setting for a few minutes. Frosting should be fluffy, airy, and thick.
Place strawberry frosting in the fridge for about 10 – 15 minutes before piping.
© 2023 Copyright Olga\'s Confections