Jump to recipe
Today I am here with a Basic sweet yeast dough . It is one of my "go to" recipe, I call it one of my favorite, because I've tried a variety of yeast dough recipes throughout the years,I've chosen this one, and it is my preferred recipe now. It creates a soft, delicious, moderately sweet dough that is easily shaped, easy to work with and stays fresh for couple days! I just love sharing the recipes, that I can honestly say are proven to be working all the time, this sweet yeast dough had been made soooo many times that I am very confident in sharing it with you all, it works great!
I call this dough a "universal" sweet yeast dough which means that this type of dough can be used for various sweet recipes. How awesome is that?! Think donuts, cinnamon buns, hand pies, fruit pies, babka, monkey bread, soft buns, dinner rolls… basically if you are planning to bake something sweet and use a sweet dough this recipe would be ideal for your project! The possibilities are endless.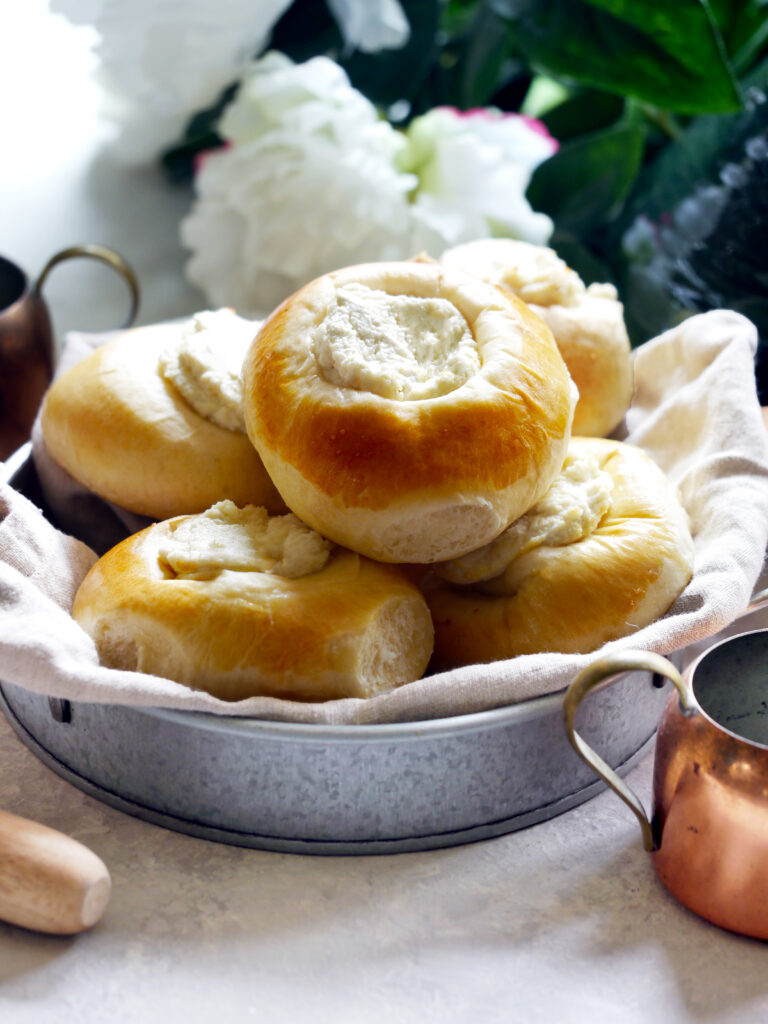 If you are scared of making yeast dough, I hear you! I used to be really intimidated by yeast dough,it felt frightening, I dreaded making yeagh, as it NEVER worked. I either was overheating the milk, thinking it would help yeast bloom faster, I was not kneading dough good and long enough, I was adding way too much flour, and it resulted in heavy very chewy crumb… I did it all, and I did it all wrong. BUT practice makes it perfect, and if you stay patient and determined you'll get great results too. Just make sure to read the recipe first, get prepared, relax, turn the music on, have fun, don't change the ingredients around especially when making the recipe for the first time and follow the instructions, it is easy.
A few more tips from me before you start:
Temperature. Make sure the milk is warm, not hold or cold, I use thermometer when I'm not certain , it should read around 38 degrees C ( about 100 degrees F)
Milk. Use full fat milk, this dough needs some extra fat. I have tried 1% milk and it doesn't work the same, yes you get a sweet yeast dough BUT it's a different dough though.
Ingredients. Prepare all ingredients in advance before you start. Make sure all ingredients are at the same temperature. Eggs at room temperature and softened butter will get incorporated better, and the dough will rise faster.
Sweetness. Even though this is a sweet dough, it's not overly sweet. This recipe would be ideal even for your sweetest projects (sticky buns, cinnamon buns with glaze, etc)
Flour. I prefer using all purpose flour. Make sure to sift it, don't skip this step!
Another thing to remember, flour quality varies, so with dough like this one, the exact amount of flour is different, it can be a bit more or less, just remember that it's better to add less at the beginning and then knead more flour in if needed.
Kneading. My preferred method is kneading by hand. Not only I can feel the softness of the dough and decided whether it's too sticky or more dry, it also is very therapeutic. It requires more time and effort ( what a great workout 😀) but I love it. feel free to Use your stand mixer with a dough ( hook) attachment, it works perfect too!
Proofing. find a warm spot in the kitchen, this dough needs love and warmth. I recently upgraded my oven and now use a "Proof" function , use it if its available. But before I had a new oven I simply was setting the rack in the middle of the oven and was leaving the light on, the heat was giving enough warmth for the dough to rise beautifully.
Measuring. If possible, use kitchen scales to measure the ingredients, try to use metric system! It's more accurate and I can guarantee that you'll have a bigger success in creating a perfect sweet yeast dough.
And the last but definitely not the least thing I want to mention: have fun creating something special in your kitchen, and never give up trying! You got this!
Sweet Yeast Dough

Cook Time
2 hours, 30 minutes
Ingredients
For leaven

Milk 250 gr (1 cup + 1 tbsp)
Instant Yeast 12 gr (3,8 tsp)
Sugar 20 gr (1/4 cup)
Flour 60gr (1/2 cup)

Dough

Sugar 100gr (1/2 cup)
Flour 600gr (3 cups + 3/4 cup)
Egg 2 (at room temperature)
Butter 100 gr (1/4 cup + 3 tbsp)
Salt pinch
Vanilla 5gr (1,5tsp)
Instructions
Make leaven:

Warm up the milk to a lukewarm temperature, about 38 degrees C ( 100 degrees F). Add sugar, instant yeast and flour, whisk well and leave it in a warm place for at least 30 minutes, Leaven will become very foamy and thick .
Crack eggs into a bowl of a stand mixer , add sugar, soft butter, mix everything with a wooden spoon. Pour leaven in, add salt and vanilla extract, sift flour in, now using a dough (hook) attachment mix on low for about 10 minutes. Alternatively you can knead the dough by hand, if you prefer this method, generously flour the working surface and knead the dough for at least 12 minutes, until its soft and smooth. The dough should bounce back when you press it with finger.
Shape the dough into a ball and place it into a lightly greased bowl. Cover with a plastic wrap or a tea towel and let rise in a warm place for 60- 90 minutes.
Deflate the dough by punching it. It is now ready to be used for any sweet creation you prefer . Make donuts, or rolls, cinnamon buns or fruit pies, hand pies or babkas, plaid breads, etc, etc, etc.
© 2023 Copyright Olga\'s Confections