Jump to recipe
I love salami. Ever since I was little, salami was my most favourite treat. I don't think there was any other sausage that I loved more. I carried the love for salami throughout the years, and even when I was carrying my first son, my "crazy diet" consisted of a LOT of salami. (dr: "What are you eating?" Me: "salami" dr: "and?" me: "salami" dr: "anything else?" me: "no" dr: "ok, maybe some other food would be good.") No wonder that salami in a form of a dessert is a treat that I enjoy eating immensely on occasion.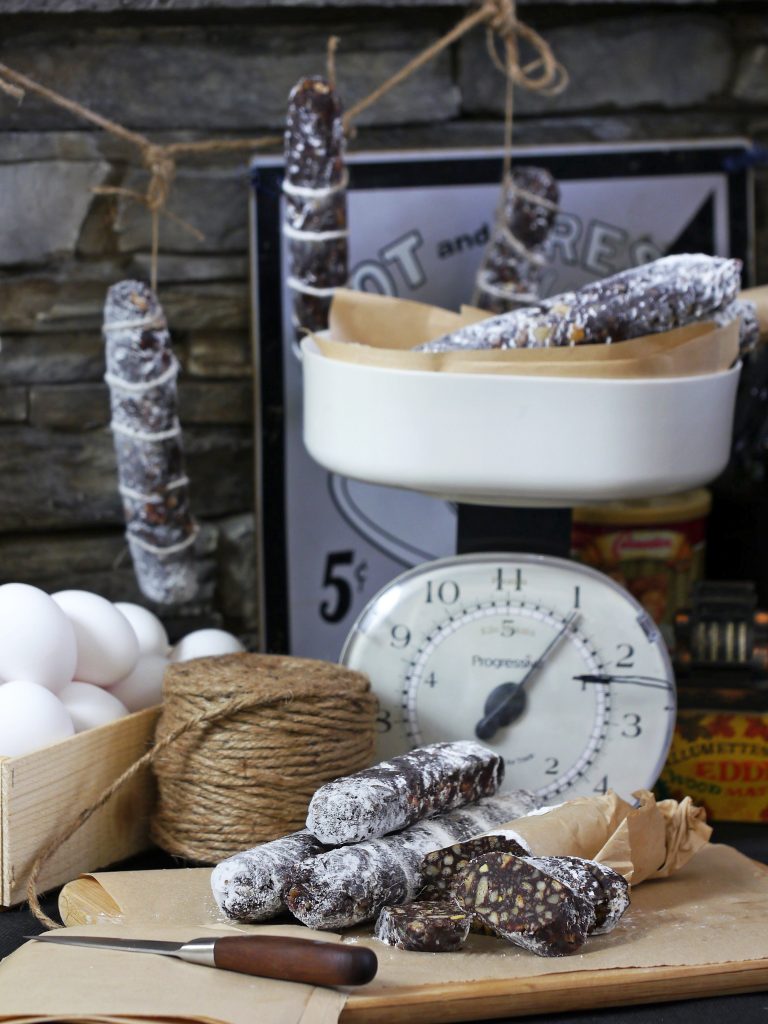 Have you ever heard of sweet salami? Despite its name, this dessert has no meat in it and is called salami because of its resemblance to the sausage. Made of biscuits, nuts, cocoa powder, butter and milk, this treat couldn't be easier to make. This salami is truly a scrumptious, easy to make treat which doesn't require baking, you can make it ahead and store it in the freezer for several months. How awesome is that?! Making extra is always a perfect idea when it comes to this dessert, as it's devoured within minutes.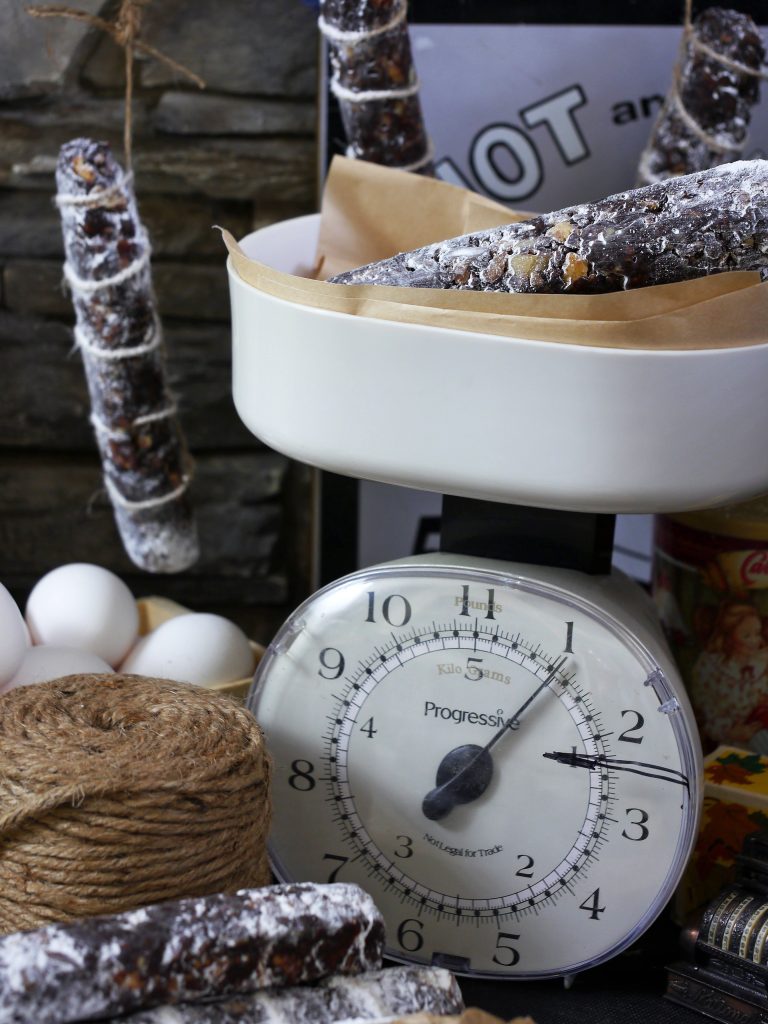 Interesting fact but only a few years ago I found out that sweet salami is actually a famous Italian and Portuguese dessert. Before that I was certain that sweet salami is a Soviet/ Russian "invention". Unlike its foreign cousins, Russian version of this sweet treat doesn't include eggs in the recipe.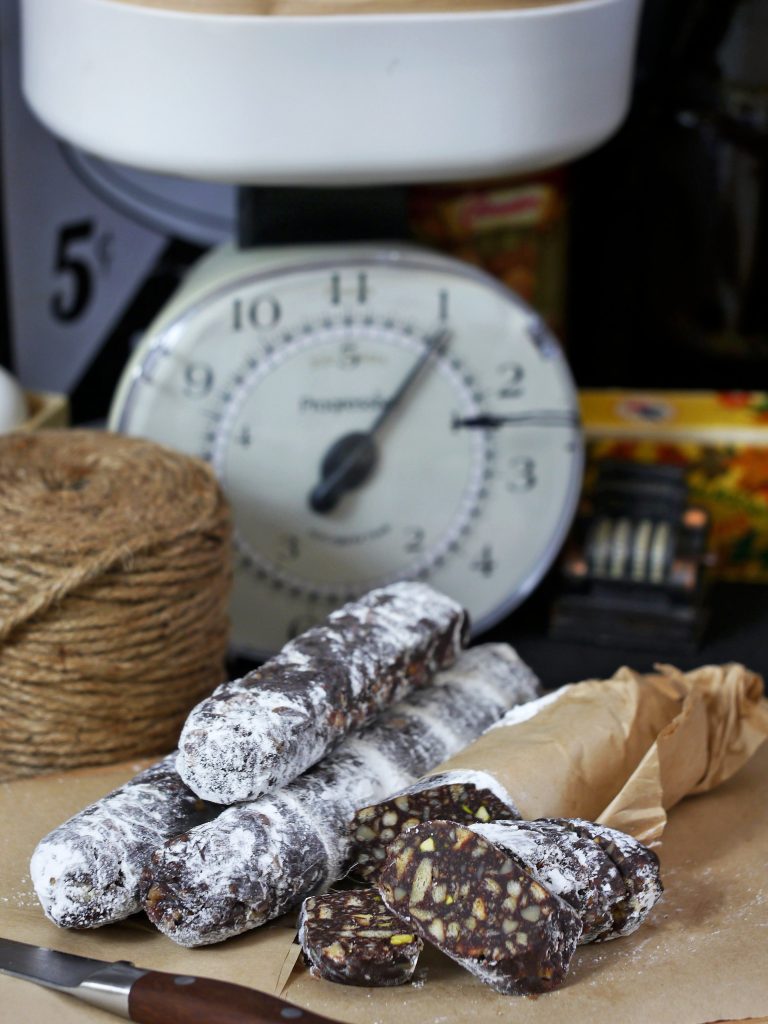 If you would like to learn how to make this interesting dessert,scroll down, I'm sharing the recipe today that I've been using for decades.
If you make it, show me your sweet creations, I always love seeing how beautiful they are!
When styling these photos, I wanted to create a resemblance of an old small store counter, where there is a little bit of everything on top, and the first thing you see when you walk in is salami hanging in the back. I hope my photos will put a smile on your face!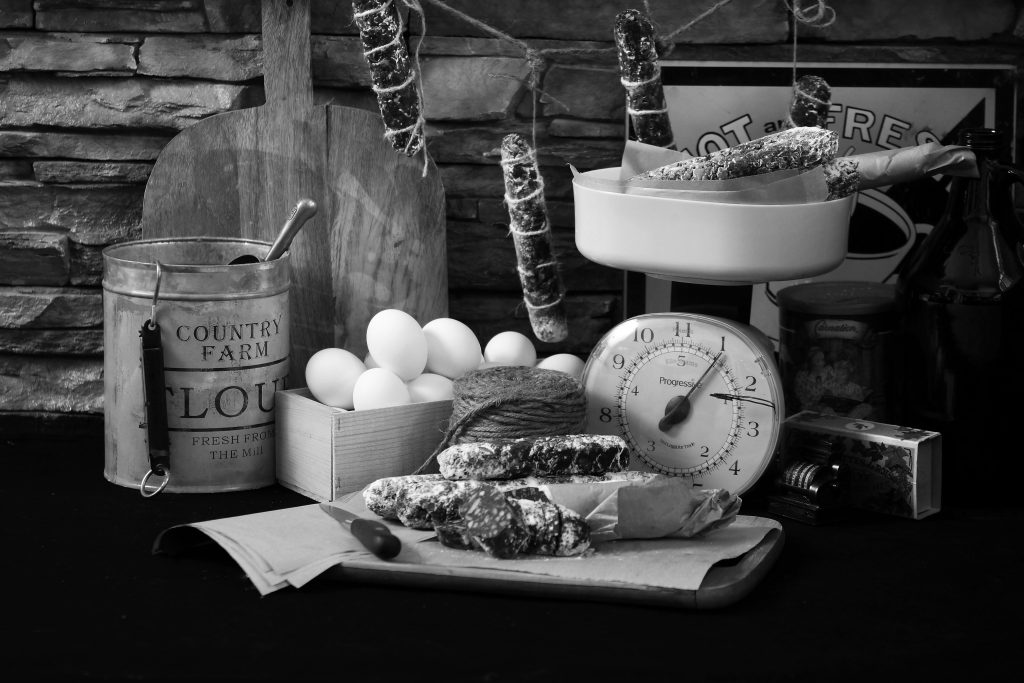 Notes
Make Sweet salami in advance and keep it in the freezer for up to 3 months. Take it out of the freezer a few hours before you plan to serve it and let it thaw on a counter top.
Don't like walnuts? Use the same amount of pecans, pistachios, almonds, or even mix them all together.
Want to elevate the flavour? Add dry berries,dry apricots, or raisins.
Ingredients
100g butter
200g biscuits (Marie biscuits, digestive biscuits)
80g walnuts
3 tbsp sugar
3tbsp cocoa powder
3 tbsp milk
Instructions
Chop walnuts with the knife, leaving a few bigger size chunks.
Using the blender grind half of the cookies finely. Break or chop another half of the cookies into small pieces.
Place the ground up cookies, cookie pieces and walnuts into a medium bowl.
Combine sugar and cocoa powder in a small saucepan, mix well. Add milk, mix well and bring mixture to simmer on a low heat. Mix the cocoa mixture occasionally to avoid the mixture sticking to the bottom of the saucepan.
Once the mixture simmered, take it off the heat and add butter. Mix well until fully incorporated.
Mix wet and dry ingredients and combine well until fully incorporated.
Depending on the size of the desired salami, place a portion of the mixture on the plastic wrap, form a log resembling a salami shape. Cover each salami tight with the plastic wrap and place into the freezer for 3 hrs.
Once ready to serve, simply remove the sweet salami out the freezer, leaving it for about 10mintes at a room temperature, thinly slice an enjoy.
© 2023 Copyright Olga\'s Confections