Jump to recipe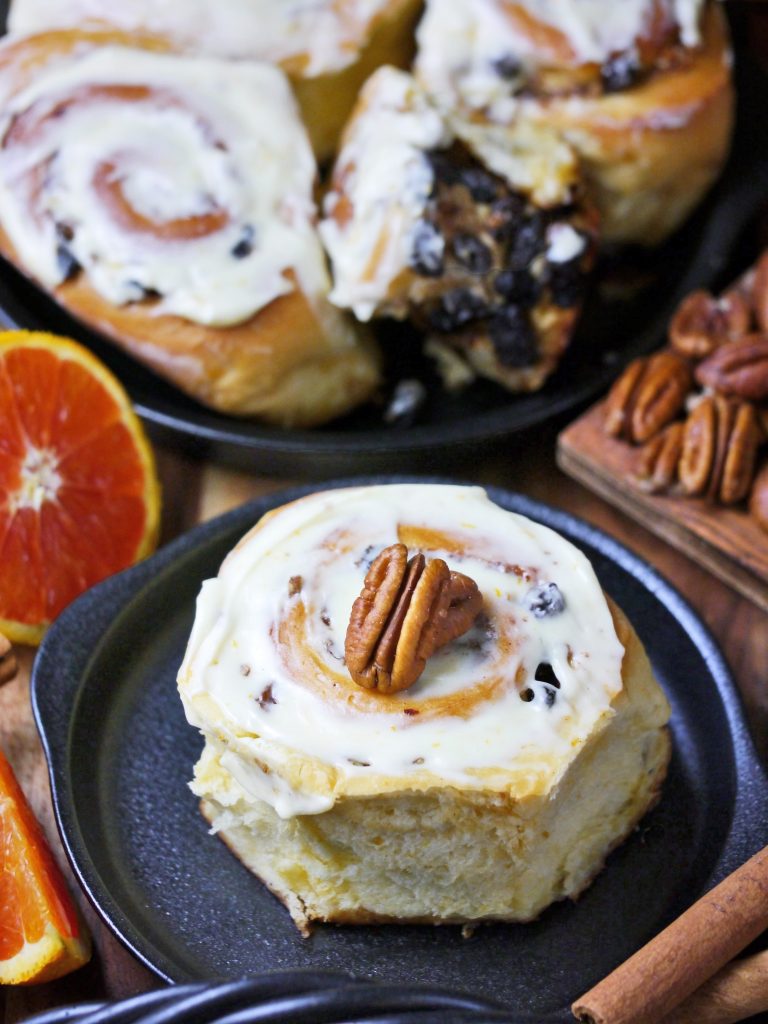 Hello friends, I am absolutely excited to announce that I've teamed up with www.TasteUSA.ca a company that represents over 40 US trade association that offer an incredible selection of great quality produce available in Canada throughout the year.
For my recipe today, I really wanted to showcase not one but 3 different products, products that are an essential part of my everyday cooking, these are also products that are grown in the USA and are brought to Canadian market to compliment incredible produce grown locally by our neighbours to the South.
As a baker, I use fruits and berries in my kitchen daily, but I also like to substitute fresh produce for dried fruits and nuts. I always make sure to have essentials pantry staples, such as US grown pecans and raisins. I am grateful and fortunate to have access to sustainable options from the States all year round.
I don't know about you guys, but every time I hear about cinnamon buns, I get huge cravings. This is one those bakes that makes me happy and cozy, it makes me think of home. There are probably hundreds of different recipes around, and I'm sure each baker has its own foolproof dough recipe. But what I'm sharing with you today is more than just a simple Cinnamon Bun recipe. I've elevated this by adding sun-dried Californian raisins, chopped pecans and orange. To explain in just a few words how delicious these buns are is simply impossible.
You have to experience the taste yourself. A dough that is soft as a pillow, with a hint of orange zest, that brings incredible aroma to your kitchen, the crunchiness of chopped pecans and softness of naturally sweetened raisins. If this doesn't sounds dreamy enough, my silky orange cream cheese frosting to glaze these buns will make you fall in love with them. Are you ready to make my soft Cinnamon buns with US grown pecans, raisins and orange cream cheese frosting?
Find the recipe below. Or find my recipe on the https://tasteusa.ca/ under Recipes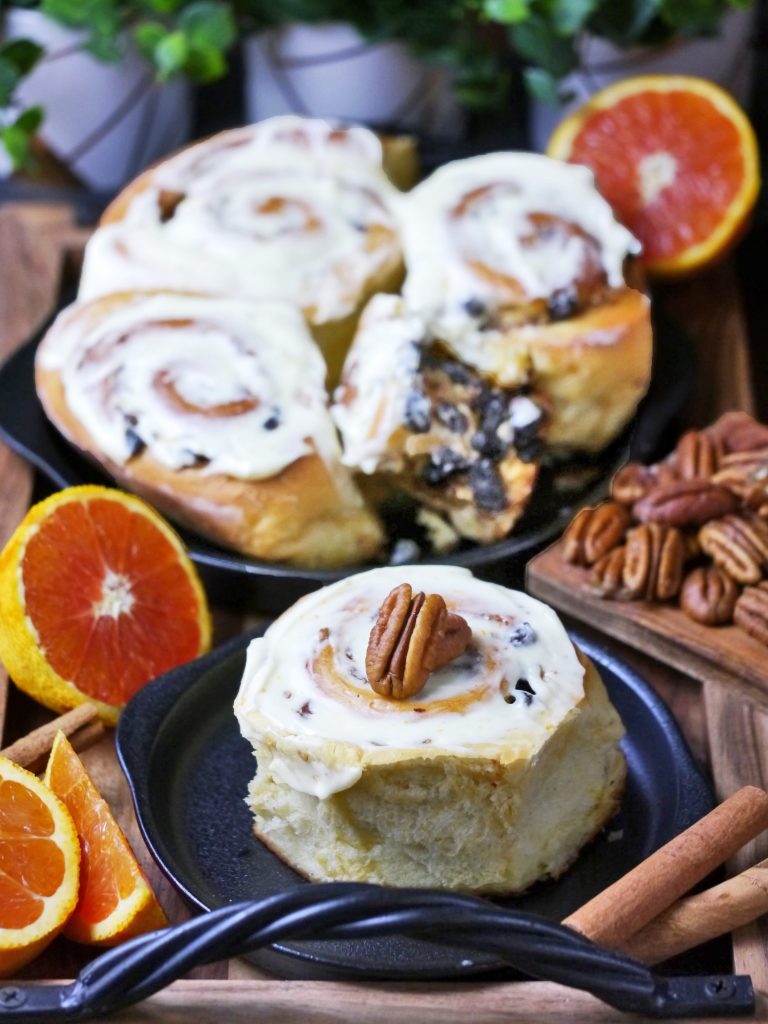 Cinnamon buns with US grown pecans, raisins and orange cream cheese frosting.

Wait Time
2 hours, 20 minutes
Total Time
1 hour, 25 minutes
Notes
Option: Make the buns the night before to enjoy them fresh in the morning. For that follow the instructions until step 5. But after placing rolls into the greased pan, instead of the second rise, cover them tight and place them in the fridge overnight. Once ready to bake, take them out of the fridge and let the buns warm to room temperature for about 40 minutes. Then continue to bake according to the instructions.

Ingredients
For the dough:
• ¾ cup warm milk at room temperature
• 2 ¼ tsp yeast
• ¼ cup sugar + 1tbsp
• 3/4 tsp salt
• zest of 1 US orange
• ¼ cup melted unsalted butter
• 1 egg and 1 egg yolk at room temperature
• 3 cups all purpose flour
• 3/4 tsp salt
For the filling:
• ¼ cup soft unsalted butter
• 2/3 cup brown sugar
• 2 tsp cinnamon
• ¼ cup soft unsalted butter
• 1 cup US pecans finely chopped
• 1 cup California raisins
For the orange and cream cheese frosting:
• 1 brick (8oz) cream cheese at room temperature
• ½ cup powdered sugar
• zest of 1 US orange
• 3-4 tbsp fresh US orange juice (adjust to taste)
Instructions
To make the dough: Warm milk to a room temperature, add yeast, let it rest in a warm place for 10 minutes, it should become foamy and bubbly. Add the milk with yeast to a bowl of an electric mixer. Add sugar, salt, orange zest, melted butter, egg, and egg yolk, whisk until combined.  Add flour. Using the dough hook, knead dough on medium speed for about 7 minutes, until the dough is smooth and doesn't stick to the bottom or the sides of the bowl. It should form a nice ball. If the dough is dry, add some warm milk, around 1 tbsp to start with.
When dough is smooth, shape it into a ball and transfer to a well greased bowl, cover with plastic and let the dough rise in a warm place for about 1 ½ hours, or until doubled in size. It may take longer depending on the moisture and warmth in your kitchen.
Once dough is well rested and doubled in size, punch it gently to deflate and transfer to a well-floured surface. Roll the dough to a sheet to make a 15×10 inch rectangle.
While the dough is rising, you can prepare the filling. In a small bowl mix together softened butter, brown sugar and cinnamon. Then spread this mix evenly over the rolled dough. Sprinkle crushed pecans and raisins on top, pressing filling gently with your hands.
Roll dough up as tight as possible, the seam of the roll should be at the bottom.  Using serrated knife, cut the roll into even slices, about 8-10.
Place each cinnamon roll into a greased 9×9 inch baking pan. Cover with plastic and let rest in a warm place again for another 30 minutes.
Preheat oven to 350 degrees F. Remove plastic wrap and bake cinnamon rolls for about 20-25 minutes or until slightly golden brown on the edges. While cinnamon buns are baking, make orange cream cheese frosting.
In a medium size bowl using hand mixer, beat cream cheese, powdered sugar and orange zest for about 2 minutes, scraping the sides of the bowl if needed.  Add fresh orange juice and beat again until frosting is fully incorporated. Use more or less orange juice to achieve your desired consistency of the frosting.
Once cinnamon buns are baked, let them cool down for about 10 minutes and then spread orange and cream cheese frosting evenly.  Serve warm and enjoy.
© 2023 Copyright Olga\'s Confections