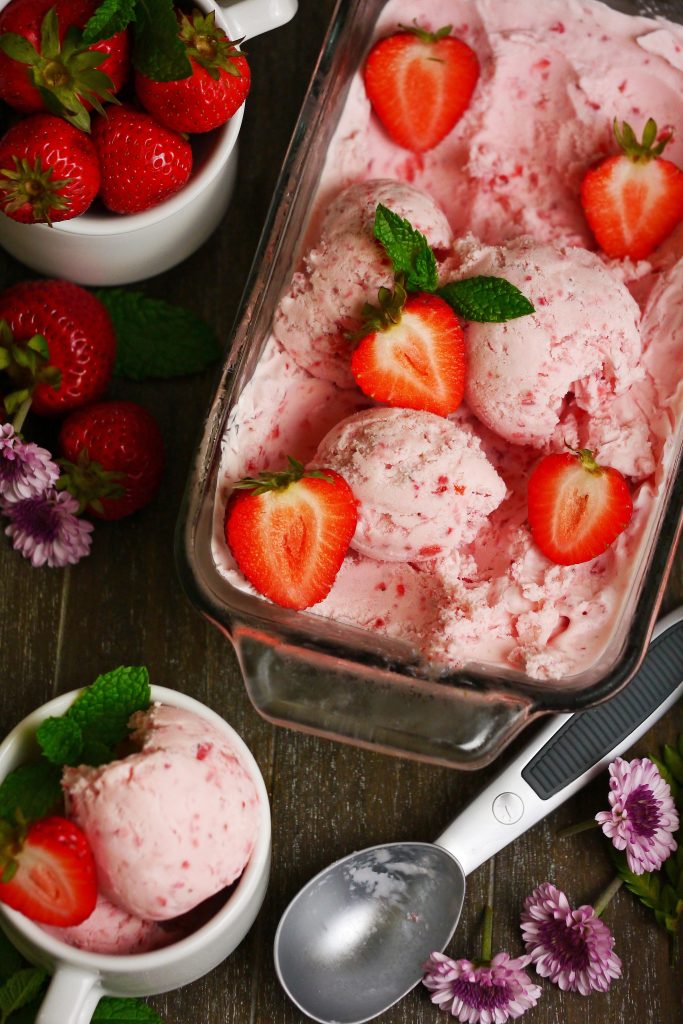 🎶"Summertime and the livin' is easy.." summertime time is all about fresh fruits and vegetables, bright sunny days, making wonderful memories and beautiful sunsets. And when you think of summer and summer treats, what comes to your mind first? For me it would definitely be ice cream! Loved by children and adults, cold, sweet refreshing and so delicious, ice cream is truly the perfect summer treat.
I took out my ice cream maker at the beginning of the summer, it's been collecting dust for many years since my last failed attempt, so I either had to use it or loose it. This time once I started making homemade ice cream, there was no excuse to go back to the store and buy tubs of overly sweet , artificially flavoured ice cream!
For the past few months I've made quite a few different flavours, I prefer my ice cream soft and creamy, based on custard (tempering egg yolk) but the recipe I want to share with you today has no eggs, it is easy to make and requires way less effort. This strawberry ice cream is bright and beautiful, packed with delicious strawberries, it reminds me of a frozen version of a strawberry milkshake. Who can say no to that?!

If you still think making delicious homemade ice cream is super hard, let's make it, and you'll see how easy it is!
INGREDIENTS:
3 cups strawberries cut in halves
1 cup sugar (divided)
1 cup whole milk
2 cups whipping cream
1/2 tsp vanilla extract
1 pinch of salt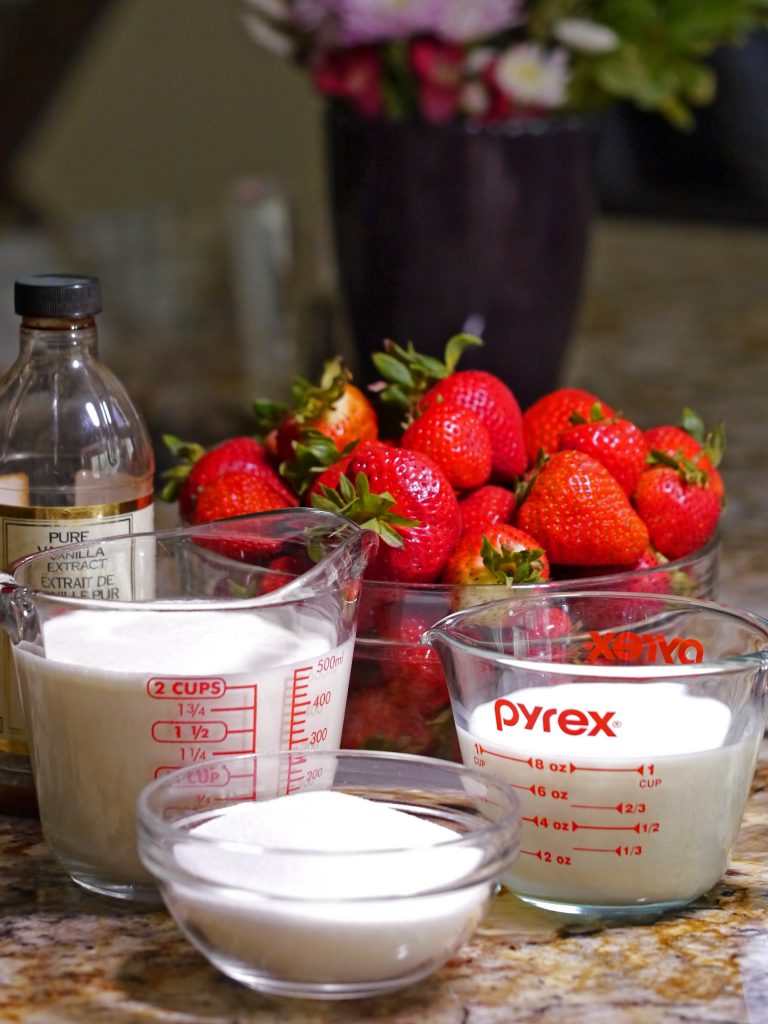 METHOD:
In a medium sized bowl mix strawberries with 1/2 cup sugar. Let it sit for 15 -20 minutes until strawberries absorb sugar and release their juices. Blend strawberries and sugar mixture in a blender or food processor. I p refer to leave some bigger chunks as it gives more flavour and texture.
In a large bowl combine blended strawberry mixture with milk, whipping cream, vanilla extract, remaining sugar and salt, mix well.
Pour your mixture into your chilled ice cream maker. Let it run according to the manufacturer instructions. Usually about 25-30 minutes.
If you like your ice cream soft served, just like I do, you can enjoy it right away! Or transfer ice cream into the glass container or any strong container, place in a freezer for at least 4 hours and enjoy a scoop or two.
So as you see, this is an easy recipe, that is easy to follow, but the result won't leave you disappointed! Guaranteed.