Jump to recipe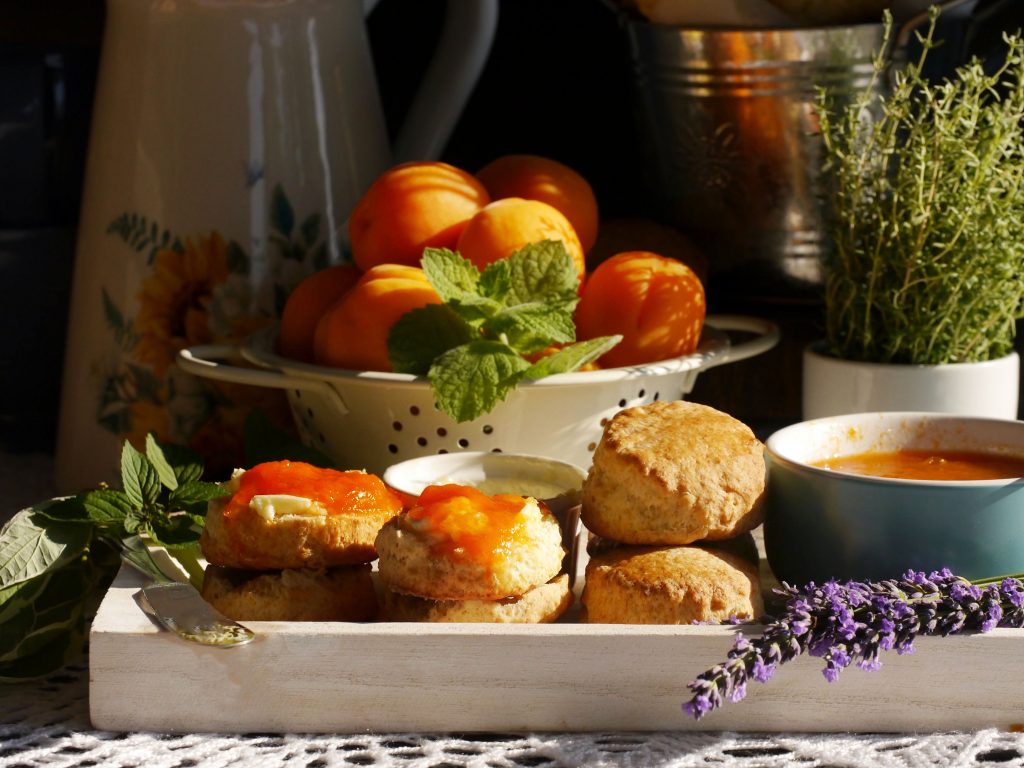 Phew… what a crazy week it's been for me. From working on several baking orders, to sour cherry picking and pitting them for 3 days straight( going through over 60 pounds of cherries is no joke) , to apricot u-pick and a lazy Sunday funday with my boys.
Today is a quick and my favourite recipe for scones. Easy and quick is my favourite during summer time, as I dont like wasting precious time i can spend with my family. So here they are – Simple yet so tasty and soft breakfast scones. Perfectly balanced with a right amount of sweetness . With golden crust and white airy inside. Perfect for breakfast and go well with a cup of tea, or a glass of cold milk, soft butter and dollop of jam, or some cream cheese. I made a quick, 5 minute apricot jam, that we all happily demolished within minutes with these fresh incredibly tasty scones.
No matter what you'll choose to eat them with, I hope you'll enjoy my scones immensely.
Ingredients
260g all purpose flour
50 g sugar
10g ( 2 teaspoon) baking powder
1/4 teaspoon salt
75g cold unsalted butter, cubed
1 egg
1 teaspoon vanilla extract
60g milk
60g whipping cream
Instructions
Preheat the oven to 375 degrees F (190 C). Line a baking tray with parchment paper and set aside.
Using a blender add sifted all purpose flower to a blender container, add sugar, salt, baking powder. Add cold unsalted cubed butter and pulse until mixture reminds sand.
In a medium size bowl mix milk, whipping cream, egg, vanilla extract and whisk well. Add dry ingredients lot wet ingredients and mix until elastic soft dough forms. Don't overwork the dough!
Roll the dough into a thick circle ( 18 cm or 7 inches in diameter ) on a lightly flour dusted surface. Using a round cookie cutter or a thin glass cut out the circles and set them on the prepared baking tray.
Any dough leftovers roll out again and cut the circles until there's no more dough remaining.
Once all the circles are on the baking tray, brush off any flour, using a brush spread a bit of milk on each scone.
Bake for 15 to 18 minutes, until golden brown.
Cool scones off on a cooling rack for a few minutes and enjoy.
© 2023 Copyright Olga\'s Confections