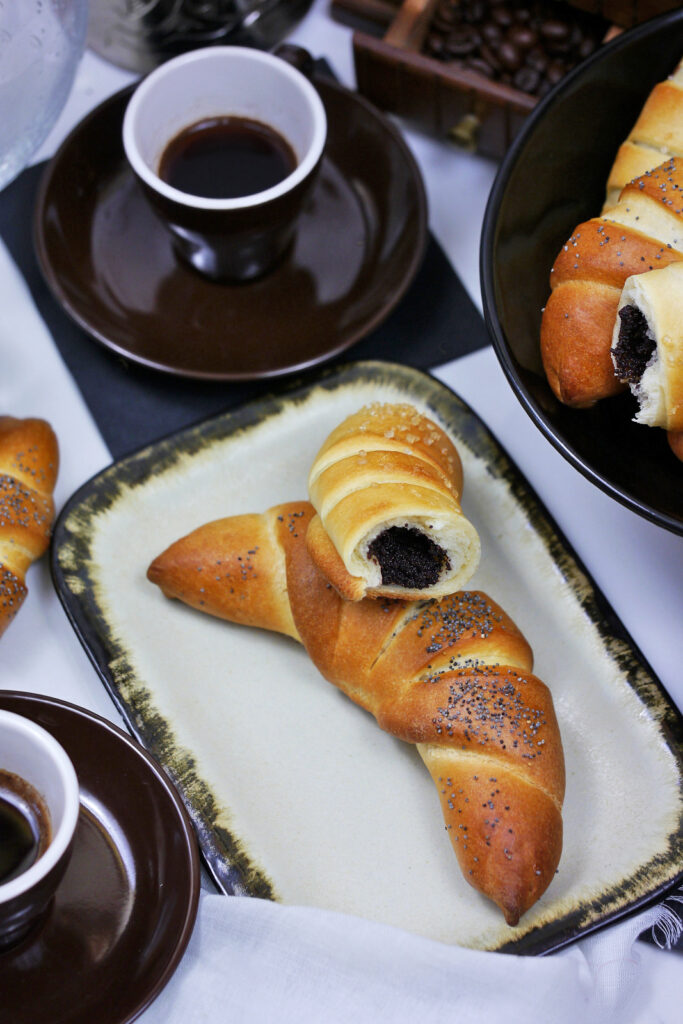 I have to explain right away what Rogaliki is, as many of you I'm sure aren't familiar with this name at all. 
The name rogalik comes from the Russian word that means "horn"and so this pastry was named like this because of its crescent shape which looks like horns. Many people consider that Rogaliki are Soviet croissants, however unlike croissants, Rogaliki aren't made with puff pastry but Instead can be made from yeast dough, shortcrust and even quark ( cottage cheese) pastry. 
When I was growing up, the most popular type of rogaliki were the ones made from classic yeast dough, and those are the ones I want to show you how to make.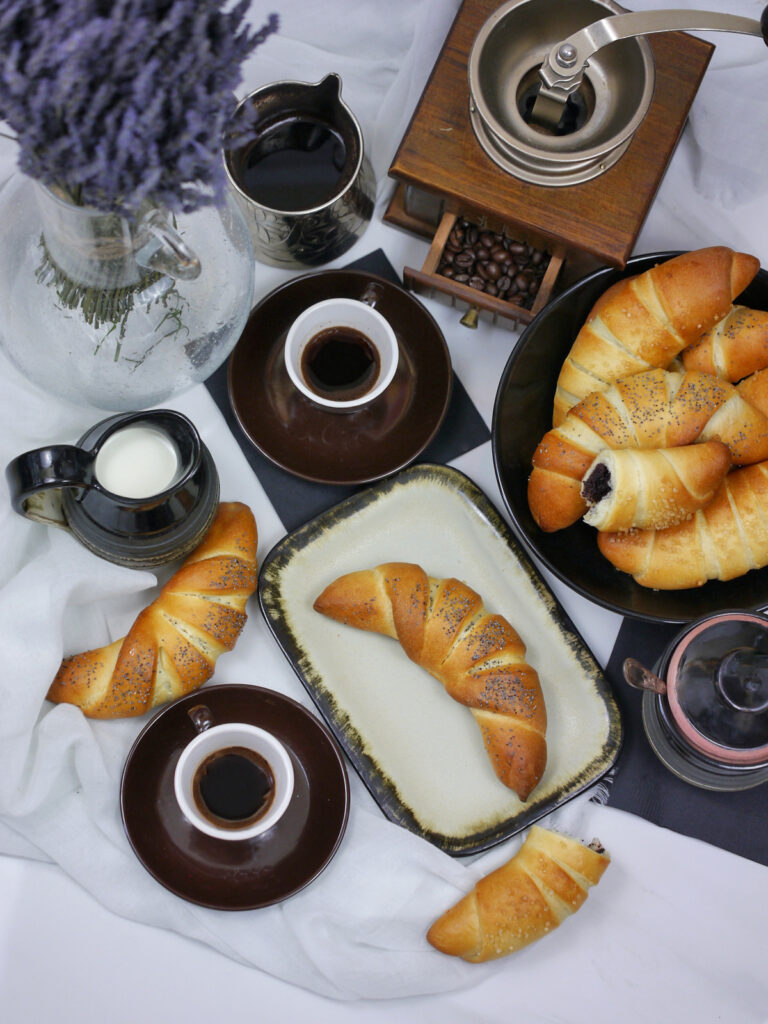 They were widely available everywhere from bakeries to school canteens, they didn't cost much at all and nearly impossible to just pass by. They had an incredible soft, fluffy texture and are usually filled with berry jam; they were the best choice for lunch accompanied by a bottle of fresh milk.
I'm sharing my go-to yeast dough recipe and step by step instructions for making Rogaliki with sweet poppyseed filling. Making the poppyseed filling requires some time and if you don't want to spend too much time working on the filling, opt out and use any berry jam instead! The possibilities are endless!
We need to prepare poppyseed filling first.
Ingredients 
0,5 cup of dry poppyseed
1,5-2 cups of water
0,5 cup of sugar
2 Tbsp jam
Method 
Add dry poppy seeds and water into a small saucepan. Bring to a simmer (not a boil) and leave to simmer for 30-40 minutes stirring occasionally. 
Strain the poppy seeds through a fine mash strainer and run hot tap water through it . Strain again and set aside to cool off and get rid of extra water.
Using a coffee grinder or meat grinder, grind all the poppy seeds.
In a medium size bowl mix ground up poppyseeds with sugar and jam and stir until combined. Poppyseed filling should taste sweet and be soft but not crunchy. 
Cover the filling with plastic wrap and set aside
Time to prepare the yeast dough.
 Ingredients: 
500g All purpose flour sifted (you might need a bit more or bit less)
2 tsp dry instant yeast
6tbsp sugar
1/2 tsp salt
75g butter
1 egg
200g milk
Method 
Warm up the milk in the microwave until it reaches the temperature of around 37C or 99F, add yeast, 1 tbsp of sugar (out of the whole sugar amount I listed in the ingredients), 2 tbsp flour (out of the amount I listed in the ingredients ). Mix well and set aside in a warm place for 10-15 minutes.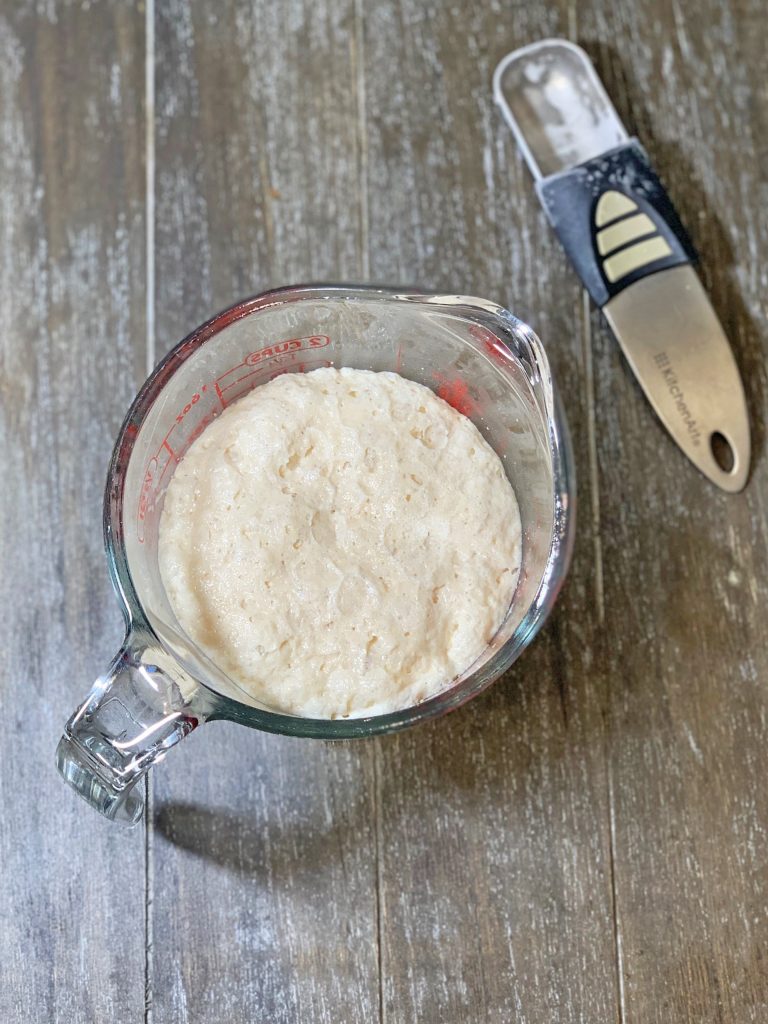 In a big bowl lightly whisk an egg, add salt, remaining amount of sugar, melted butter, the leavened dough and remaining sifted flour leaving about 1/4 of the amount to use later if needed.
You may use stand mixer to knead the dough for about 10-15 minutes. I prefer to do it by hand, as I can feel the consistency of the dough better. We left out some flour because you might need more water if the dough is already stiff. You may possibly need more flour If the dough is too sticky. The end result should be a soft, smooth ball of dough. Slightly grease the bowl, add the dough, cover with plastic wrap and let rise in a warm place for about an hour or until the dough has doubled in size. 

When the dough is ready- punch it slightly to deflate and divide it into 13 even pieces. Use a kitchen scale if desired. Roll each piece into a ball, place on a tray with parchment or silicon mat and let it rest covered with plastic wrap for another 10 min.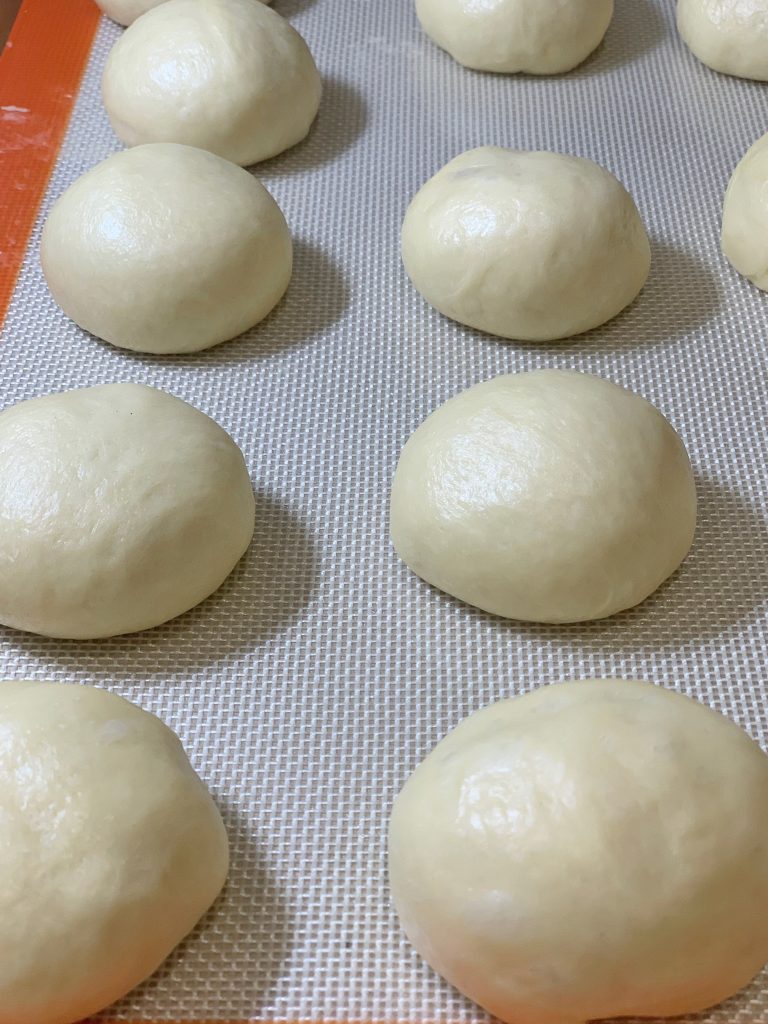 Now let's form our Rogaliki. Take one ball of dough, roll it to create a triangular shape. Add about a teaspoon of poppyseed filling on a wider bottom part, make 3 or 4 cuts at the top without cutting through to the top.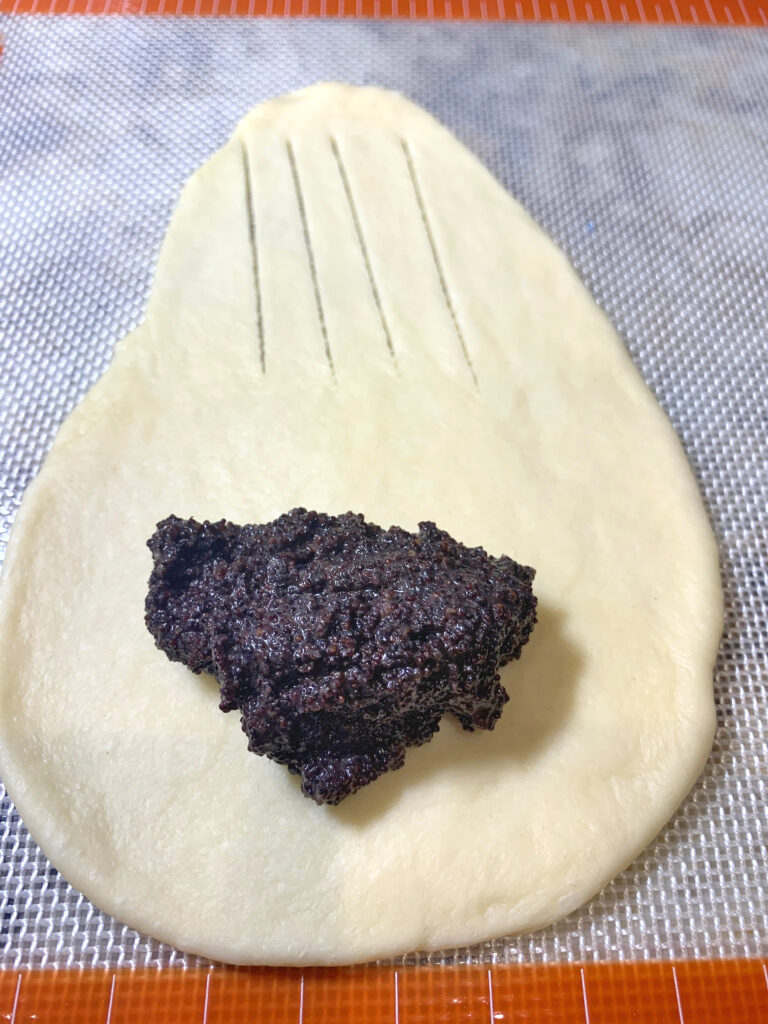 Pull the bottom of the dough and cover the filling (shown in the photo) and seal the pocket of poppyseed. Then roll it and shape into a crescent.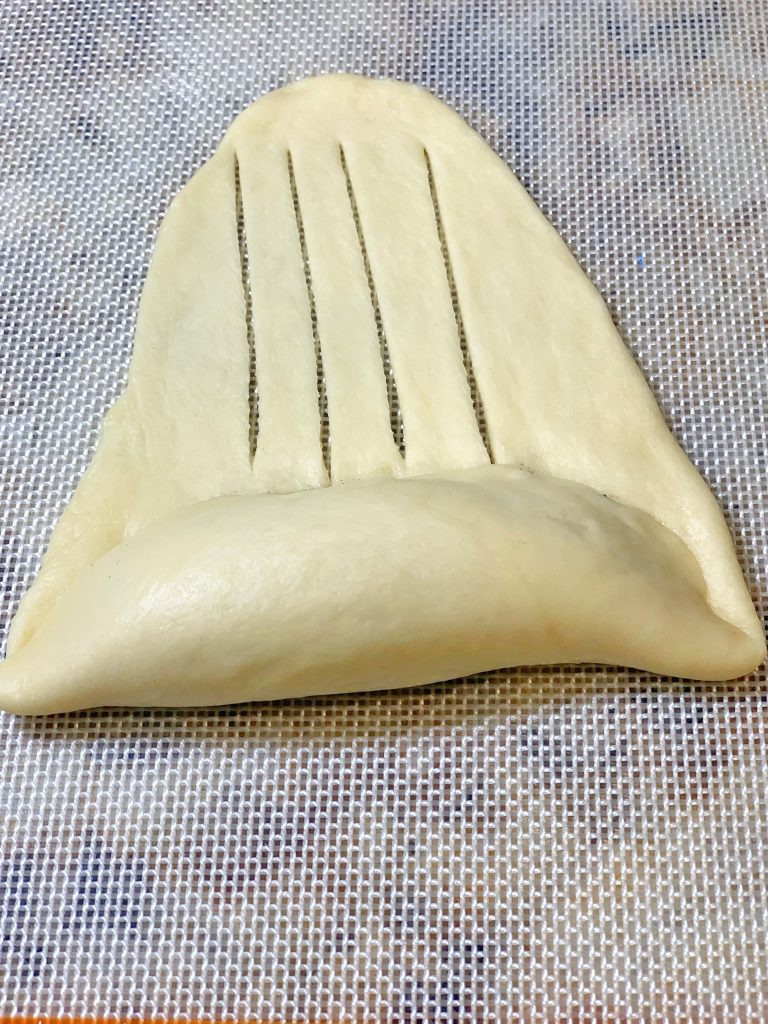 Roll out all Rogaliki and let them rest covered with plastic wrap for another 15 minutes on the tray.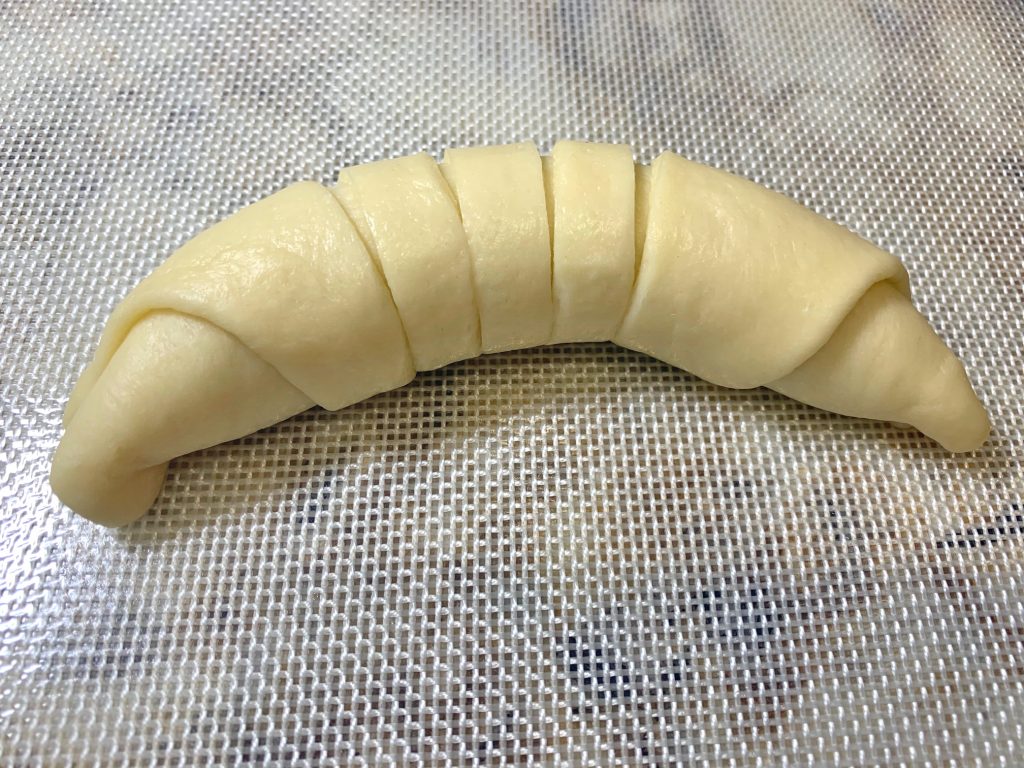 Preheat oven to 360F. Brush Rogaliki with beaten egg and optionally sprinkle some sugar or poppyseed on top. Bake for 25 minutes or until golden brown!