Hello my dear friends, today I would like to share a recipe of Russian style sugar buns. If you want an alternative to cinnamon rolls or maybe you feel adventurous and would like to try and bake something new, I would highly recommend to try these irresistible heart shaped buns. Who can resist a warm, super soft sugar buns, especially now when the weather is getting colder and all you feel like doing is sitting by the fireplace or wrapping yourself in a warm blanket and munching on some yummy comforting treats.
These buns require a few ingredients to make, aren't overly sweet, because you actually decide on the amount of sugar to add. I will show you step by step photos how to shape them and I guarantee that these buns will be baked in your kitchen quite often. Let's bake !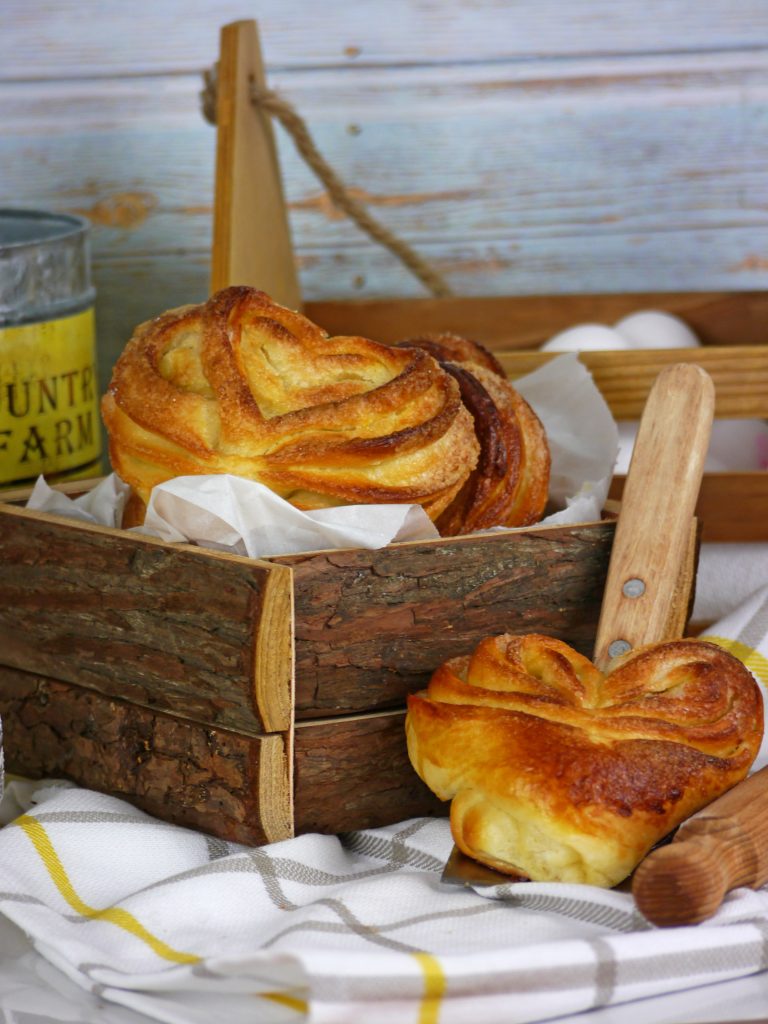 Russian sugar buns
Ingredients
500-600g flour plus more if needed
3 tbsp sugar
salt
1 tbsp instant yeast
250ml milk
60g butter
2 large eggs
100-150g sugar for the filling
Dissolve 1 tbsp sugar and instant yeast in the lukewarm milk and set aside for 15 minutes.
In a medium size bowl whisk eggs with remaining 2 tbsp of sugar and salt. You don't need to use a mixer for this.
Melt butter, add it to the egg mixture and whisk well until fully incorporated.
Add rested yeast and milk to the eggs and butter mixture and mix well once again.
Pour liquid into the bowl of a stand mixer and add half of the flour. Start mixing on low with a hook attachment. Continue adding the remaining flour slowly, making sure it gets fully incorporated first before adding more. If the dough seems too sticky after adding remaining flour, start adding more about 1 tbsp at at time until the dough doesn't look too runny anymore. Knead the dough for about 10-15 minutes. At this point the dough should look like a soft ball and it won't stick to your hands.
Transfer the dough into a slightly greased large bowl, cover with a kitchen towel or plastic wrap and leave in a warm place for about 1.5 hours. The dough should triple in size.
When the dough is ready and tripled in size, deflate it by punching it slightly with your fists and transfer it on the working surface. Divide dough into even sizes. Its always easier for me to use kitchen scales for this step. I divided my dough into 10 same size pieces, but you can make the buns smaller or bigger .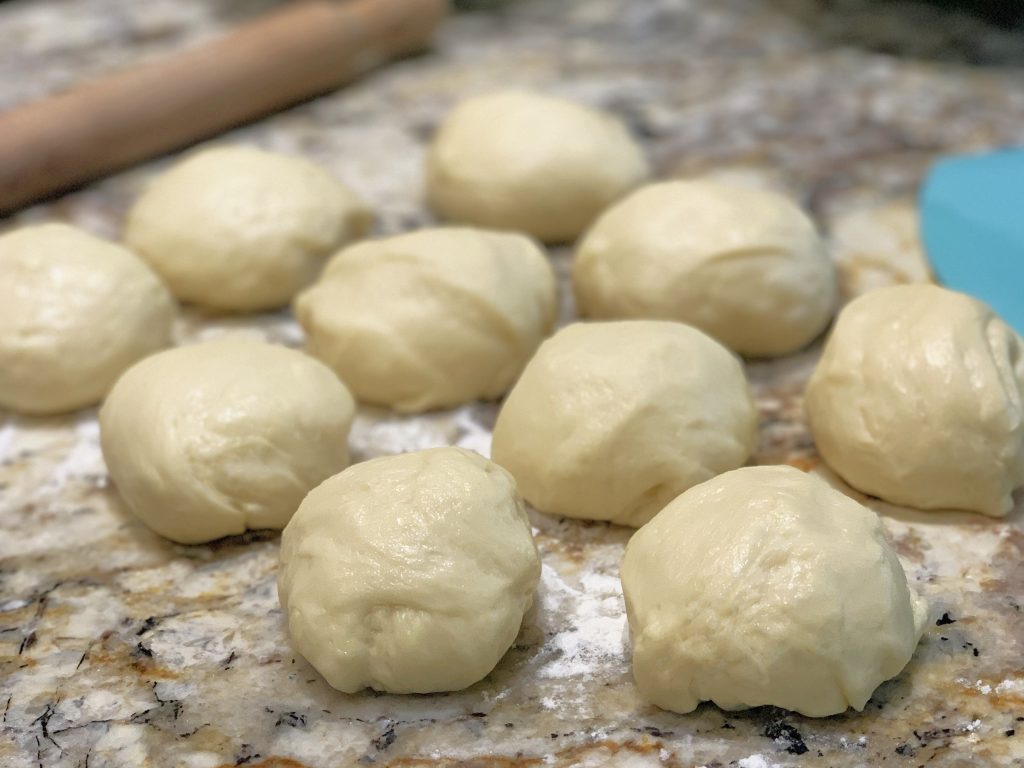 Now its time to shape our buns. take one piece of the dough, roll it out thinly how it is shown on my photo. Sprinkle rolled dough with sugar .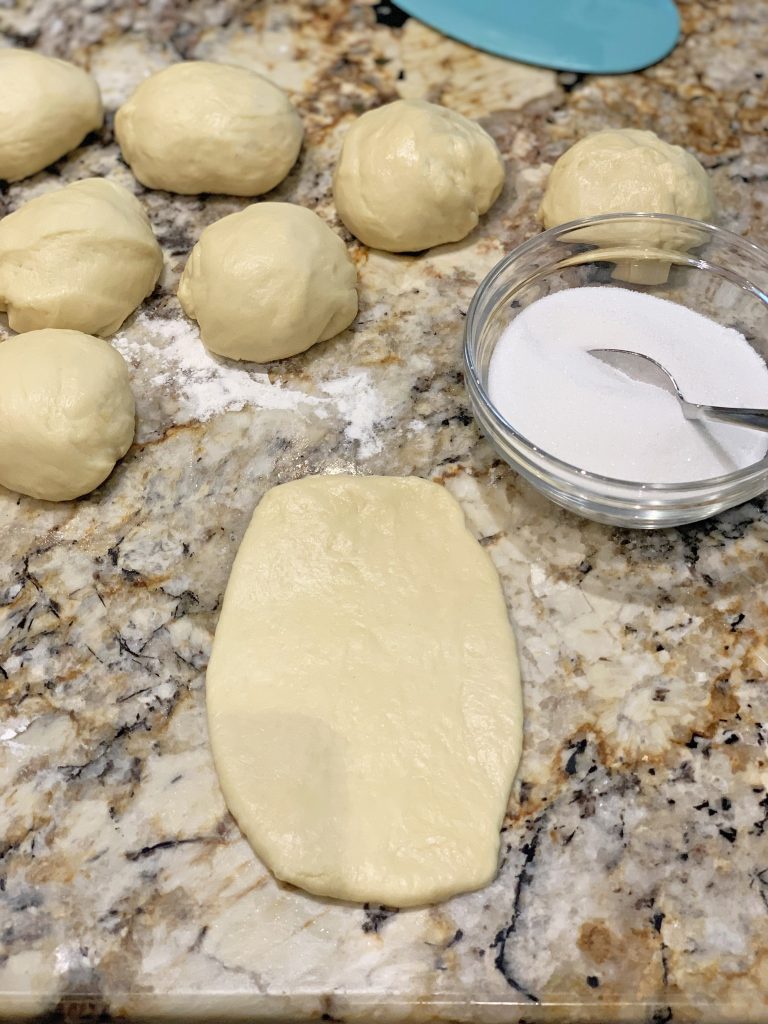 Roll the dough into the sausage shape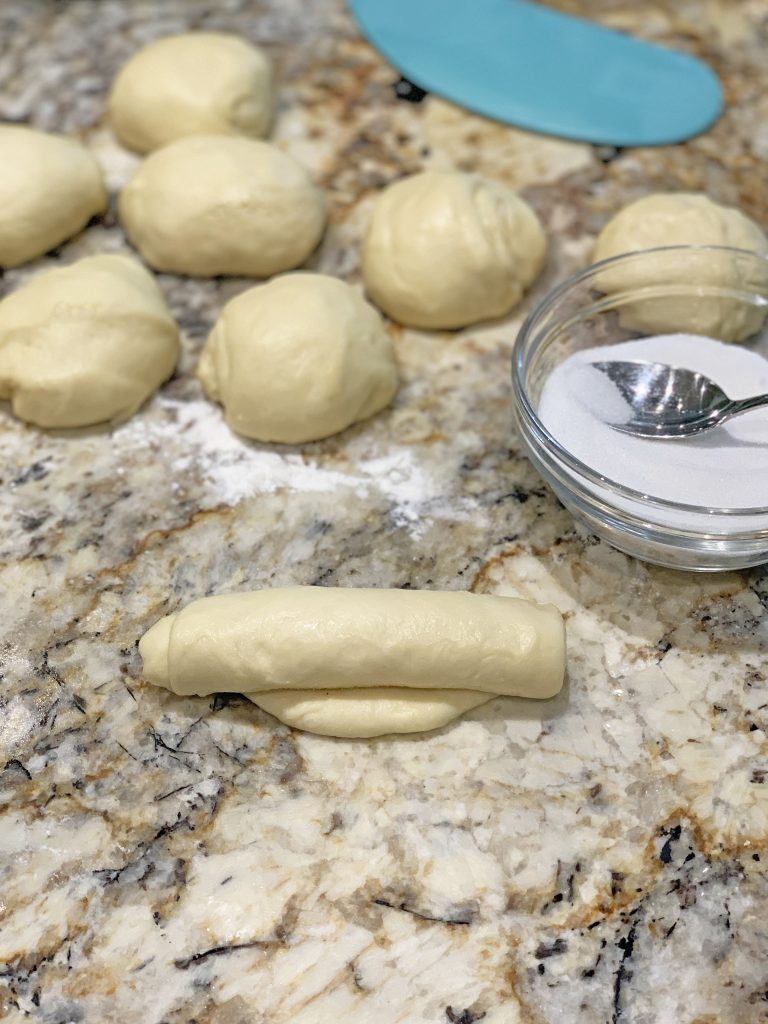 Now pinch both ends of the roll together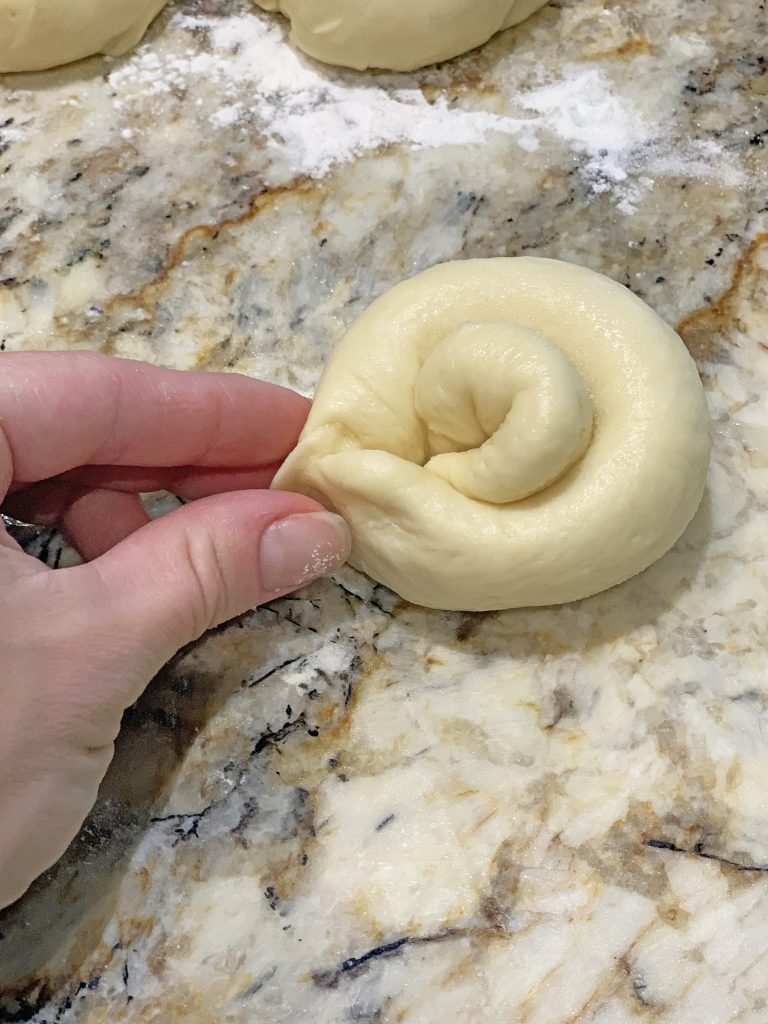 Turn it sideways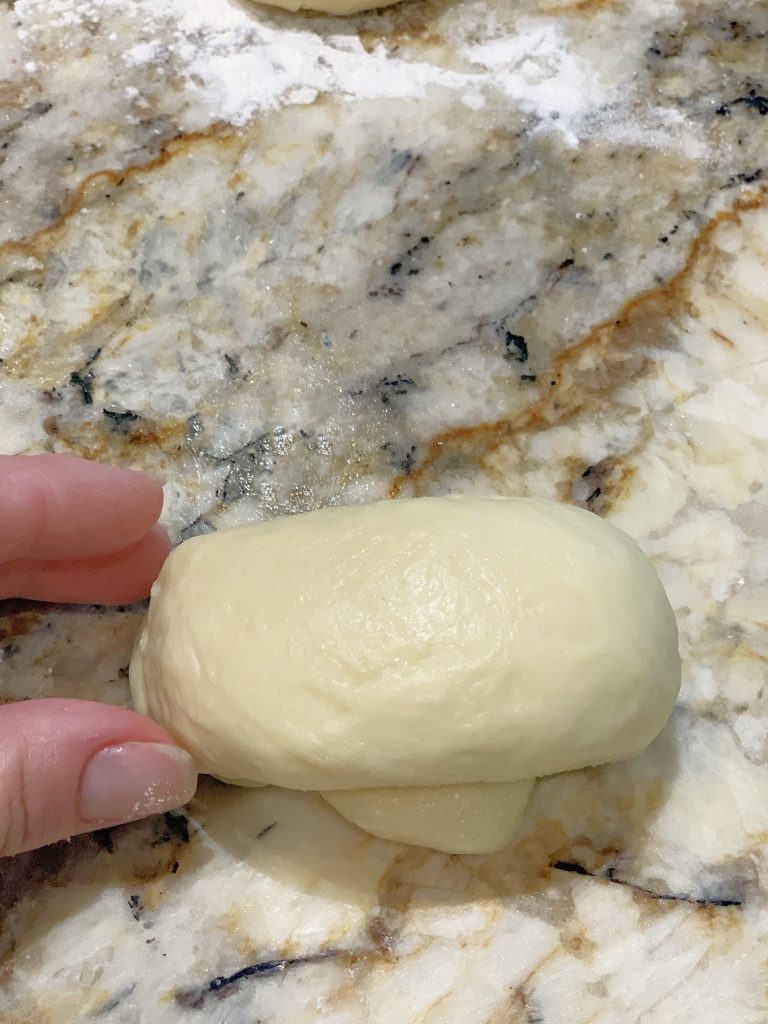 And cut the dough half way through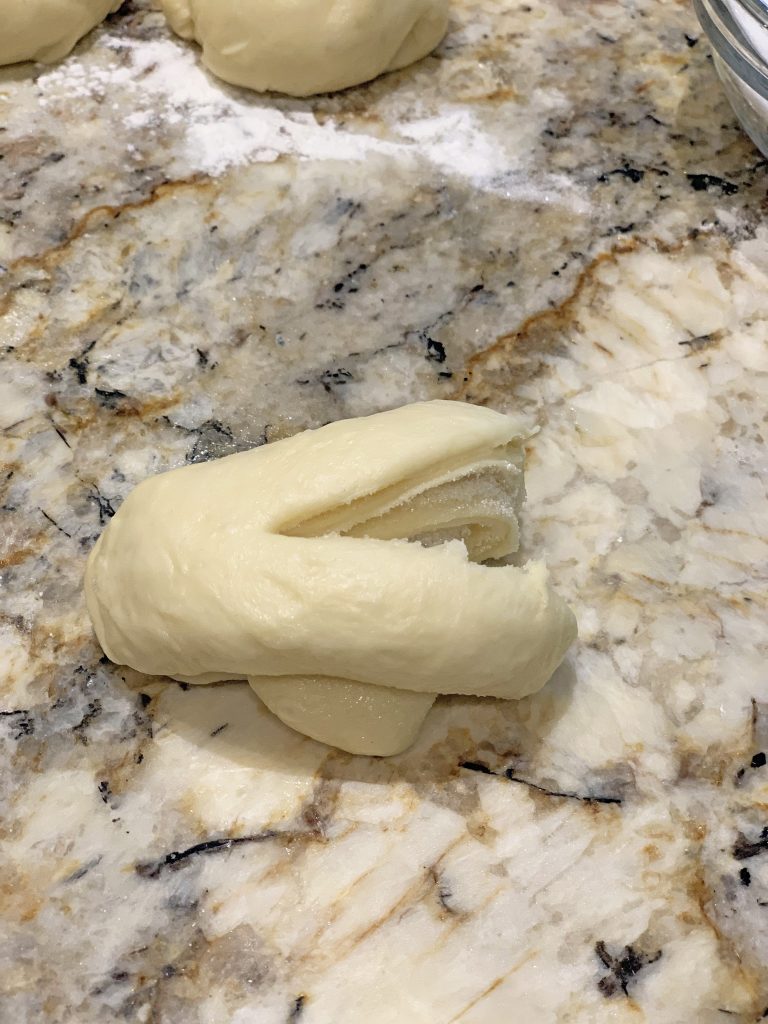 Pull apart and open it like a book. This is how it should look like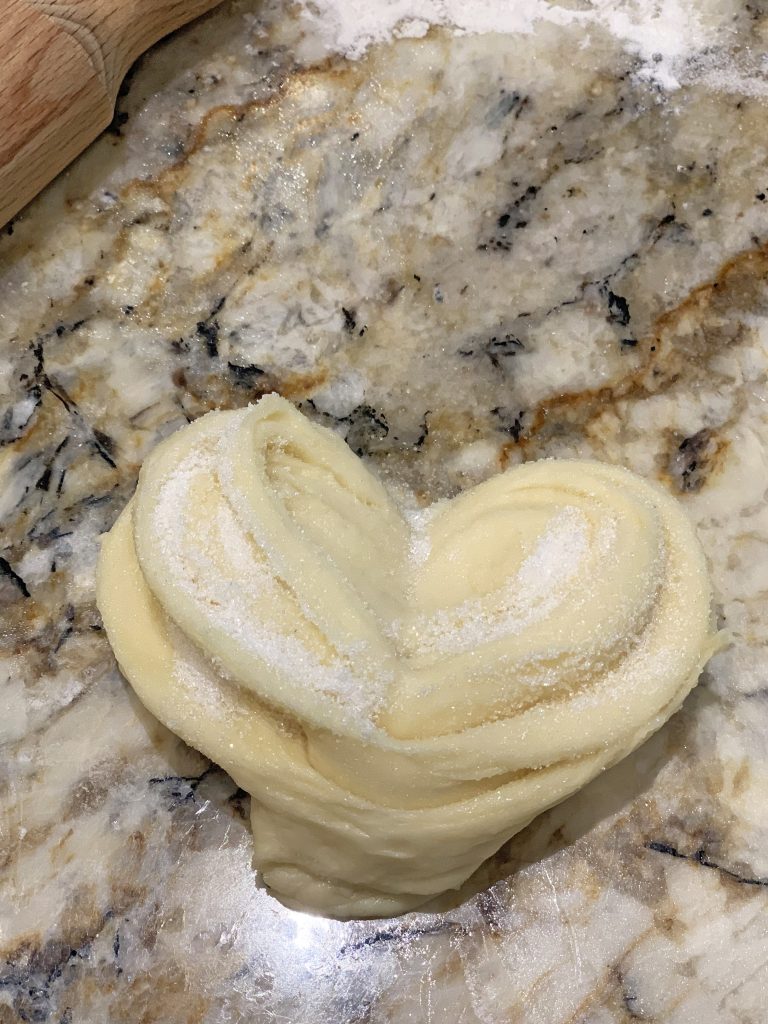 Transfer buns on the baking sheet lined
Transfer buns on the baking sheet lined with parchment paper or silicon mat and let them rest for 15-20 minutes.
with parchment paper or silicon mat and let them rest for 15-20 minutes.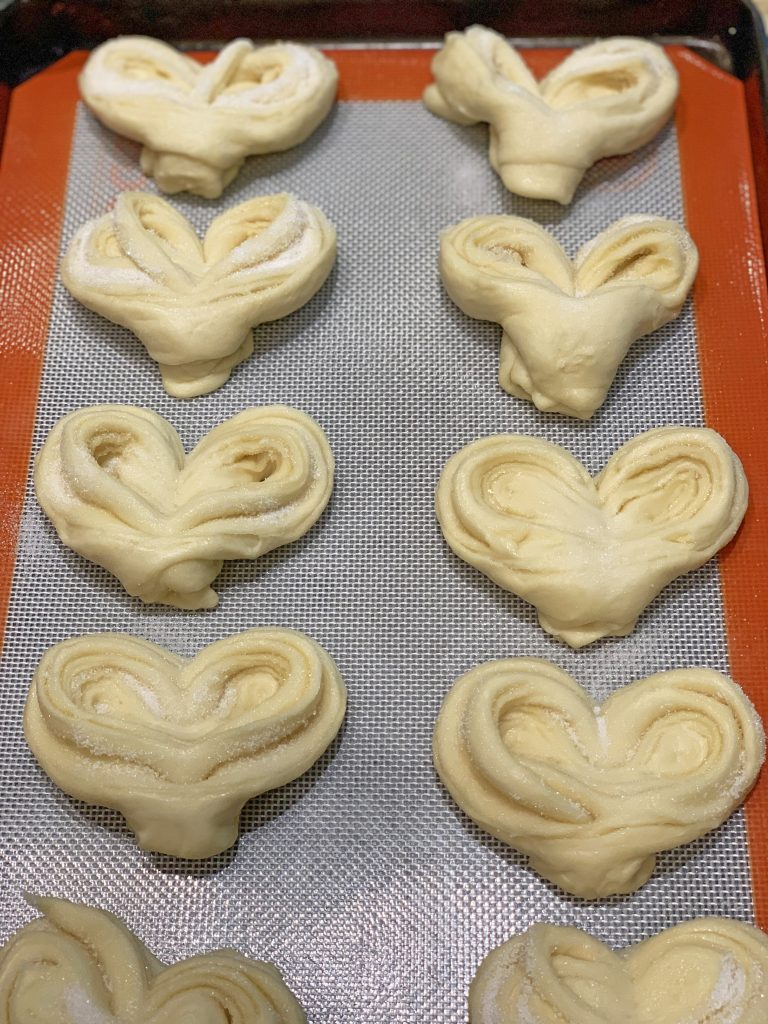 Preheat the oven to 360 degrees F. In a small bowl mix an egg yolk with a tsp of milk and brush buns carefully with egg wash. I sprinkled buns with more sugar before baking. Bake for about 20-25 minutes until buns are golden brown.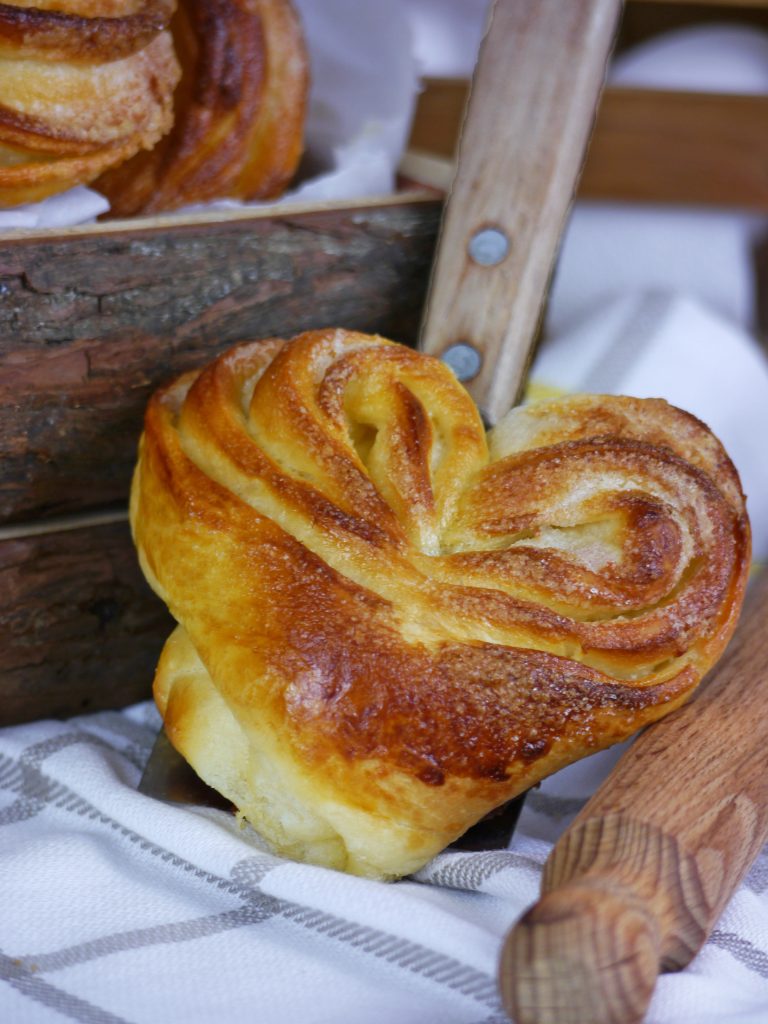 Cool the buns of slightly, and enjoy.