Jump to recipe
It's a plum season here in British Columbia. We love plums but we also love using plums for baking. I can't even tell you how many times I've baked this pie before. During the plum season I bake it on repeat, and there's so many reasons why we all love it.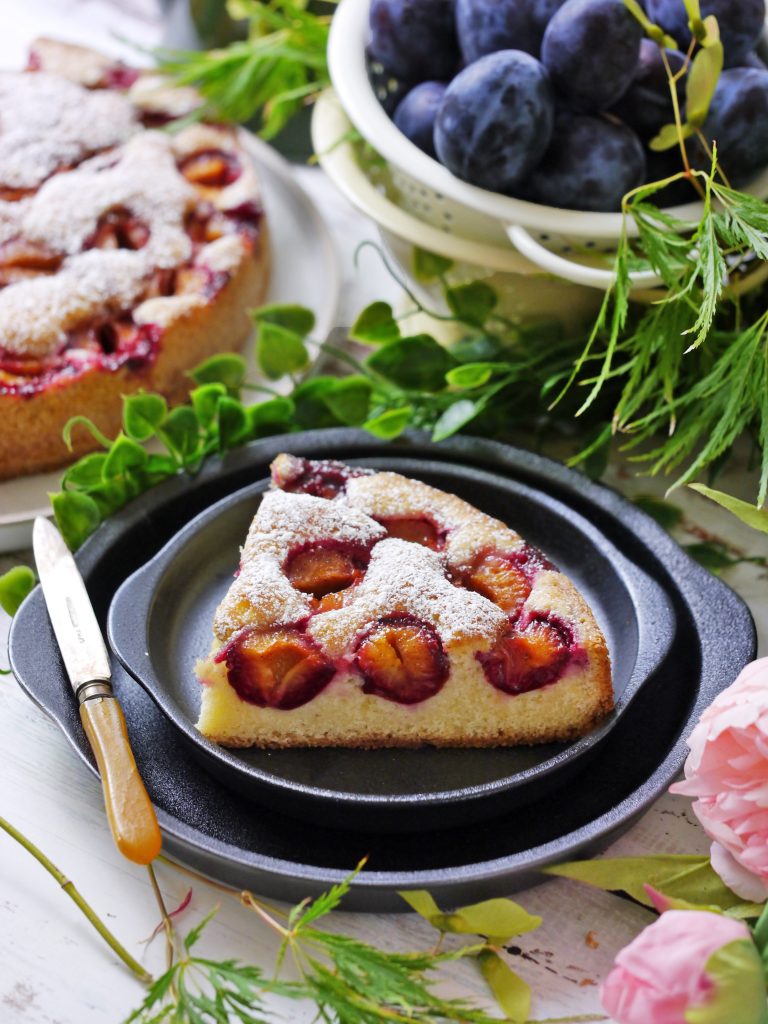 It's a perfect combination of a sweet base and sour plums, it's an amazing fresh and flavourful taste, it doesn't need lots of ingredients, or special baking skills, it is quick to prepare and what's most important, it is very, very delicious. This pie is good as is, but a big scoop of vanilla Ice cream goes soooo well with it too. Bake it once, and I guaranteed this pie would become one of the favourites in your household too! 
Tip! I always use prune plums for this pie. Don't have plums? No worries, use peaches nectarines, apricots and even berries. But remember that the sweater the fruit, the less sugar should be added to the dough. Experiment with sweetness and figure out your preferred sugar to fruit ratio. 

Ready to bake? Here's what you'll need.
My family's Favorite plum pie.

Total Time
1 hour, 5 minutes
Ingredients
Plums about 400-500 g
Soft butter 110 g
Sugar 150g + 2 tbsp
All purpose flour 150g
Eggs 2 at room temperature
Baking powder 1 tsp
Salt 1/4 tsp
Cinnamon 1 tsp or to taste
Instructions
Preheat the oven to 360 degrees F. Grease and flour an 8 inch spring form, set aside.
In a medium size bowl using a hand mixer beat together 110g of soft butter and 150 g sugar for about 2-3 minutes until well combined. Add egg one at a time, beat well after each addition. The dough should be nice and smooth at this point.
Add 150 g sifted all purpose flour, 1 tsp baking powder, 1/4 tsp salt and mix well until all ingredients are fully incorporated. Dough will be thick.
Pour the dough into prepared spring form and distribute evenly.
Wash plums, cut them in halves and remove pits. Set each half of the plum ( skin down) on top of the dough, there's no need to press plums into the dough, distribute plums evenly. Sprinkle remaining 2 tbsp of sugar and 1 tsp of cinnamon on top of the plums.
Bake at 360 degrees F for about 45 minutes.
When pie is baked, leave it in the spring from to cool off before removing it from the form.
Dust with icing sugar if desired and enjoy!
© 2023 Copyright Olga\'s Confections