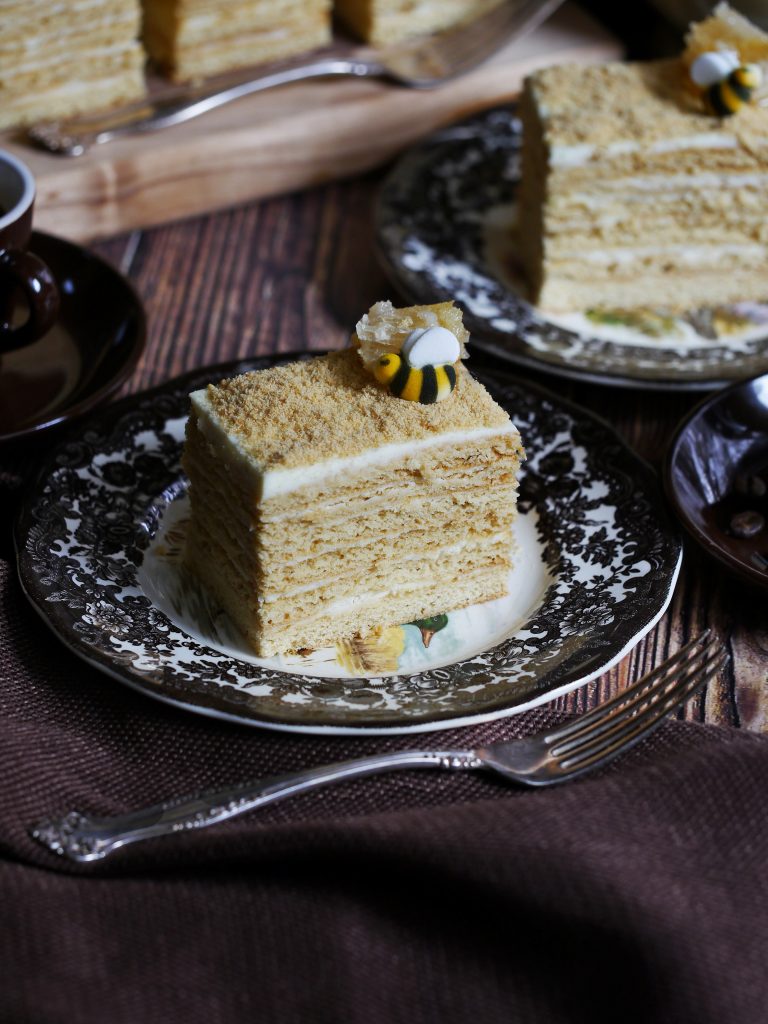 Have you ever heard of a Russian honey cake or Medovik ? if you heard about it and even had it before- you know the this cake is absolutely hard to resist.
But if you don't have any idea what I am actually talking about here, then let me try to explain how irresistible this cake is. And if interested you can make it, because I am sharing my mom's Honey cake recipe with you.
Just imagine- thin, incredibly soft caramelized honey cake that taste like caramel, graham crackers, and dulce de leche. Did I get your attention now?
Honey cake is known in Eastern Europe for over 200 years. The legend says that a new young chef of Russian emperor's Alexander's I wife once decided to secretly use honey as one of the ingredients in his baking despite the fact that emperor's wife hated honey. But once she tried a slice she was so impressed with it that ever since honey cake was an essential dessert during each feast.
I'm not going to lie- this cake requires time and patience to make, especially if you are making it for the first time. But once you try it, you will realize that it was totally worth all your efforts, and I really hope that you will be hooked forever. Honey cake is rich, but pillowy soft and light. This is one of those cakes that shouldn't be enjoyed right away, it requires to sit in fridge overnight, so the cream soaks into the layers which softens them and turns this cake into a melt in your mouth mind blowing incredible dessert.
If you are ready to give it a try, then scroll down to find a recipe of my mom's Honey cake!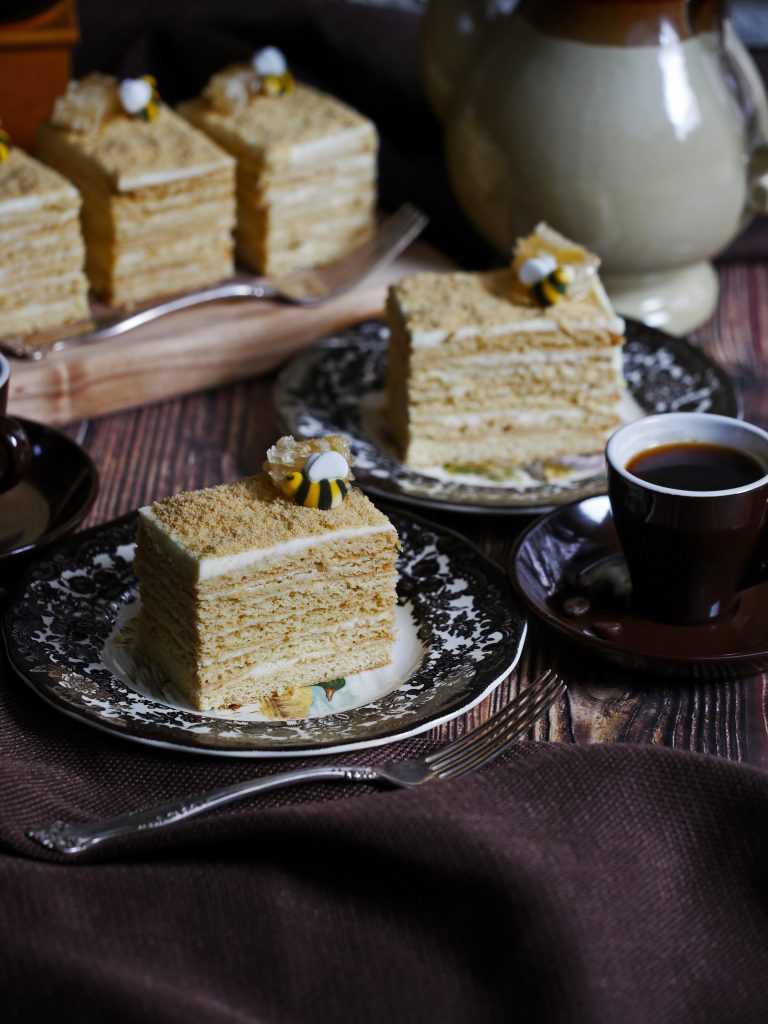 Ingredients
200g Butter
3 tbsp Honey
1 cup Sugar
3 Eggs
1 1/2 tsp Baking Soda
1 tsp Vanilla Extract
3 cup Flour separated
Cream
300 g Cream cheese
300g whipping cream (not less than 33%)
50-100 g powdered sugar
I use double boiler to make a cake dough.
Start by heating the water. While water is warming up beat eggs and sugar with a hand mixer until sugar dissolves and mixture has lighter colour. You may use the bowl that you plan to put on a double boiler later.
Once water in a bowl starts boiling, place the egg and sugar mixture on top of the boiling water, it is important that the bottom of the bowl doesn't touch the water!
Add butter, honey, vanilla and baking soda into a the egg mixture and start mixing slowly but thoroughly with spatula until the consistency is smooth. We need to let the mixture warm up nicely. Once it is warmed up the mixture should become slightly thicker and roughly double in size.
Add 1 cup of flour to your mixture while bowl is still on the double boiler.
Once the flour is added, mix it thoroughly and leave to warm up on a double boiler for a few more minutes. Turn off the heat and remove the bowl from the top of the double boiler.
Preheat you oven to 400 F
Let the dough cool slightly, when it is cooler to touch, add remaining2 cups of flour.
Place the dough on your working surface and knead well, until the flour is fully incorporated. You will have soft. pliable dough, that sticks slightly to your hands. If the dough is way too sticky, try incorporating more flour, but add small amounts at at time.
Divide the dough into 6 even parts and set side.Flour the surface generously. I often roll each layer on silicon mat, which is easier.
Roll out a piece of dough into a round shape, as thin as you possibly can. The rolled out piece should be large enough to be cut out later.
Bake a layer for about 5-7 minutes, until it is golden brown.
While a layer is being baked, roll out the second layer, this will speed up the baking process significantly.
When the layer is cooked and it is golden brown, remove it from the oven and while still hot, put a plate or a bottom of a spring form on top of the layer and cut out a nice circle.
DO NOT throw away cutouts, we will use the later for decoration.
Bake all the layers using the step above until you run out of dough. You should have about 6 individual layers, depending on the size of a plate you chose.
While the cakes are cooling off completely it is time to make cream.
Place cream cheese, whipping cream and powdered sugar into the bowl of a stand mixer and whip it until light and fluffy for about 5 minutes.
Divide all cream evenly between each layer of your cake and stack each layer on top of each other.
Now it is time to use those cutouts. Place remaining pieces into a blender and pulse a few times so the crumbs form. They don't have to have perfect size. Carefully brush the crumbs on the sides of the cake and the top if there's extra.
Let the cake sit in the fridge overnight, it will result in a pillowy soft texture.
Before serving let the cake sit on the counter top for up to 30 minutes and enjoy!