Jump to recipe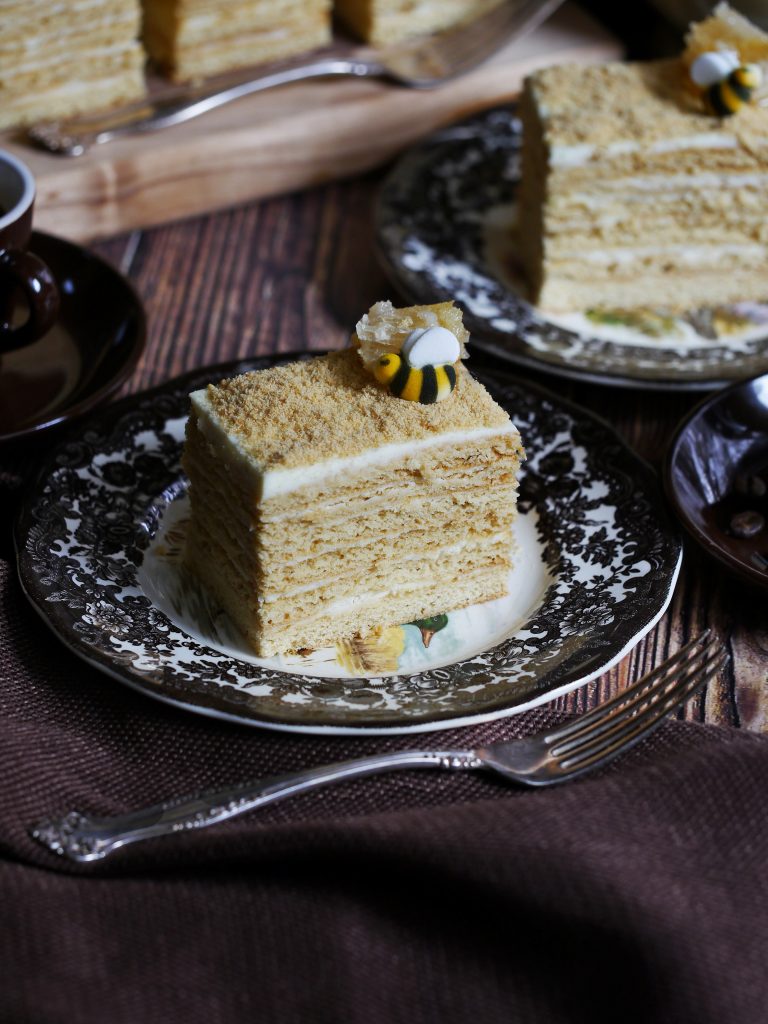 Have you ever heard of a Russian honey cake or Medovik ? if you heard about it and even had it before- you know the this cake is absolutely hard to resist.
But if you don't have any idea what I am actually talking about here, then let me try to explain how irresistible this cake is. And if interested you can make it, because I am sharing my mom's Honey cake recipe with you.
Just imagine- thin, incredibly soft caramelized honey cake that taste like caramel, graham crackers, and dulce de leche. Did I get your attention now?
Honey cake is known in Eastern Europe for over 200 years. The legend says that a new young chef of Russian emperor's Alexander's I wife once decided to secretly use honey as one of the ingredients in his baking despite the fact that emperor's wife hated honey. But once she tried a slice she was so impressed with it that ever since honey cake was an essential dessert during each feast.
I'm not going to lie- this cake requires time and patience to make, especially if you are making it for the first time. But once you try it, you will realize that it was totally worth all your efforts, and I really hope that you will be hooked forever. Honey cake is rich, but pillowy soft and light. This is one of those cakes that shouldn't be enjoyed right away, it requires to sit in fridge overnight, so the cream soaks into the layers which softens them and turns this cake into a melt in your mouth mind blowing incredible dessert.
If you are ready to give it a try, then scroll down to find a recipe of my mom's Honey cake!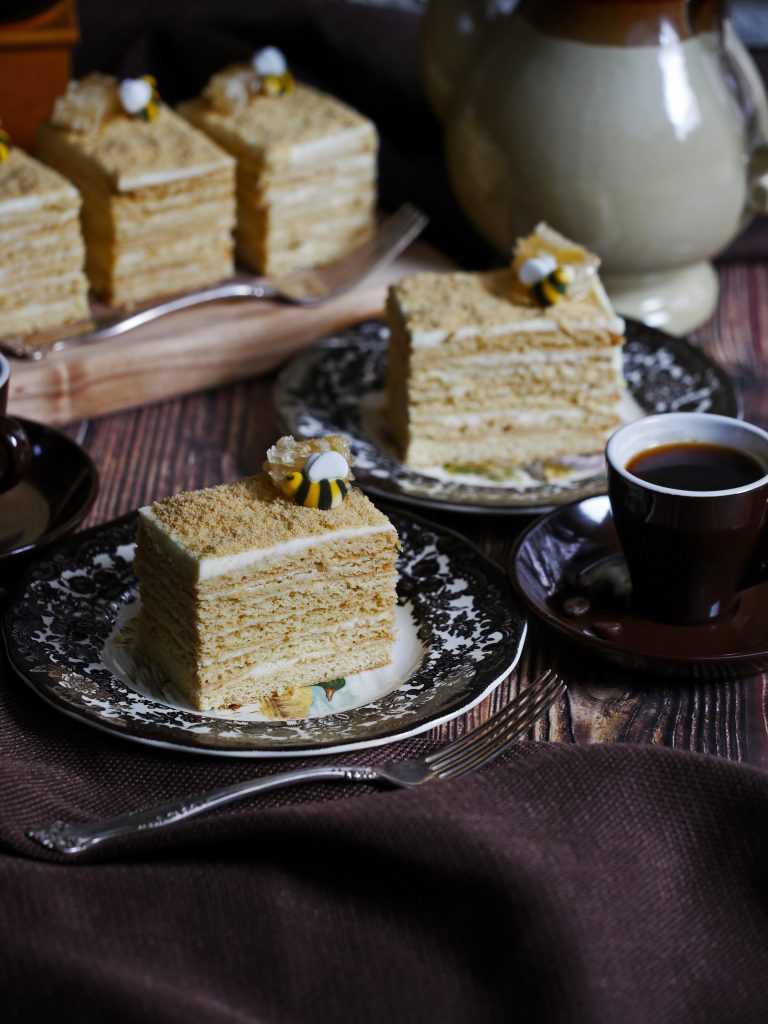 Honey Cake aka Medovik

Total Time
1 hour, 30 minutes
Notes
Give this cake a time to rest! The hardest part is to not cut it up right away. It is very important to let this cake rest in the refrigerator overnight. This is the cake that taste so much better when rested!
I share 2 delicious options for the frosting. Both work really well, and are a great combination. Regardless of the type of the frosting you choose, I recommend using the frosting right away.
Ingredients
To make a cake:

200g (3/4 cup) softened butter
3 tbsp natural Honey
200 g (1 cup) Sugar
3 Eggs at room temperature
1 1/2 tsp Baking Soda
1 tsp Vanilla Extract
360 g (3 cup) All purpose Flour

To make a Cream cheese frosting:

300 g (1 1/4 cup) softened Cream cheese
300g ( 1 1/4 +2tbsp) whipping cream
100 g powdered sugar ( or to taste)

To make sour cream frosting:

800 g (3 cups) 18% Sour cream
200 g (1 cup) granulated sugar
1 tsp Vanilla extract
Instructions
To make cake dough:

Fill a large pot with about a quarter of water,bring water to boil.
Beat eggs and sugar in a large heat safe bowl using a hand mixer with a whisk attachment. Beat until there's no more sugar crystals, eggs are lighter and mixture looks thicker.
Once water is boiling, reduce the heat to medium, place the heat safe bowl with egg mixture inside the large pot. Make sure that the bottom of the bowl doesn't touch the boiling water!
Add butter, honey, vanilla into the bowl with egg mixture and whisk carefully. We need to allow the mixture to warm up nicely and melt the butter . Whisk occasionally until all the ingredients are incorporated .
When mixture is warm and all the ingredients are incorporated, add soda and whisk quickly, it should double in size and become way thicker.
Add about half of the amount of flour, whisk it thoroughly and leave it for a minute or 2 to warm up. Turn off the heat and carefully remove the bowl with the dough, set aside to cool off for about 10-15 minutes .
Preheat you oven to 200 degrees C (400 degrees F)
Once dough is rested and cooled, add remaining flour, first mix it in with a wooden spoon and when flour is almost mixed in, transfer the dough onto a working surface and knead until the flour is fully incorporated.
The dough should be soft, it may stick slightly to your hands, that's ok.
If the dough is way too sticky, and doesn't hold together, add more flour, small amount at a time, kneading the dough after each addition. Add until you reach the right consistency.
Divide the dough into 8 -10 even pieces , use a scale to make it precise. 
Lightly flour the working surface, or use baking mat and roll out each piece on it. Roll each piece into a large round circle, it should be big enough so you can cut out a perfect circle later.
Place a mat with a circle on it on a baking sheet, or line baking sheet with parchment paper and transfer the circle carefully using the rolling pin.
Bake each circle for about 5-7 minutes, until it is golden brown.
While one circle is baking, roll out another circle, so it's ready to be baked once the previous circle is taken out of the oven, this will speed up the baking process significantly.
When each circle is baked, using a plate or a lid as a stencil, cut out a perfect circle. Save all the cake trimmings for decorating. 
Allow cakes to cool off completely before frosting.

To make the cream cheese frosting:

Add softened cream cheese , whipping cream and powdered sugar into a bowl of a stand mixer and using the whisk, beat the cream on medium until light and fluffy, it should take about 3 to 5 minutes.
Refrigerate for up to 2 hrs if not used right away.

To make sour cream frosting :

Add sour cream, granulated sugar and vanilla into a bowl of a stand mixer and using the whisk, beat the cream on medium until sugar crystals are dissolved , it should take about 2 minutes.

To assemble the cake:

Frost first cake layer with a frosting of your choice and stack another on top. Repeat the process until all the layers are frosted stacked. Frost the outside of the cake with the remaining cake cream.
Turn the trimmings into the crumbs, don't make the crumbs super fine, leave bigger chunks, they don't need to be perfect size. Decorate the sides of the cake with the crumbs, use them to decorate the top if there's extra.
Let the cake rest in the refrigerator overnight.
Before slicing, allow the cake to sit on the counter top for about 30 minutes. Enjoy!
© 2023 Copyright Olga\'s Confections