Jump to recipe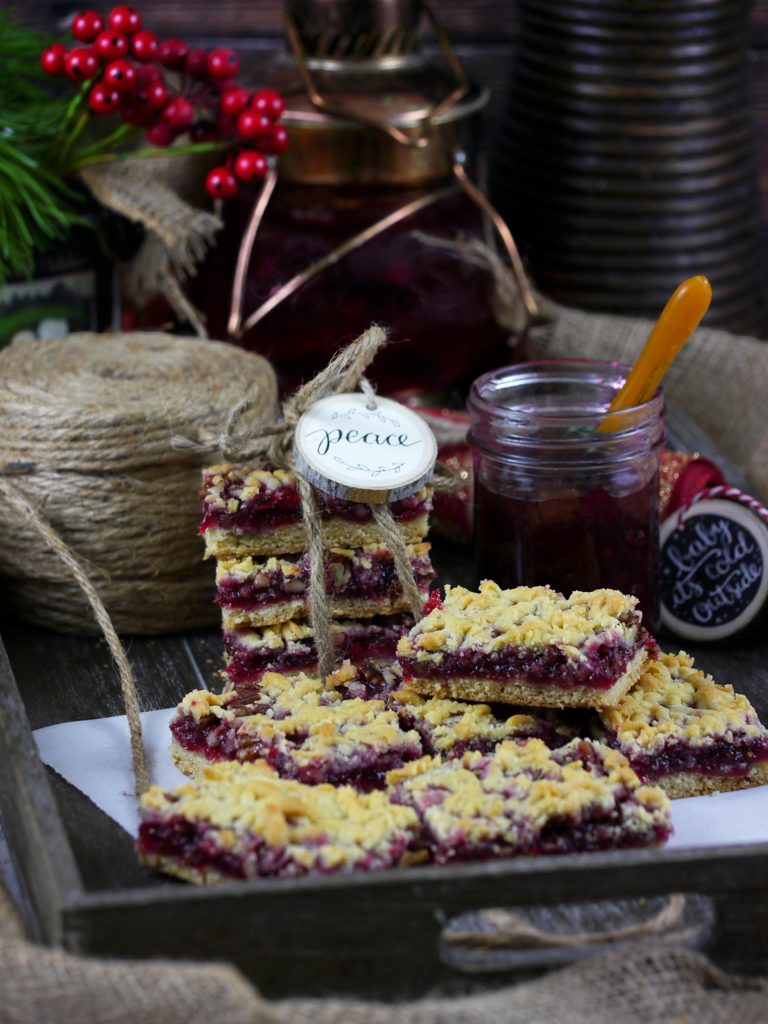 Many times in my previous posts I was talking about my mom's baking. I guess many would agree that mom's cooking is the best in the whole world, right? I am totally convinced that my mom is the BEST. I am and always was a huge fan of my mom's cooking. She truly is amazing in the kitchen, nobody, and I really mean it, makes pork cutlets better than her, her cabbage rolls are truly to die for, her poppy seeds strudel is divine… I can go on and on, describing it, but the point is that we were always so spoiled by a huge variety of mouthwatering, finger licking foods she was feeding us with. I myself am using quite a few of her recipes, and today I would love to share yet another recipe- my mom's old fashioned crumb cake. One of the daily traditions in my family was a teatime. Every evening, especially during winter month, we would gather around the table, mom would brew fresh black tea and we would sit around at the table drinking tea, having finger foods, which quite often was something sweet.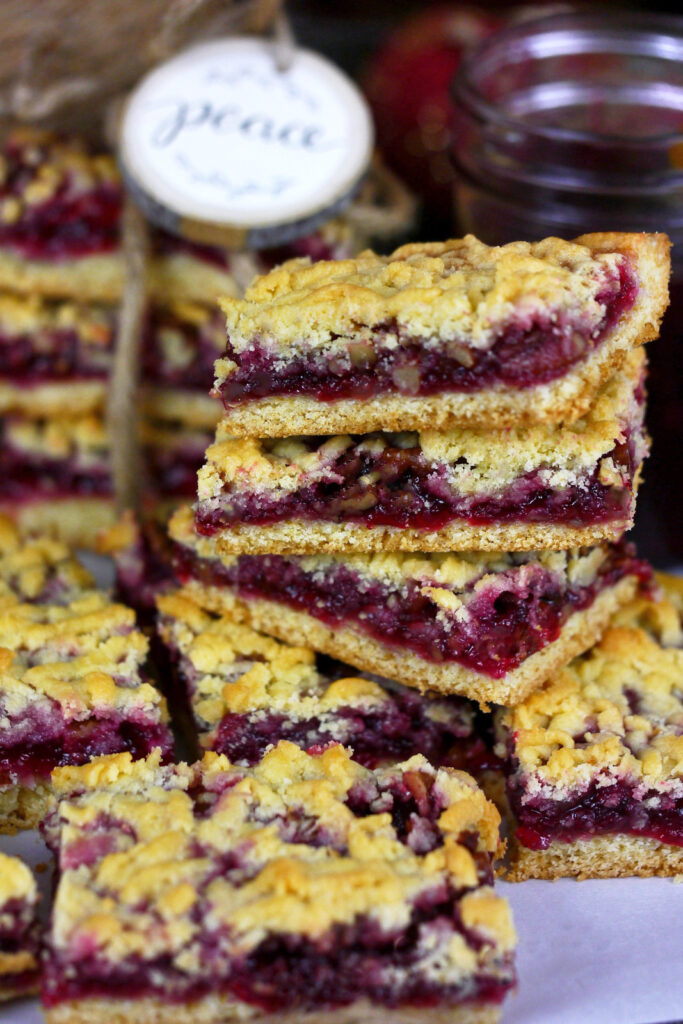 One of the most popular sweet treat was a crumb cake. Have you heard of a crumb cake before? If not – crumb cake is a cake made of short crust that is rolled out quite thin, it has a layer of jam or preserve and then covered with a crumb topping. This cake is one of the easiest, fastest cakes to make, it is very budget friendly, and by using different jams you can easily turn this cake into a different dessert each time. This cake is nothing less than awesome!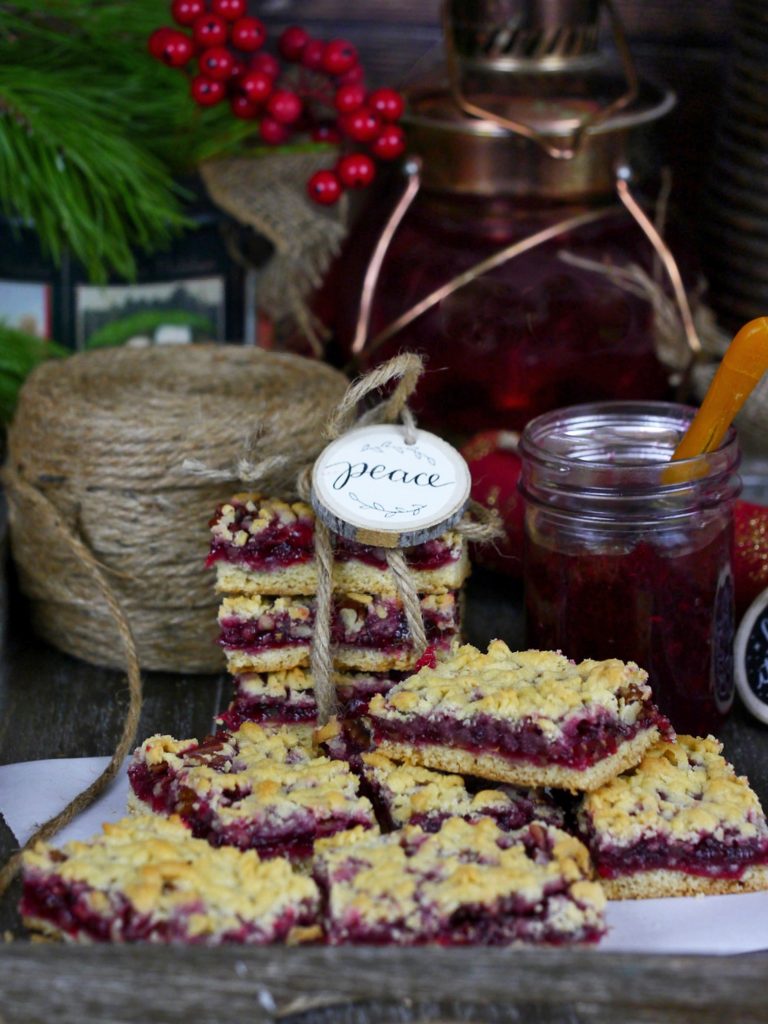 During Christmas holidays I love making edible presents. I find them so meaningful, they are always made with so much love, and positive thoughts! If you love handmaid presents,just as much as I do- this crumb cake would make a perfect edible gift if you cut it into squares, put it into a cute box, and add a sweet note!
Mom's old fashioned crumbcake

Serving Size
1 9×3 square size cake or 12-14 bars
Notes
My absolute favourite flavour combination is cherry and walnut. Use more tart jams, like black currant, cranberry, or plum if you prefer less sweetness.
As long as the jam is thick, absolutely any flavour would work just fine!

 

Crumbcake stores well in an airtight container for 3-4 days
Ingredients
Butter at room temperature- 200 g
Eggs- 1 g
Sugar – 100 g
Flour (sifted)- 300 g
Soda – 0.25 teaspoon
Thick Jam/ preserve ( of your choice)- 400-450 g
Crushed Walnuts or almonds optional – 200 g
Instructions
Preheat the oven to 360F. Place warm butter (at room temperature) and sugar in a bowl of a stand mixer and whip on a highest speed (for about 2-3 minutes) until it is light and fluffy.
Add an egg and mix well until incorporated.
Add sifted flour and soda. Mix the dough until fully incorporated. If the dough is too sticky add some more flour (about a table spoon at a time) and mix again. It is important to not overwork the dough, otherwise it will be stiff.
Form a ball of dough and divide into two uneven parts.Bigger part would be used for the bottom and smaller for the crumble top. Leave a bigger part out and wrap a smaller part of dough with the plastic wrap and place into the freezer for about 15 minutes. It would be our crumbly top.
While the smaller part of the dough is chilling. Line a square cookie pan with a parchment paper or grease the pan with butter, and roll a bigger part of the dough evenly. My dough was pretty sticky as I didn't want to add lots of lour, so I carefully rolled the dough out right in the square cake pan.
Spread jam ( I am using cherry jam ) all over the surface of the bottom layer, add crushed nuts if you choose to add them.
Take the smaller portion of the dough out of the freezer and grate it on top of the jam and nut layer, spreading it evenly.
Bake at 360F for 30 minutes. After 30 minutes, switch your oven to broil or increase temperature to 420F and bake another 2 minutes, so the top turns more golden brown and crispy.
Take it out of the oven and let it cool completely in the pan before cutting.
© 2023 Copyright Olga\'s Confections