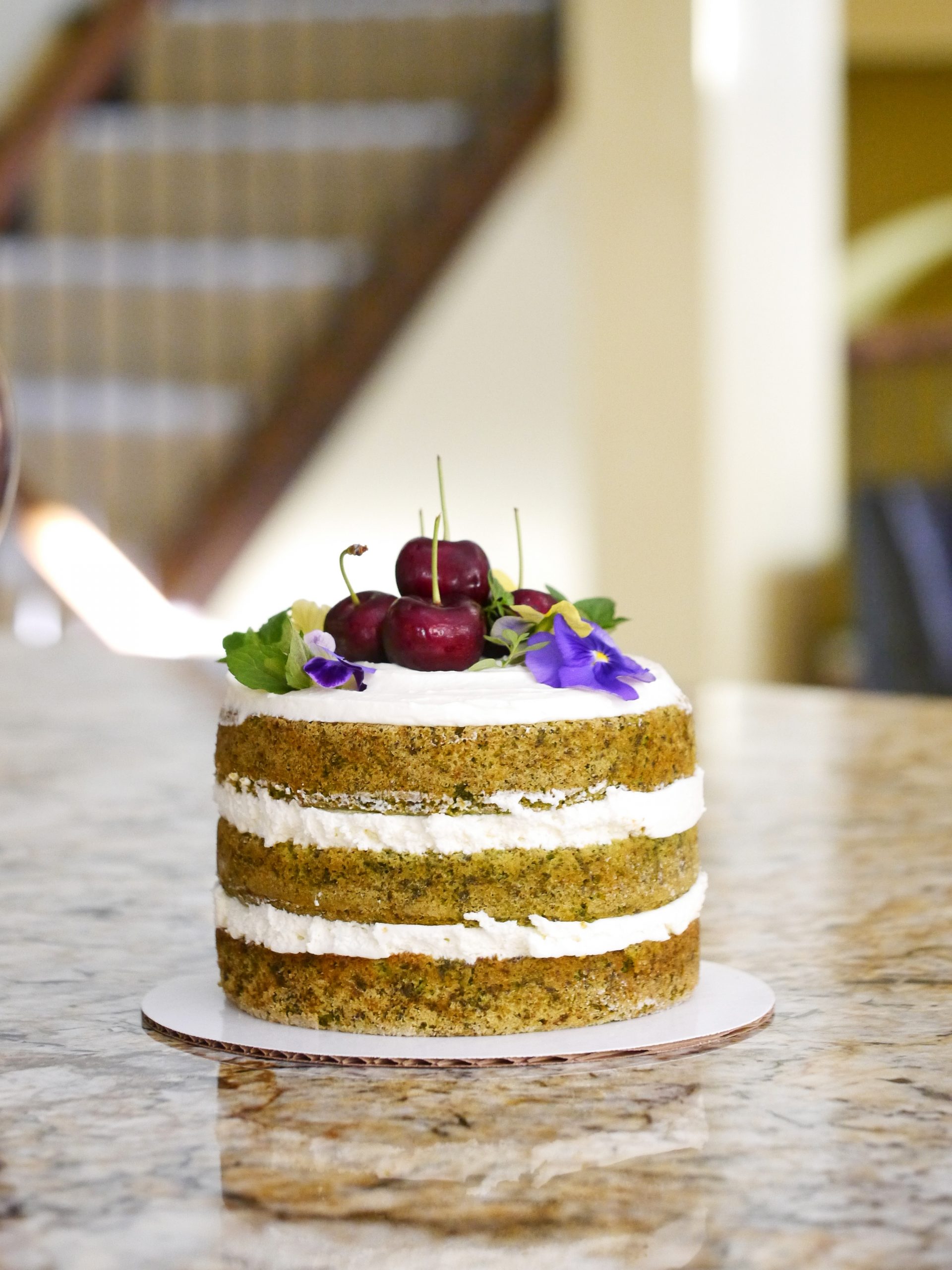 There are desserts that sound so interesting and you look forward to test it and they turn out to be mediocre, and all that is left is disappointment. And then there are desserts that aren't even promising and somewhat weird but once you make them they totally exceed your expectations. Did this ever happen to you? I bet it has, and not just once…

I don't recall ever being so skeptical about any of the desserts. I looked at the recipe for a Spinach cake for a few years but I brushed off the idea of making it, thinking to myself "why would anyone even consider baking a cake with spinach?" It sounded weird and wrong on all levels.
And the one day "the stars aligned", I had some unused spinach left and it was either freeze it or just throw it away. Luckily I took a different path and decided to bake with it.
The worst case scenario in my mind would've been cutting up a slice of cake, checking how it looks, maybe!! taking a tiny bite and then dumping it into the garbage bin.

I'm not gonna lie- I was not expecting my reaction, I couldn't even imagine that I would be totally blown away by the incredible taste of this cake. It really is hard to describe how irresistible it is, but just imagine a lightest, very airy sponge with a hint of spinach that leaves a delicious aftertaste in your mouth, whipping cream and slightly tart raspberries are just perfect pairing for this delicious dessert . Love at first bite is a definition of this cake. I have never tasted anything more light than this ever!

I am definitely baking it again, and again and again, and I would suggest to anyone who wants to taste something absolutely different – stop reading my post and start baking it now, it is so worth it!!! 😉🤩😁👌🏻
🍃Spinach cake🍃

For the cake:
200 gr of spinach washed and dried
160 gr of grapeseed oil
Zest of 1 lemon
2-3 tbl spoon of lemon juice
1 tsp of vanilla extract
2 eggs at room temperature
160 gr of sugar
200 gr of all purpose flour
11 gr of baking powder

For the frosting :
250 gr of whipping cream
250 gr of cream cheese
100-150 gr of icing sugar
Raspberries- optional

Grease 3cake pans (6inch)dust them lightly with flour, set aside.
Preheat the oven to 360F
In a bowl of a blender pack tightly all the spinach leaves, add oil, lemon zest and lemon juice.
Blend everything well, scraping sides if needed,until there's no big chunks of spinach remain.
In a bowl of an electric mixer whip up eggs with sugar until light and fluffy( about 5 min) Add vanilla extract and mix well again.
Add spinach mixture to the eggs mixture and use rubber spatula to mix all ingredients until well blended, don't go heavy on it. Now sift flour and baking powder into the mixture and mix well until fully incorporated .

Divide the batter evenly between 3 prepared pans, bake for 15 min, it is ready when the toothpick comes out clean.
Leave the cakes in a pan for 5 minutes, and carefully as they're very soft transfer onto the cooling rack and let cool completely.
When the cakes are completely cooled, prepare your frosting by combining the cream cheese, whipping cream and icing sugar in the bowl of a mixer and whip it together until light, creamy and smooth.
Since the cake is very very soft, I prefer to put it together in a cake ring, no worries if you don't.
Place 1 cake layer on a flat plate or cake board, spread some frosting at the top with a spatula,put raspberries on top if adding any. Place the second layer on top of the first one, and spread more frosting evenly, add raspberries . Cover with a 3rd layer, add a thin layer of frosting, then cover the cake carefully with plastic wrap and let it sit overnight in the fridge. Put remaining frosting in the fridge.
The next day, cover the sides of a cake with remaining frosting if desired,decorate with raspberries, or any other way you prefer. Cake is ready!

I hope you enjoy every bite of it! Please let me know what you think.