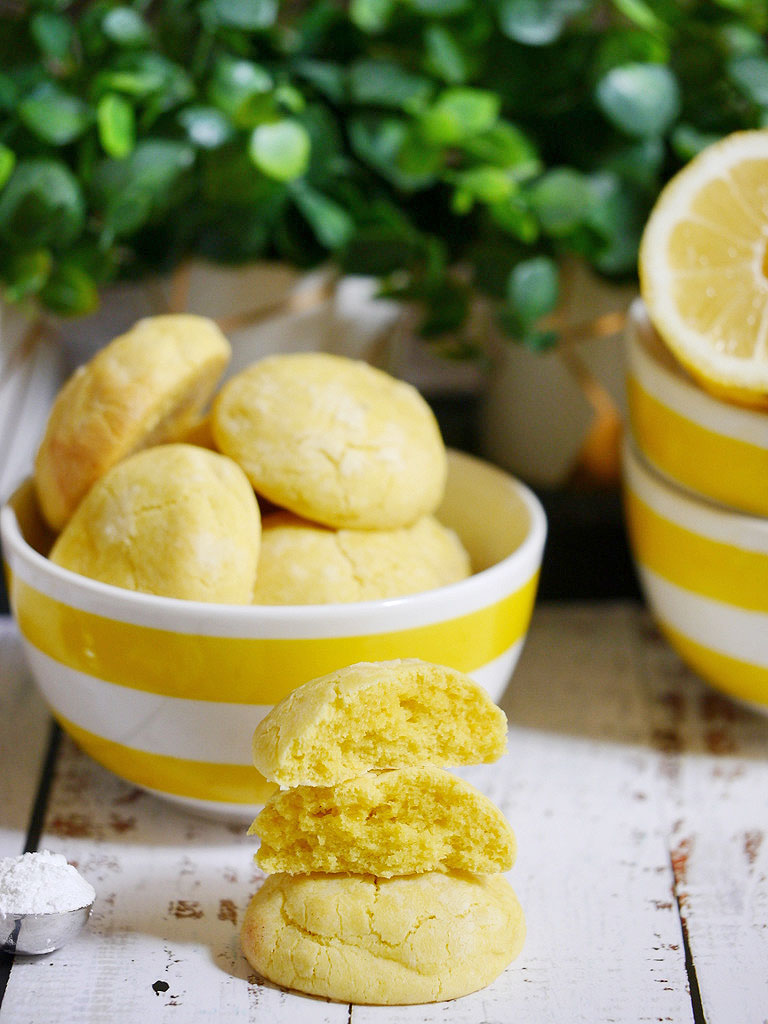 Lemon cookies. What are your first thoughts when you hear the word lemon? My mouth is watering for example, I imagine freshness an aroma, and I definitely crave a lemon dessert. I must admit I've been avoiding any lemon-ey desserts for many many years. I couldn't stand the smell, it reminded me of a dish soap or a cheap laundry detergent, up until a few years ago a friend of mine asked me to bake a lemon dessert. I rolled my eyes thinking to myself that I wouldn't be able to do that, I was pretty stressed but I couldn't give up – it is just not me. And let me tell you -something interesting happened when my dessert was in the oven. The aroma in kitchen was so fantastic, it smelled absolutely delicious. I tried that dessert and let me tell you my world changed! I realized that all these years I've been missing out on this delicious ingredient. And what I also realized is that baking with fresh fruit rather than an artificial flavouring completely changes your dish it elevates the flavour and brings it to a new level of deliciousness . The artificial flavour and smell of the lemon -that's what was pushing me away. Since that time I've baked numerous lemon desserts and tested many recipes, one of which I'd like to share with you today.
Before we start I'd like to give you a word of advice- use freshly squeezed lemon juice for the best flavour. Nothing can compare to a cookie baked from scratch using fresh lemon juice!
I love this recipe not only because it is a perfect treat you can enjoy all year long, but it is also easy, quick to make and simply because the ingredients are always available in anyone's pantry. So let's bake!
Ingredients:
2 cups all- purpose flour
2 tsp baking powder
1/2 tsp salt
140 grams of softened butter
1 cup of sugar
lemon zest from one lemon(zest another lemon for extra flavour)
1 large egg+1 egg yolk
2tbsp fresh lemon juice
1/2 tsp of vanilla extract(optional)
few drops of yellow food colouring( optional), 1/2 cup of powdered sugar for rolling cookies
Instructions: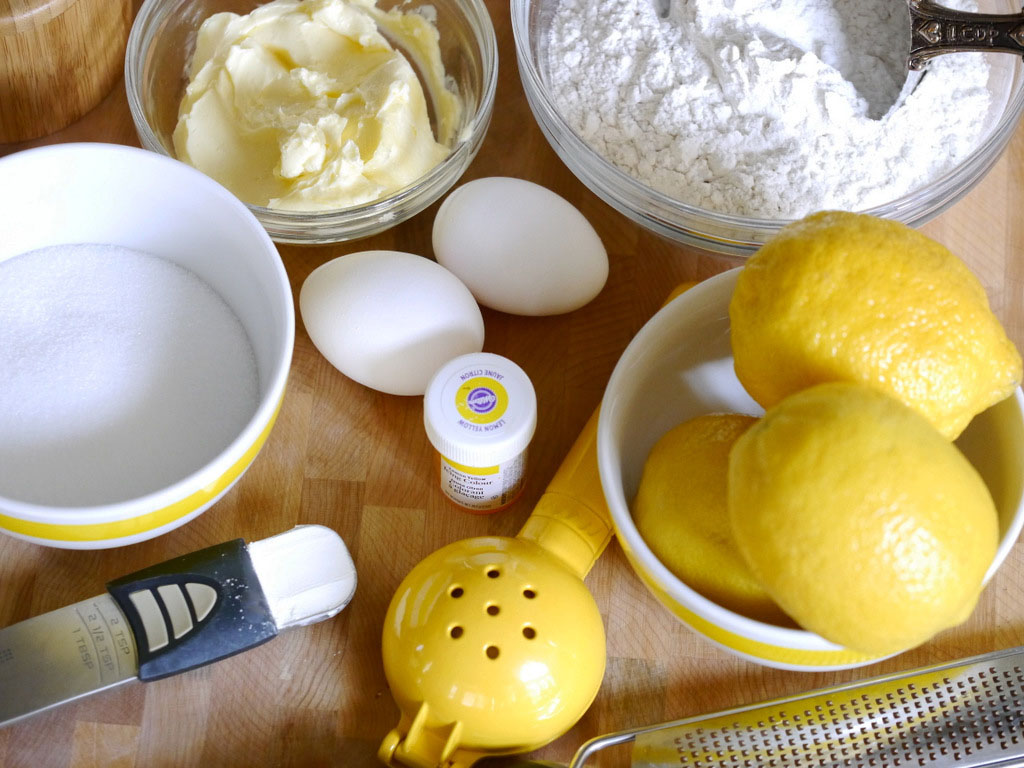 Preheat oven to 350 degrees F, in a medium bowl slightly whisk together flower, baking powder,salt and set aside.
In the bowl of an electric mixer whip together butter, sugar and lemon zest until light and fluffy occasionally scraping the sides of the bowl (I highly recommend to zest the lemon right into the mixing bowl on top of sugar to not loose those precious drops of lemon essential oils)
Add the egg and the egg yolk, lemon juice, vanilla extract, if you don't have it, no worries, and an optional step is to add a few drops of yellow food colouring to make cookies more bright. Now mix it on a medium until well blended. The mixture will look like it is curdled and ruined but no worries it is all good and won't affect your cookies at all.
Now switch to a low setting and slowly in a few steps add your flour,baking powder and salt. Mix just until combined and try not to over mix. If it seems like your dough is too runny and sticky add a table spoon of flour and mix again until fully incorporated.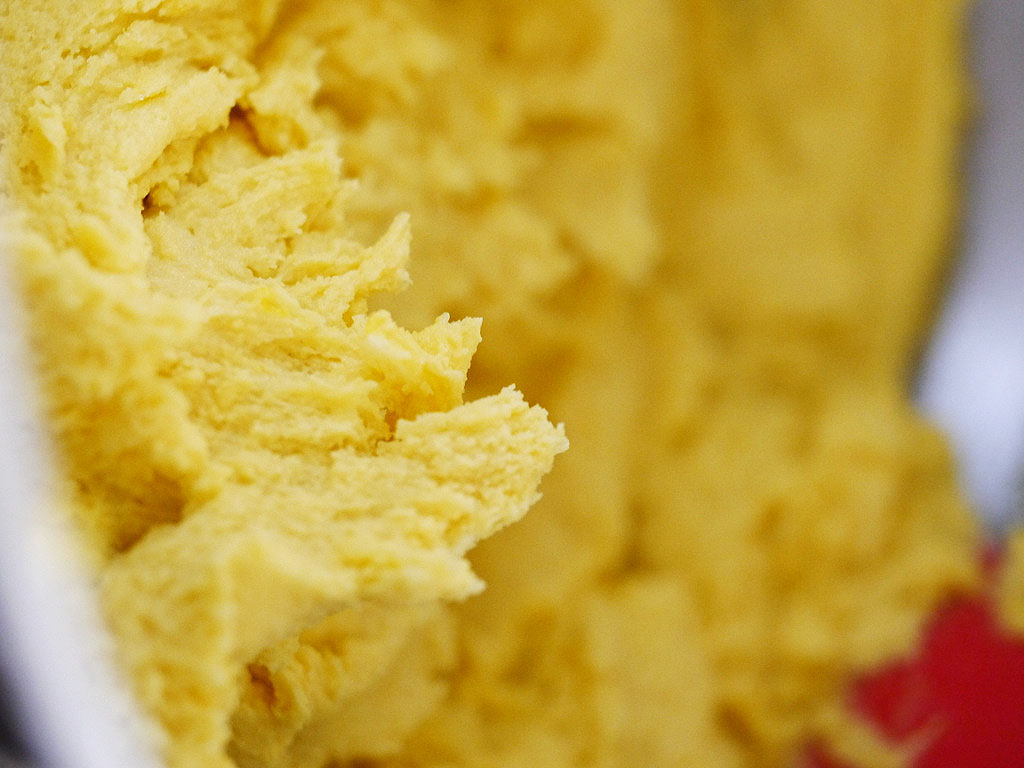 Prepare your baking tray lined up with parchment paper or silicone mat. Pour powdered sugar into a bowl, use a smaller ice cream scoop, or a bigger measuring spoon, just like I did ,or just use a regular spoon. There's no right or wrong here. Just try to make sure that your cookies are the same size otherwise they won't bake evenly. Scoop the dough, roll it into a ball shape then drop into a bowl with powdered sugar, roll the ball until evenly coated and transfer on the tray. Repeat this step until you run out of dough.
Bake cookies on the middle rack in preheated oven for about 10-12 minutes. Cool for several minutes on baking tray and enjoy with tea, milk or just as is. Because they are so worth it.