Jump to recipe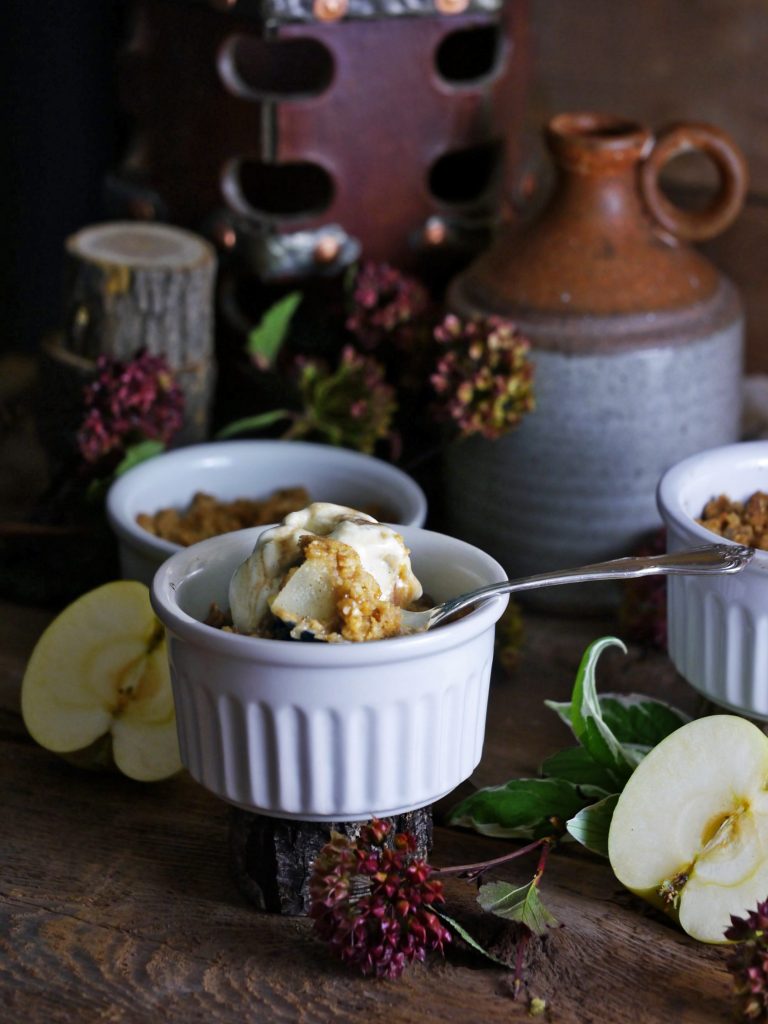 Happy Friday friends, I am so excited to share one of my favourite, a super easy recipe of a pear crisp. Pears are highly underrated when it comes to baking in my opinion. Pears deserve more love, they are so flavourful, delicious and can be a wonderful alternative to apples.
Here's are a few fun facts about pears, that are interesting to know:
Pears were first cultivated in Europe at the beginning of 11th century.
There are over 3000 varieties of pears grown around the world.
 Pears don't ripen on the tree, they need to be left on a counter top to ripen at a room temperature
Pears are one of the highest-fiber fruitspears have a great amount of vitamins, including C,K,B2, B6
In the Odyssey, Homer called the pear a "gift from the Gods".
You won't ever get an upset stomach if you eat a pear because if the low acid level in a fruit. It is gentle on the digestive system. In fact, the ancient Greeks used it as a remedy against nausea.
Pears have more fiber than 1 cup serving of kale.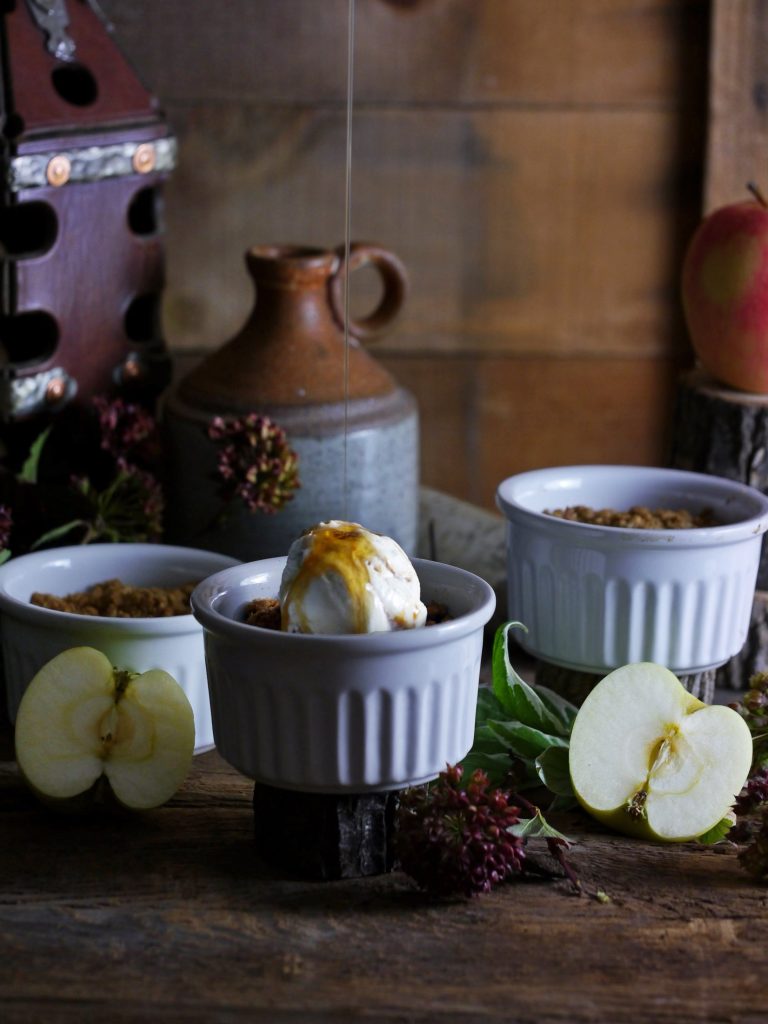 Pears aren't just delicious, they are healthy, they are relatively low in calories, they have so many health benefits, and whats cool is that they are perfect for baking. This pear crisp has a tender, flavourful filling, that is not soggy or runny, and a very tasty crunchy topping! This crisp isn't sickening sweet, it takes a minimum amount of time to prepare and is a great alternative to a pie! Making it in ramekins makes it cook faster and besides, you won't have to worry about sharing this deliciousness with anyone else, you'll have it all to yourself. I hope this pear crisp would become one of your favourites too!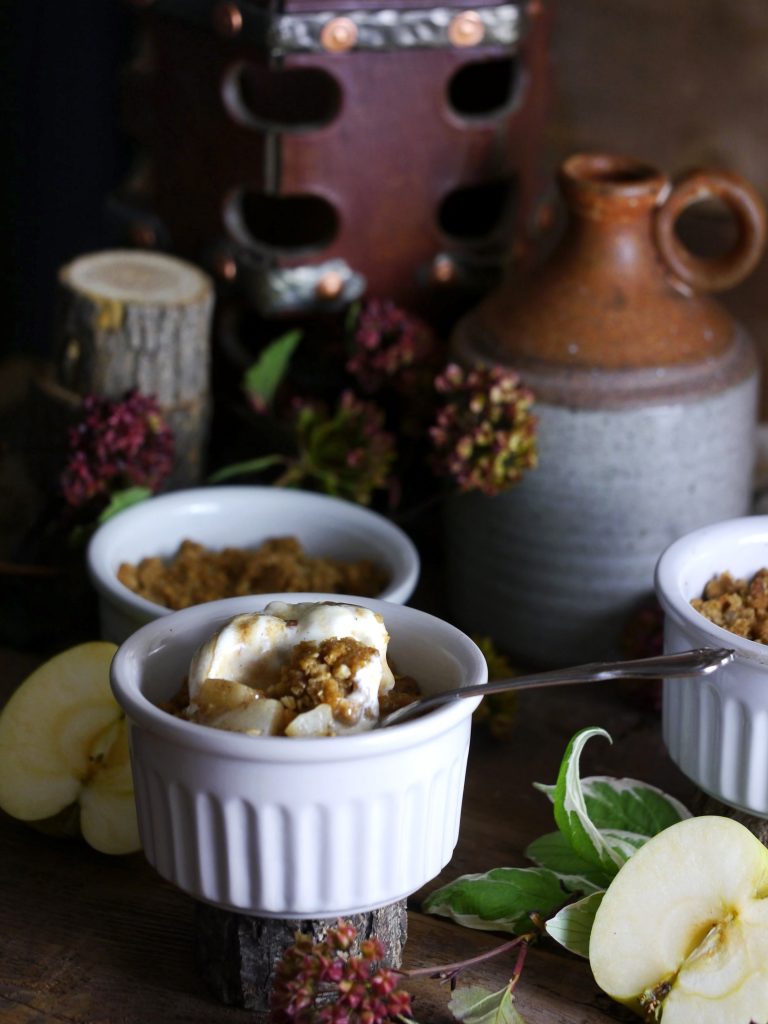 Easy Individual Pear Crisp.

Notes
 For this recipe I prefer to use Bartlett( Williams )pears, any other firm pear variety would work too.
This recipe is enough for 6 large size ramekins.
Serve as is or with a big scoop of vanilla ice cream.
Ingredients
For Filling:
6 medium sized pears
1 tbsp all purpose flour
3 tbsp freshly squeezed lemon juice
0,5 cup of sugar
0,5 tsp vanilla essence
1/2 tsp cinnamon or to taste
For Topping:
1 cup rolled oats
1 cup all purpose flour
1 cup brown sugar
1/4 tsp salt
1/2 tsp baking powder
1,5 tsp cinnamon
1/2 cup soft butter
Instructions
Preheat oven to 350F.
Wash and peel pears, remove the seeds and cut them into small cubes ( about 2 cm)
Transfer cubed pears into a medium size bowl. Pour freshly squeezed lemon juice over pears. Add vanilla, flour, sugar and cinnamon. Stir the mixture, so the pears are coated evenly, then divide mixture evenly into all 6 ramekins ( I had about 3 tbsp per ramekin). Set ramekins aside
To make a topping:
Add all topping ingredients in a bowl. Mix everything with a fork or pastry blender until all the ingredients are fully incorporated. Spread the mixture evenly over pears.
Bake for 30 minutes on a middle rack until topping is golden brown. When crisp is baked let it cool for 10 minutes before serving.
© 2023 Copyright Olga\'s Confections