Jump to recipe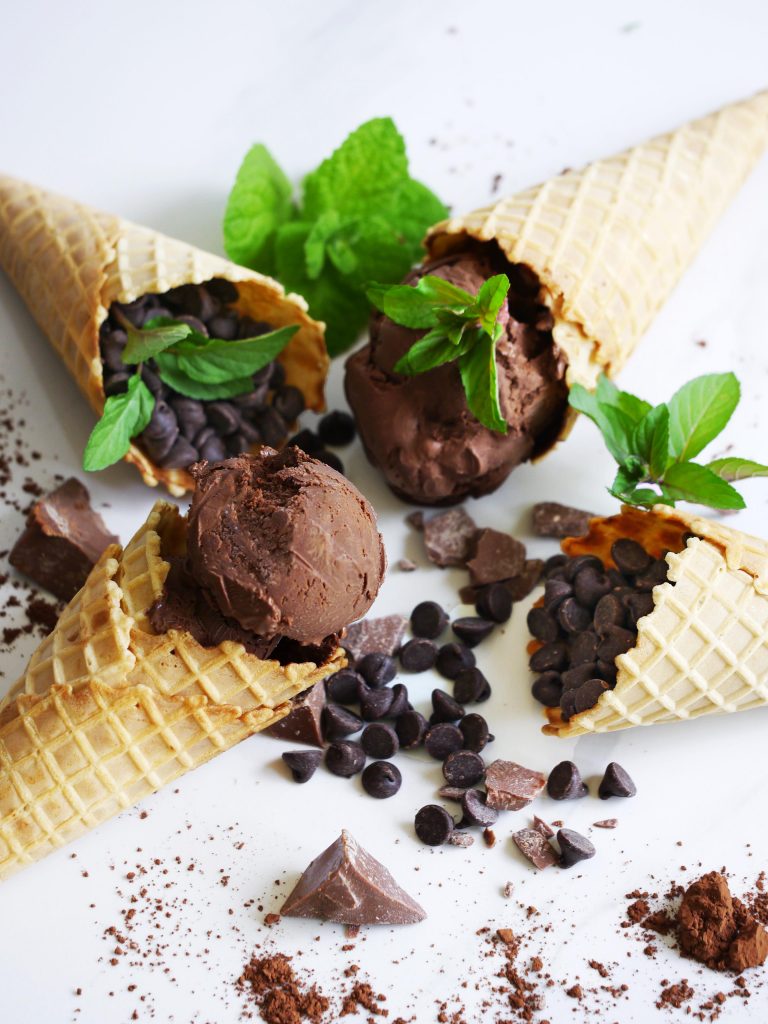 Ice cream is probably one the best summer treats that was ever created. I adore fresh fruits, I enjoy summer fruits in the pies, I love no bake desserts , I enjoy sipping a cold drink when it's hot outside , but nothing gives me more joy and satisfaction than having a scoop or two of delicious sweet ice cream. And not just a store bought ice cream but an much better version -ice cream made at home! Las summer I've experimented quite a bit with home made ice creams, I've made no churn ice creams and I made ice creams with an ice cream machine too, some luckily turned out great and I make them on repeat now, while other recipes turned out to be a complete waist of time and ingredients.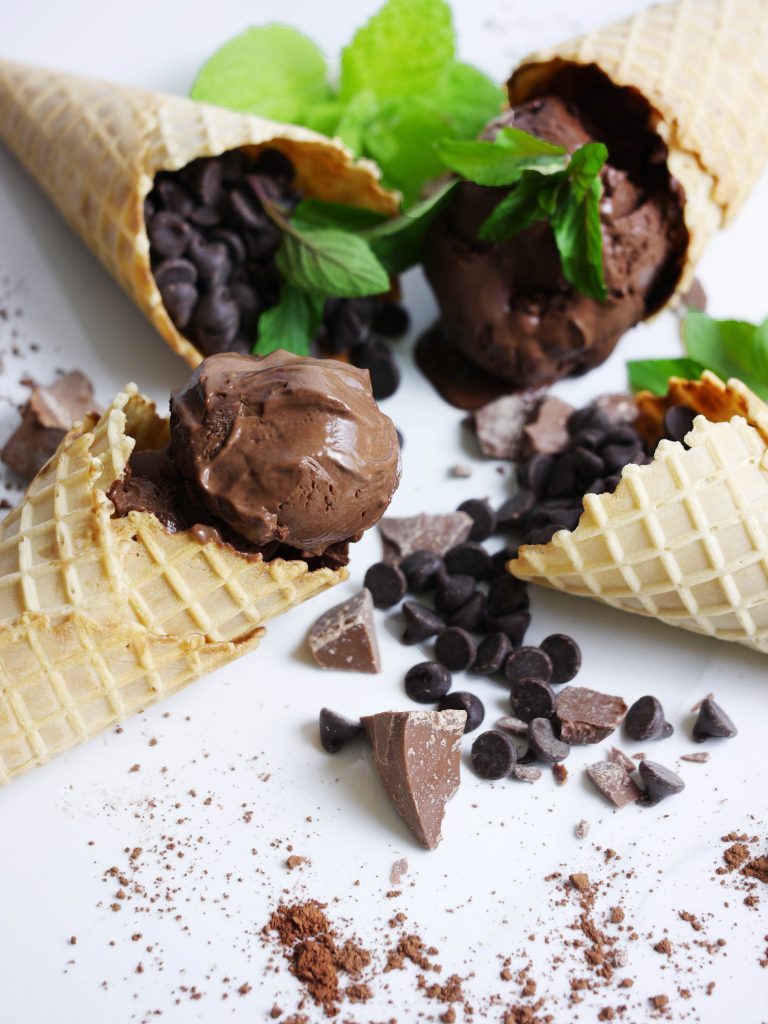 So today I will share with you the BEST chocolate ice cream I've ever made or tried. Of course I can't claim that this is the best recipe among hundreds if not thousands that were already shared before, I am just simply stating that according to my family ( and they can be quite picky if you know a little about us 🤣) this chocolate ice cream is: "the most chocolaty, most delicious, most decadent, sweet and incredibly scrumptious", and as you know little kids do tell the truth.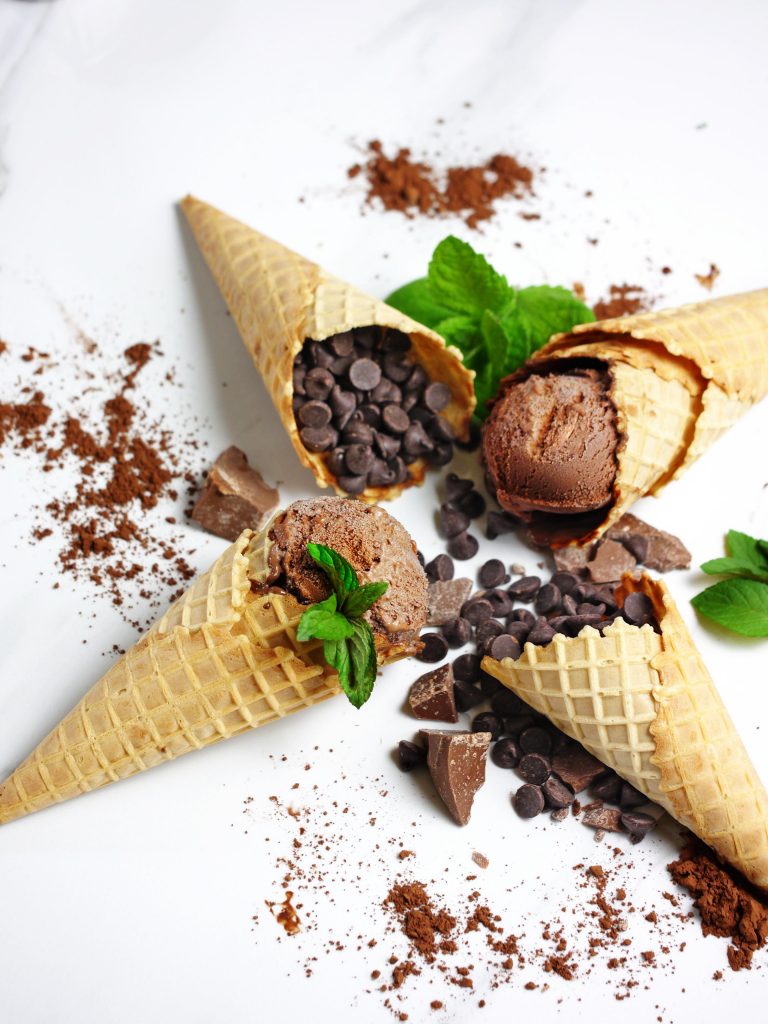 🥰So yes, my friends, this ice cream is truly fantastic, it will require you to use an ice cream machine, it will take some time and patience to make, but trust me the result is totally worth it, and the recipe works each time when the instructions are followed exactly. You will end up with a batch of insanely delicious decadent smooth and silky chocolate ice cream. This ice cream is not going to help you loose weight, it's not your zero calorie healthy treat, but what this ice cream is a way better alternative to a store bought ice cream, it won't put you into a sugar coma after first scoop, instead you will get a wonderful delicious and flavour experience that we all need from time to time. If I think of an analog to how it tastes like, I'd say: Just imagine a silky chocolate ganache but in a frozen form sounds incredible right? So don't hesitate, make this ice cream this weekend, and do let me know how you loved it.
Decadent Chocolate Ice Cream

Ingredients
170 gr dark or semisweet chocolate chips
1 1/2 cup milk
1 1/2 cup whipping cream
1/3 cup cocoa powder
3/4 cup granulated sugar
6 egg yolks
2 tsp. pure vanilla extract
1/4 tsp. salt
Instructions
The day before you plan to churn ice cream, place ice cream bowl into a freezer . And start working on the ice cream base, as it requires proper chilling, I've had best results chilling the ice cream base overnight.
To make ice cream base:
Fill a large bowl with ice and water, set aside. This would be our ice bath that we will need to cool our base with.
Melt chocolate chips using your best preferred method, make sure its all melted and smooth. Let chocolate cool slightly.
In a medium sized pot whisk together milk, whipping cream, and cocoa powder, bring it to boil on a medium heat, whisking to avoid lumps if needed. When mixture begins to boil, remove the pot from heat and set aside. In a large glass bowl, using a hand mixer or whisk, whisk sugar and egg yolks until mixture is thick and pale, for about 4 minutes. Whisking egg and sugar mixture vigorously,carefully and slowly add hot milk and cocoa mixture, keep whisking all the time while you're combining two mixtures.
Now pour this mixture back into the pot, whisk in previously melted chocolate and put back on stove to warm the ice cream base over low heat. Stir this mixture constantly, preferably with a wooden spoon, until mixture thickens, it should take about 5 minutes. Measue the temperature with thermometer if you have one, it should reach a temperatures 170 F or about 76 degrees Celsius! Important! Make sure the mixture never start simmering or boiling!
When the ice cream base is ready, stir in vanilla extract and salt. Strain the mixture into a large glass bowl and place in ice bath we prepared and set aside at the beginning. Let the ice cream base cool to room temperature, then press a piece of plastic wrap on top so a film does not form and chill overnight.
Next day when your custard is chilled and ice cream maker bowl is frozen, churn ice cream according to the ice cream maker instructions. Mine takes about 15 minutes.
When ice cream has a soft-serve consistency, transfer to a glass container and freeze at least for 2 hours, or overnight.
© 2023 Copyright Olga\'s Confections