Jump to recipe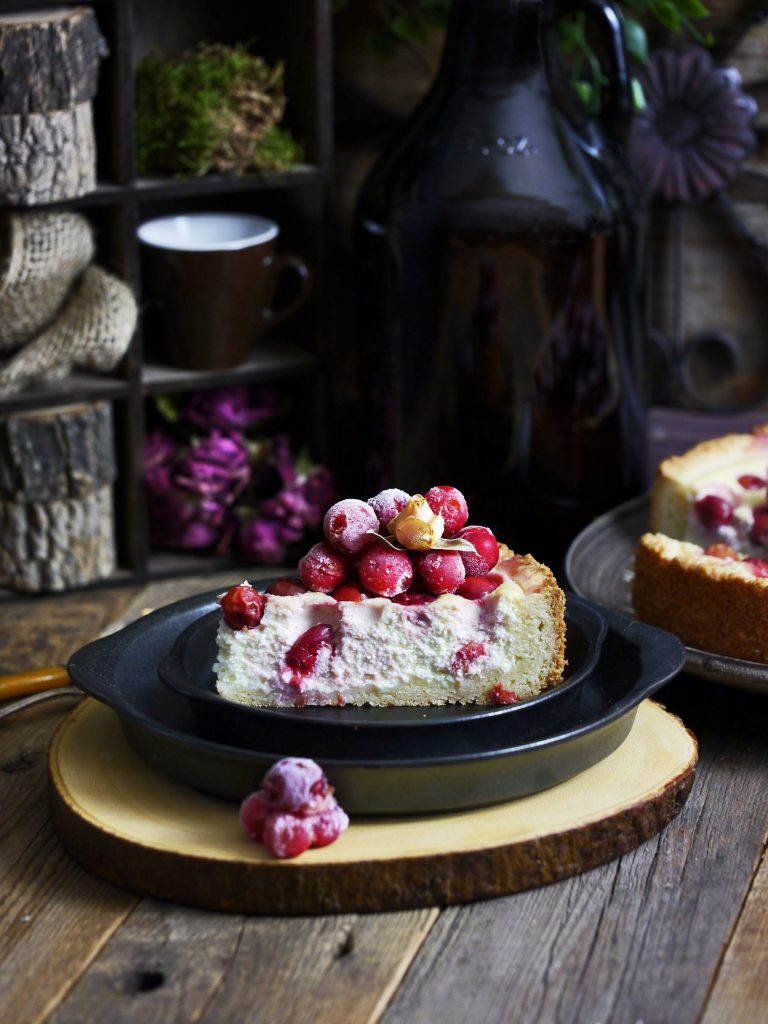 I was looking through my old hand written cook book. Some recipes were written by me when I was about 12. I honestly don't know what was going through my mind back then, I probably thought that the instructions I wrote were crystal clear or maybe that I'll never forget how to make that particular cake? Going through some of those old recipes right now I realize, I don't understand shit 🤣🤪But hey, that book together with frustration also made me want to recreate some of the recipes I used to love. One of those recipes I would absolutely love to share with you today.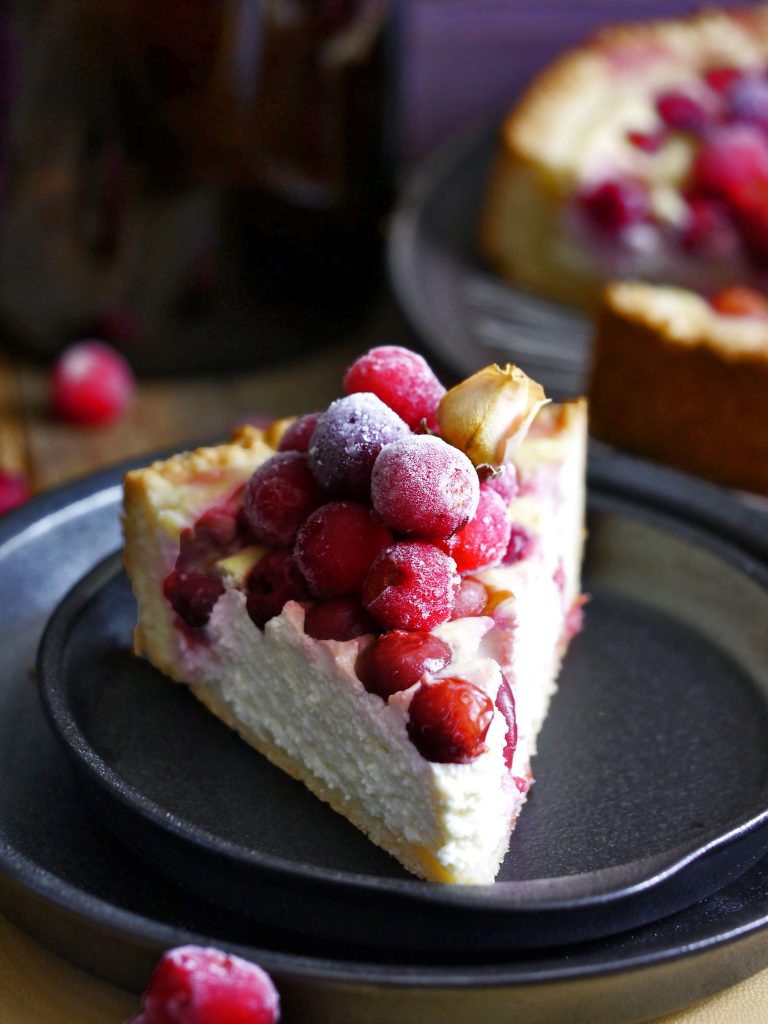 Let's bake a cottage cheese and berries cake with homemade shortcrust pastry. I'd call it a Ukrainian version of a cheesecake, or better call it a super moist cottage cheese cake with berries. You guys! I can't even fully describe how I felt when I baked it and then tasted it. It's really amazing, berrylicious, delicious, not sickly sweet, a melt in a mouth, it probably is one of the best, super moist, super indulgent cottage cheese cakes I've ever had.
My cake is made with frozen sour cherries, BUT if you use any other berry that you have on hand, I'd say go for it! Use raspberries, blueberries, black or red currants, strawberries, even cranberries should taste great- these are just a few options I can think of right away.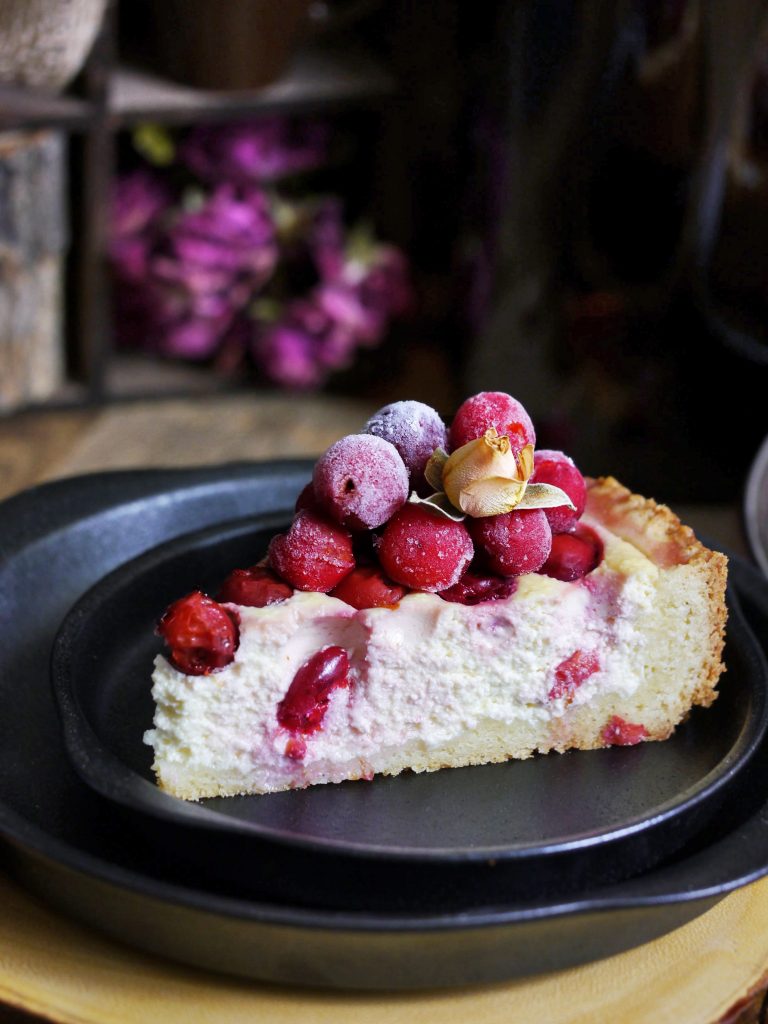 The point is, this cake is great, use different berries each time, and you'll have a unique flavour. I hope you'll try this recipe and you'll be happy with this alternative to a traditional cheesecake.
Cottage cheese and berries cake with homemade shortcrust pastry.

Total Time
1 hour, 30 minutes
Ingredients
To make homemade shortcrust pastry you'll need :
All purpose flour 240 g
Butter, cold and cubed 150 g
Sugar 100 g
Baking powder 1 tsp
Egg 1
To make filling you'll need:
Cottage cheese 500 g
Sour cream 100 g
Sugar 100 g
Eggs 2
Vanilla extract 1tsp
Frozen cherries 300 g
Instructions
Sift flour and baking powder into a medium sized bowl. Add sugar and cold cubed butter and rub in with your fingertips until the mixture resembles fine breadcrumbs. Alternatively use a pastry blender for this step.
Add a lightly bitten egg to the mixture and mix to form a firm dough. Knead the dough briefly and gently. Form the dough into a ball, wrap it and chill for at least 30 minutes.
Preheat the oven to 360 degrees F.
To make filling. Using a blender mix together cottage cheese, sour cream, sugar, vanilla extract and eggs. The mixture should be smooth, ingredients should all be fully incorporated and even in consistency.
Line up a 9 inch spring form with parchment paper. Roll out the dough into a large circle, transfer it into the form, press the dough into the bottom and up the sides of your spring form, the sides should be about 1,5 inch high . Prick crust with fork.
Carefully pour the cottage cheese filing into the form. Place frozen cherries on top evenly. Bake at 360degrees F for about 50-60 minutes. The crust should become golden brown and the filling should set in the middle.
Let it cool completely in the spring form before cutting and then serve.
We enjoyed this cake the next day even more!
© 2023 Copyright Olga\'s Confections