Jump to recipe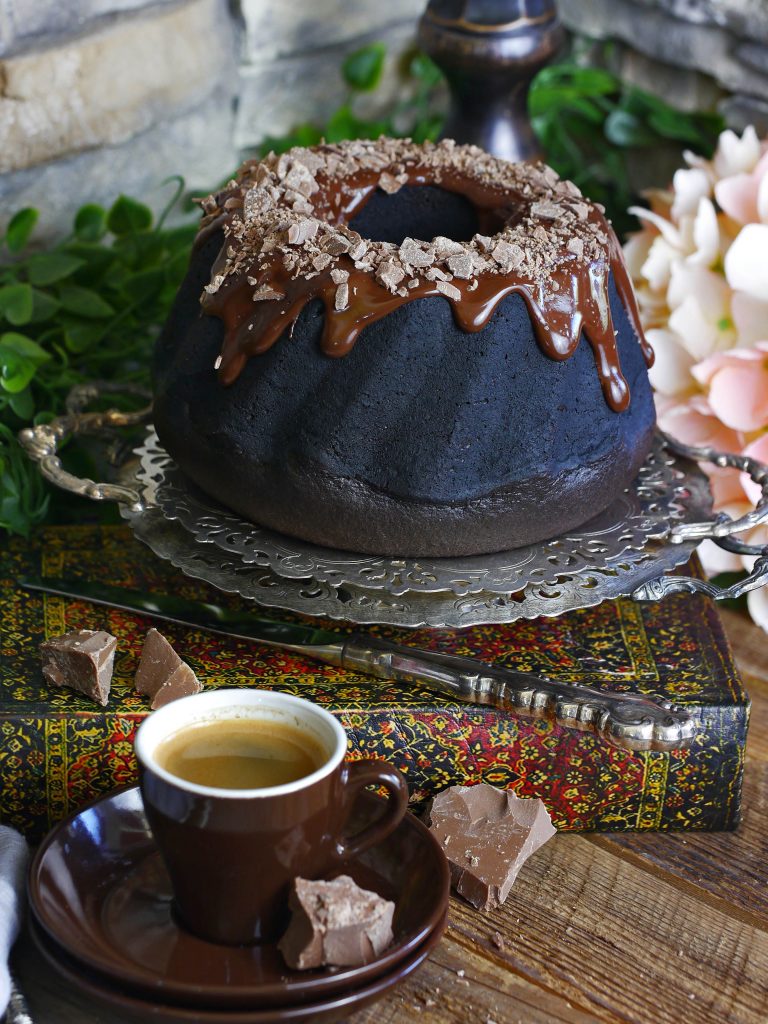 Today I want to share a recipe of my black Bundt cake, since I got quite a few requests for it. It has such an intense, dramatic dark colour thanks to the black cocoa powder I was using in this recipe.
Black cocoa powder tastes a bit different compared to a regular cocoa powder. It has more strong, more rich flavour. black cocoa powder has almost no fat, so the cake might be a little drier than you'd expect. If you decide on using black cocoa powder for this recipe, I suggest wrapping the Bundt cake after it is baked in a plastic food wrap while it's still warm and let it cool completely on the countertop, it will become more moist.

This is a very simple recipe, easy to make, quick and no fuss, there's no need to take your big bulky mixer out, all you will need is a few medium sized bowls and a whisk. If you crave a slice of tasty cake to go with your coffee or tea, but don't feel like spending too much time in the kitchen baking, I got a perfect recipe just for that!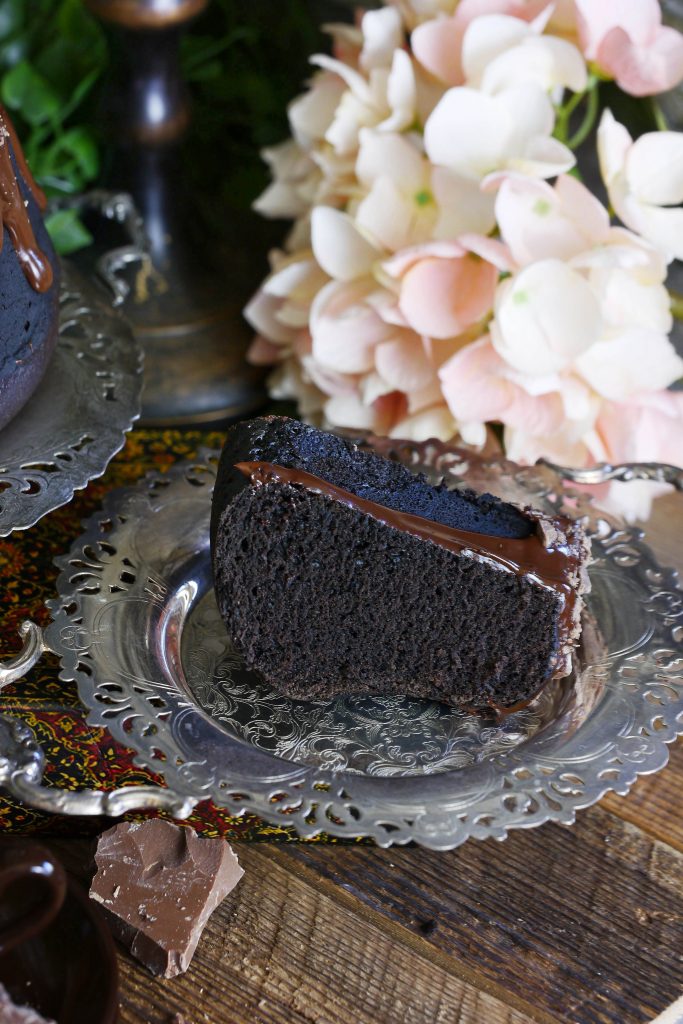 Chocolate Bundt cake with black cocoa powder

My cake is glazed with milk chocolate ganache and small chunks of milk chocolate. I hope you'll enjoy every single bite of this cake, just like my family did. Happy baking!

Ingredients
Vanilla 0.5 tsp
Water 1 cup
Black cocoa powder, or regular cocoa powder 3 tbsp
Instant coffee 1 tsp
Grape seed oil, or olive oil 50 gr
All purpose flour 1.5 cups
Baking powder 0.5 tsp
Sugar 1 cup
Soda 0.5 tsp
Salt 1/4 tsp
White wine vinegar or lemon juice 1 tbsp
Instructions
Preheat the oven to 350F. Grease the Bundt cake pan and set aside.
In a big bowl mix together the following ingredients: all purpose flour, black cocoa powder,soda, baking powder and salt. Whisk together and set aside.
Add sugar to another bowl and pour grape seed oil. Add water, vanilla, and vinegar, followed by dry instant coffee and mix well. It's ok if the mixture won't dissolve completely, just make sure it all is mixed thoroughly.
Combine wet ingredients with dry ingredients and mix it all together with a whisk until dry ingredients are fully incorporated.
Pour the mixture into prepared Bundt cake pan and bake for 30-40 minutes. If the toothpick comes out clean, your cake is ready.
Cool off the cake in the Bundt cake pan for about 30 minutes to an hour than take it out of the pan and let it cool completely on a wire rack. As an option wrap the cake in a plastic wrap while it is still warm and let it cool completely while it is wrapped, it would make your Bundt cake extra moist inside.
When Bundt cake is completely cooled off, dust the top with icing sugar, chocolate ganache or glaze it, whichever option you prefer.
© 2023 Copyright Olga\'s Confections