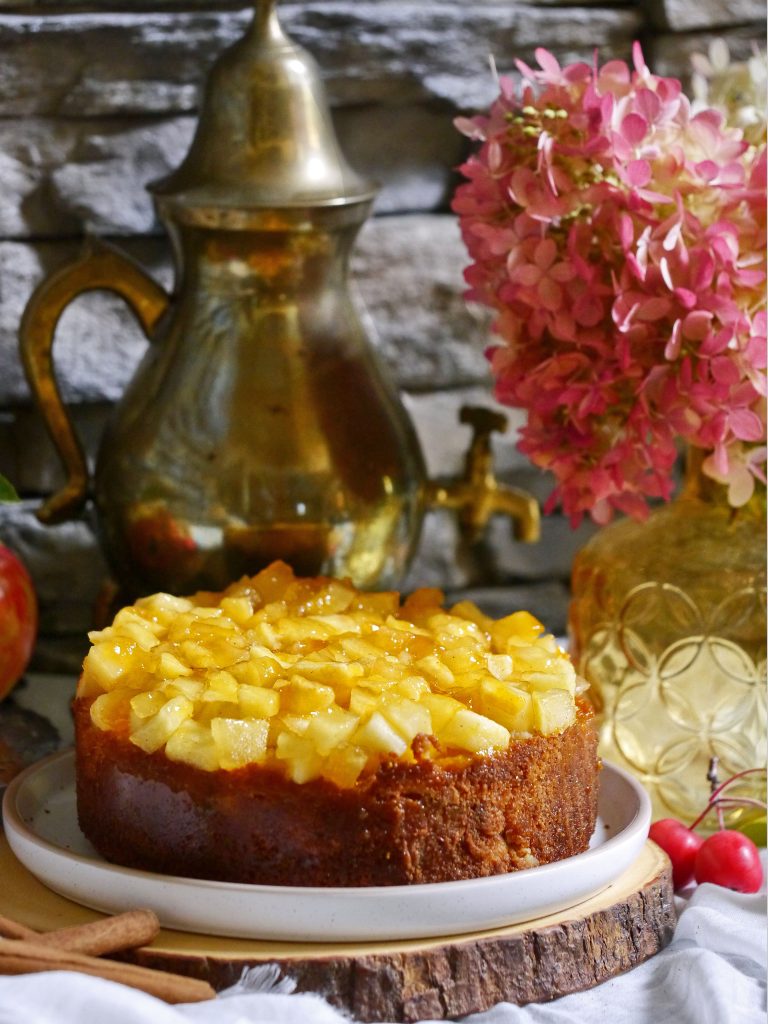 "Autumn skies and Apple pies"
I can't imagine our autumn without us eating an apple pie made from fresh apples. Even though we have excess to apples throughout a year, we always look forward to a beginning of September when our favourite orchard starts selling their fresh apples. And I of course can't resist baking apple desserts.

This apple pie is different from the double sided crusted pie with apple filling in the middle that majority of you, my friends, are used to.
The apple pie I made can be described as an apple sponge cake with fruit cut into small cubes and incorporated into the dough. This cake is soft, and fragrant with spices like cinnamon, nutmeg and ginger and because I love my pies with extra filling, so I added even more fruit on top. This pie is so good, that it's nearly impossible to say no to an extra slice.
Let's bake it!
Ingredients 
200 gm brown sugar
 200 gm soft butter
3 gm cinnamon
1 gm Nutmeg 
1 gm ginger
 4 large eggs at room temperature
 250 gm all purpose flour
10 gm baking powder
130 gm milk
1 large or 2 medium size apples 
Method
Preheat oven to 320 F. Greece a 6 or 7 inch springform pan with butter and set aside.
Peel and core you apples,cut into even small sized cubes. Set aside .
Add soft butter, cinnamon, nutmeg and ginger In a bowl of a stand mixer. Add brown sugar and mix it well until smooth with paddle attachment. Add eggs one at a time making sure that each egg is fully incorporated before you add the next one. Add sifted flower, and baking powder and mix well on a medium speed for about 2-3 minutes. Add milk to the mixture and mix it on a medium speed for another minute or two. The dough should be smooth and airy. Add apple cubes to the dough and mix it on low until fully incorporated. 

Transfer the dough into the greased springform pan and bake anywhere from 50 to 80 minutes until the colour is golden brown and the toothpick comes out clean.
 Leave a pie in a spring form for about 10 minutes and then carefully transfer it on the cooling rack and let it cool completely.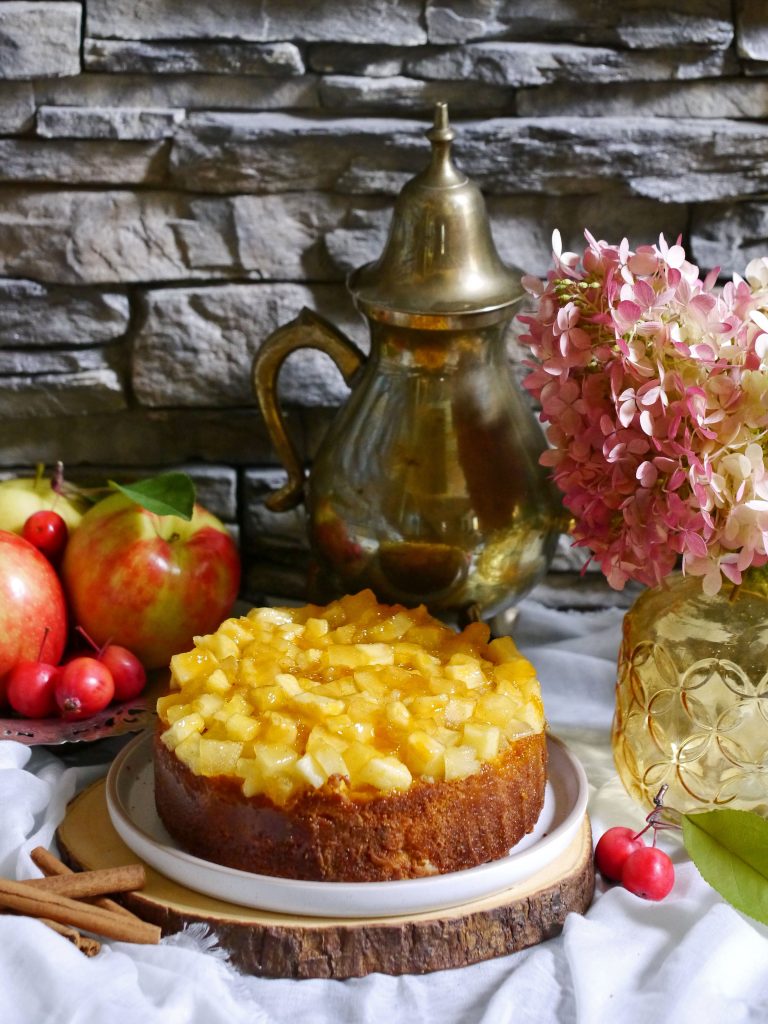 You can enjoy this pie as is, or as an option, prepare apple topping for a more flavourful result. 
Ingredient for the topping:
2-3 apples peeled and cored 
100 gm sugar
1 tsp lemon juice
 140 gm apricot or apple jam/preserve 
1 tsp cinnamon 
1 tsp cornstarch 
Peel and core apples, cut them into smaller cubes and place them into a medium size pot. Add sugar, lemon juice, jam and cinnamon and heat it up on the stove on a medium high heat. Try not to stir the apples a lot, because they will get mushy. Once the sugar is dissolved and apples start getting slightly softer, add cornstarch, then stir carefully and let it heat up for another minute. 
If your pie has a very high uneven top after baking,I would recommend cutting the top and then add apple topping. Use warm or chilled topping, this is up to your liking. Enjoy, and please let me know if you make it.